A faint jingling sound carried through the rotunda of the Payne Family Center as Michelle Guzman draped an ornate jingle dress decorated in metal cones over a mannequin. The jingle dress, named for the sound it makes, was one of several outfits on display for American Indian Heritage Week at the University of Montana.
Guzman, the director of American Indian Student Services at UM and a member of the Shoshone-Bannock tribes, took a step back to look at the star-covered dress that an Assiniboine friend, Stephanie Smith, made to fit her. "I don't think I have a belt for that one," she said, cocking her head to the side. She walked over to a suitcase, full of regalia, that lay open on a table.
As she searched for a belt, she pulled out a bustle made with vibrant purple feathers strung together. "This is men's fancy dance," she said. "That's why there's so many colors and the silver to be shiny. You want to stand out."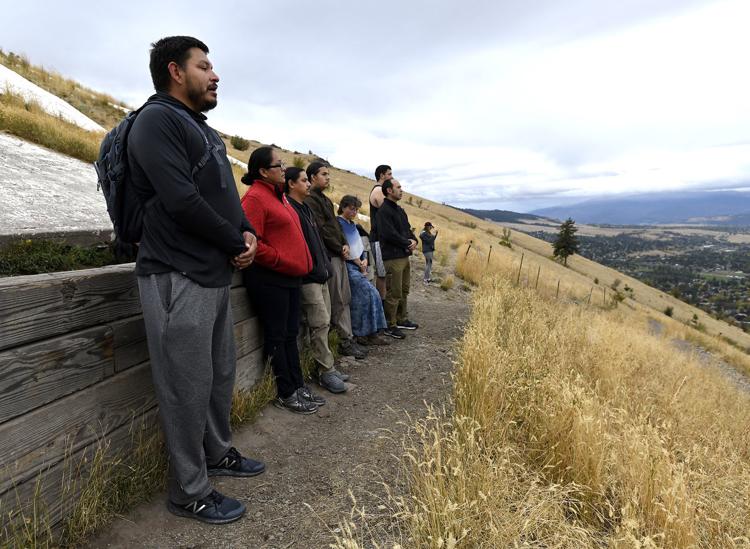 Each piece of regalia carries special cultural importance, with different pieces worn for special occasions and certain components may indicate a person, their tribe or  family. Each piece tells a story.
"So like an elk teeth dress, if you see it, like fully elk teeth all the way down, will be Crow," she said. "Some of the other tribes in Montana like Blackfeet, they'll also do elk teeth but they'll only be the top part."
Gisele Forrest, a temporary advisor and program coordinator for the Native American Studies department, dressed another mannequin in a dentalium shell cape, which traditionally indicated trade with coastal tribes. "Almost everything we wore in some way showed how family cared for us," she said. "Furs represented hunting, breastplates represented hunting."
Forrest still incorporates pieces into her wardrobe that represent her heritage. "My Indian name is Red Cloth Girl," Forrest said, wearing a skirt with red, white and blue ribbons on the bottom.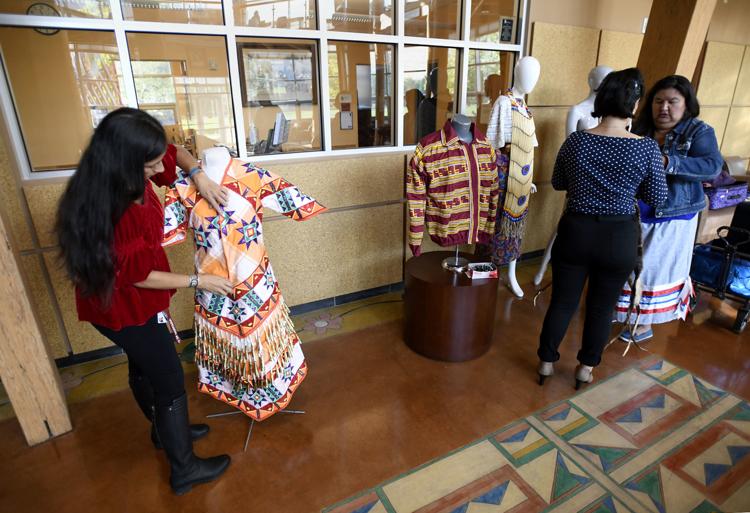 In many ways, celebrating American Indian Heritage Week is just another way Native students and staff highlight traditions they already practice. But it also provides an opportunity to unite the community over these shared traditions.
On Monday morning, a group of about a dozen students and staff gathered at the base of Mount Sentinel to hike the M.
"Essentially we're just celebrating indigenous people," said Aaron Thomas, the director of Indigenous Research and STEM Education and an associate professor of chemistry and biochemistry at UM. "Not only where they lived, but where they hunted as well, so that's various tribes through the area."
Thomas, a member of the Navajo Nation, led a hike, climbing the switchbacks at a swift pace. When the group reached M, everyone sat in silence for a moment overlooking the five mountain valleys that were primarily occupied by the Salish, Kootenai, Pend d'Oreille, Blackfeet and Shoshone, although many tribes traveled through the land, Thomas said.
The sun was still tucked behind clouds and the only sounds as the group overlooked the valleys were the wind and crunch of gravel under people's shoes as they hiked past. Thomas thanked everyone for hiking and shared the events for the week leading up to the American Indian Heritage Day Proclamation on Friday.
Benjamin Headswift, a member of the Northern Cheyenne tribe, sang a prayer song dedicated to a relative who he said inspired him to run as a council member for his tribe. Several people in the group complimented him and agreed that it was a nice way to start the morning.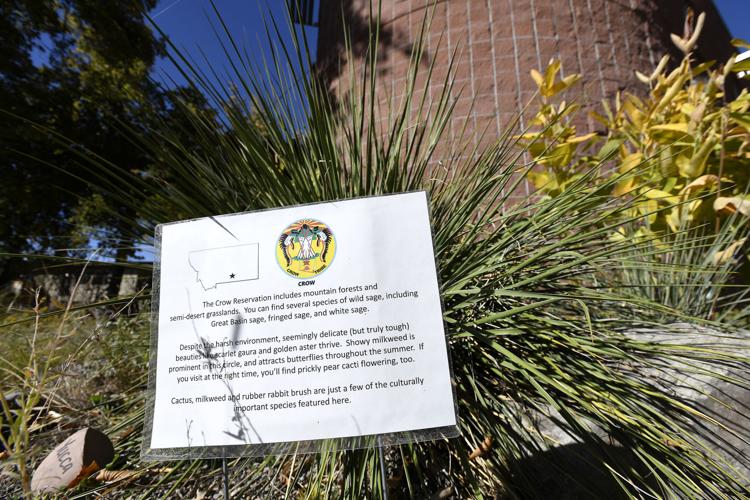 Back at the Payne Family Native American Center on campus, students gathered between classes, talking, drinking coffee and helping Guzman with various tasks as she raced around the building. The center houses the Native American Studies Department and American Indian Student Services. For many students, it's also a home away from home.
The center is designed to reflect the heritage and cultures of Montana tribes, with plaques listing the English and Native spelling of each tribe's name. But plenty of other Native students from other tribes and other states come to school at UM. In total, Guzman said 589 self-identifying Native students attend UM.
She said the biggest struggles these students face are culture shock and homesickness. But she hopes that providing them with a place they can go and find people they can relate to will help them with the transition.
Guzman and Forrest work together to organize activities and find ways to involve the students. Even simple ways, like having students to bring in their traditional dress for display or asking them to set up a tepee in front of the center for Heritage Week, help foster a sense of community.
At the beginning of the school year, she and Forrest organized a Welcome Feast for students that included berry soup, dishes made with corn, beans and squash, and Kabubu bread (similar to fry bread) that Forrest made, which a student said reminded her of the bread her grandmother makes. "We feed them to welcome them," Guzman said, noting that traditionally much of their lifestyle was based on food.
On Wednesday, people passing through the Native American Center's rotunda were invited to try dried meat made earlier in the week by Moses Leavens, Ranalda Tsosie, Jen Harrington and Stephan Chase. Leavens said they dry meats like elk and deer each year for the event.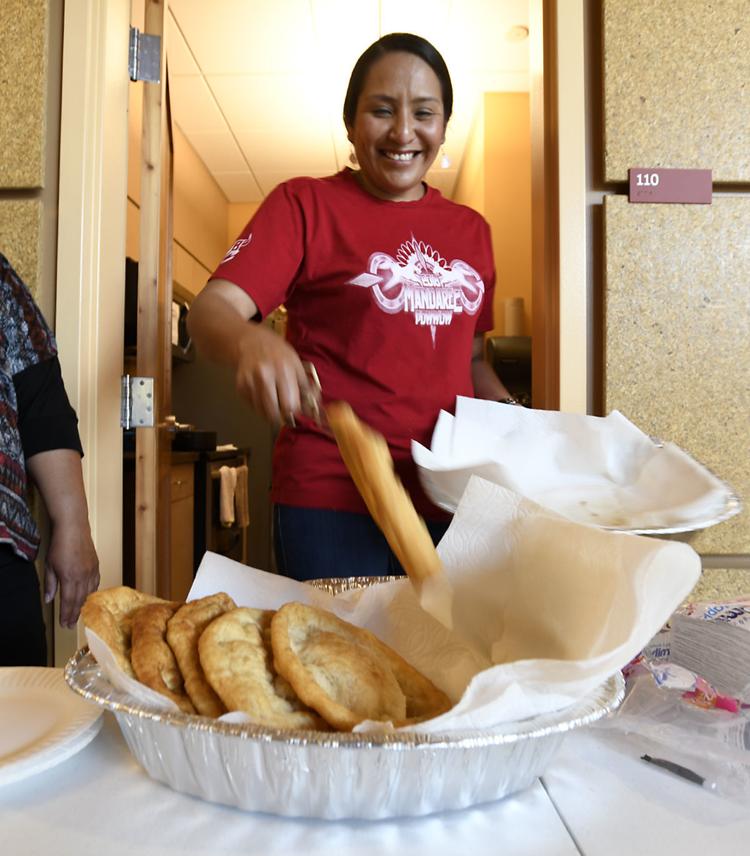 Students and staff also purchased fry bread on Wednesday, a staple of American Indian cuisine. Crystal White Shield, a UM alumni, is known among students for her fry bread made with Blue Bird flour. Each tribe has its own way of making fry bread, said Charnelle Bear Medicine, a student at UM and a member of the Blackfeet tribe.
You have free articles remaining.
As Bear Medicine ate fry bread and soup, she discussed how the Indian Student Services office has helped her transition from life on the Blackfeet reservation. In addition to being a junior majoring in social work and minoring in psychology, Bear Medicine is busy raising an 11-month-old daughter, completing a work-study program as a secretary in the Native American Studies office and serving as the secretary of Kyiyo, the Native American Student Association that holds a powwow every year.
She said Guzman helped her find scholarships that were essential for her to afford her education. She also said knowing there is a network of support has helped her tremendously.
Sydney Bemet, a UM student from Anchorage, Alaska, and a member of the Northern Cheyenne tribe, said coming to the center has provided her with a lot of guidance. She's met with Guzman and Forrest for advice and now helps with things around the office like setting up for Heritage Week.
But Forrest isn't sure how long she'll be there to assist students like Bemet. Forrest's position is temporary. She said that Sept. 21 was supposed to be her last day and she was notified at the last minute that she could stay until the end of October. However, she still hasn't received a contract and she's uncertain of the future after that.
UM Provost Jon Harbor said the temporary position was funded by philanthropic funds through the College of Humanities and Sciences. "There are ongoing discussions around the future plans for this type of support," he said in an email. He also noted that students in the Native American Studies Department have an academic advisor in the College of Humanities and Sciences.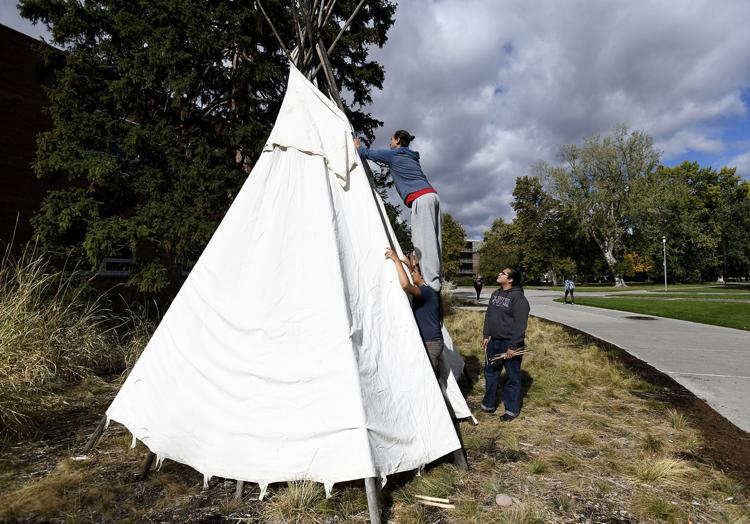 But in addition to advising students on academic matters, Forrest also helps students with everyday obstacles, which she said often differ for Native students. For example, she said many students need an extra push to ask professors for help because they're often taught not to question authority.
"For me, her position plays a vital role," Headswift said. "It makes an easier transition for me to be able to come here and have that faculty that understands the issues that I might be facing, understand the cultural significance that each tribe has here. Cultural sensitivity is huge."
Guzman stressed the same point.
"Culturally, we're very different and to have people that understand the cultural differences instead of lumping us all together as "Oh, you're all Native American," Guzman said. "You need others who know that and can distinguish that and help students with that."
An ethnobotany garden tour outside the Payne Center also showcased tribal differences, with eight separate gardens indicating different eco-regions of Montana where tribes live. Native plant interns Liz Dolinar and Riley Butler, as well as Rosalyn LaPier, an environmental studies professor who is a member of the Blackfeet tribe and Métis, explained how the plants were used.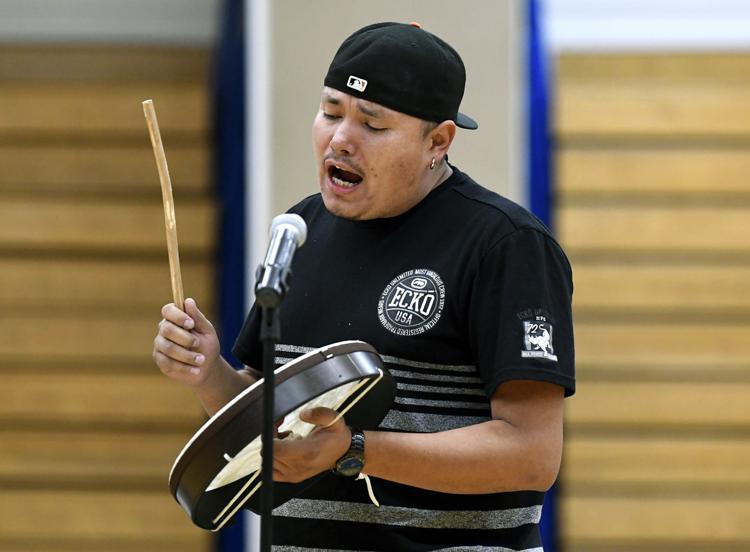 As different as each tribe is, underlying components serve as ties that bind. Events like American Indian Heritage Week provide a way for the community to come together, whether it's at the University or at other events.
On Wednesday, Missoula County Public Schools hosted their own event at Big Sky High School to celebrate the week with a round dance, owl dance, hand drum contests and a talk by the Warrior Movement from Arlee.
Many students from the Payne Center attended the event with friends and family. Bear Medicine, there with her daughter, wore her lime-green beaded moccasins — for "Rock your Mocs" day — that matched green beaded earrings. Headswift showcased his talents, from the 10 years he spent as a drumming instructor, when he participated in the hand drum contest and later joined a group that played for the dancers.
The contests wrapped up and everyone made their way to the gymnasium to listen to a talk by the Warrior Movement. Most of the audience was already familiar with the Movement, formed as a voice to fight against suicide by urging people to reach out to their neighbors and offer help to those who need it. The Movement is now a nonprofit organization and they told the crowd they want to start raising money to give back and keep kids busy through after-school activities.
Zanen Pitts, a leader of the Movement and the Arlee boys basketball coach, said they also want to incorporate more women into the movement. "We want to start standing up to the girls that we're losing, that are disappearing on us," he said. "That stuff's gotta stop."
After the talk, Pitts asked the audience if they had any questions. One girl raised her hand and asked how she should respond to a friend who was having suicidal thoughts. The group huddled for a second, thinking about how to respond. Isaac Fisher took the mic and said that he would suggest inviting that friend to do things. Doug Lefler, the president of the Warrior Movement, said the best thing he knows how to do is letting that person know that you care.
"Say, 'I care about you, I want to help you, please, let's find help together,'" Lefler said. He motioned for Pitts to turn around and pointed to the number for the suicide hotline on the back of his shirt. "You can always call this number," Lefler said. "There will always be someone there to listen."
The crowd cheered and the night wrapped up, with families and friends saying goodbye to each other. On Thursday, events continued at the University with a beading circle, another garden tour and a Kyiyo bingo night. The events of the week commenced on Friday with a reading of the American Indian Heritage Day Proclamation.
"Everything that Native people have been through to suppress who we are and forget it, they had to be secret and underground," Guzman said. "This is us taking that back."