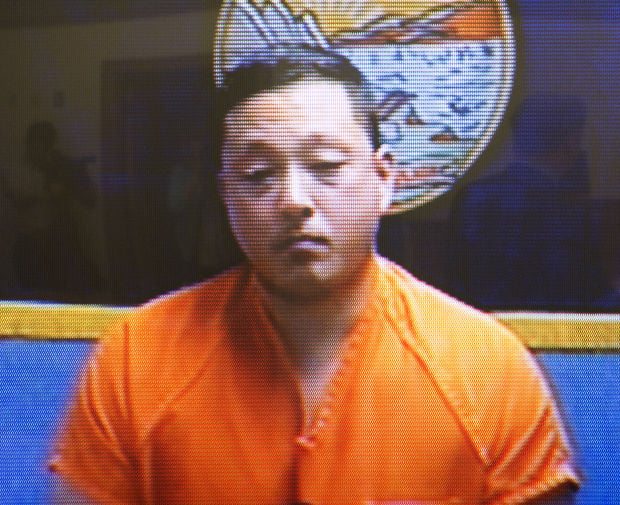 A Missoula man was charged with deliberate homicide Monday for shooting and killing a high school foreign exchange student in his garage a day earlier, allegedly after setting a trap for burglars and announcing that he was waiting up at night to "shoot some (expletive) kid."
Markus Hendrik Kaarma, 29, appeared in Missoula County Justice Court on Monday afternoon before acting Justice of the Peace Suzanne Geer.
Kaarma allegedly fired four shots – two of which hit Diren Dede, a German exchange student who was standing in Kaarma's garage on Deer Canyon Court in the Grant Creek neighborhood.
Dede was 17 years old, an all-state soccer player and a junior at Big Sky High School. He was unarmed and, according to a witness, shouted "wait" or "hey" as Kaarma chambered a shell in the shotgun.
Two of the shots hit the boy in the head and left arm. He was taken to St. Patrick Hospital, where he was pronounced dead.
A second male was with Dede, but ran from the scene when shots were fired, police said. He has since talked with authorities about the incident.
According to the affidavit filed by Deputy County Attorney Andrew Paul, Kaarma and his common-law wife, Janelle Pflager, set up a surveillance camera and motion sensors – hoping to catch burglars who had allegedly taken phones and credit cards from them in recent weeks.
Pflager told police that she intentionally placed a purse in the garage "so they would take it," and left the door open 5 1/2 feet. Then she placed a baby monitor in the garage and installed motion sensors outside.
At about 12:30 a.m. Sunday, Kaarma and Pflager were watching television in the living room when they heard a sensor alert indicating someone was in the driveway and then another that someone was in the garage, which is connected to the home.
Pflager pulled up images from the baby monitor and saw a male inside the garage, then took screen shots of the images on her phone.
Kaarma left his seat on the couch and grabbed a shotgun left near the dining room. He went out the front door of the house and walked in between a truck, which was parked in the driveway, and a car, which was parked in the garage.
"He stated he heard a noise that sounded like metal on metal and he was afraid that the intruder would exit the garage and harm him," the affidavit stated. "It was dark and he could not see into the garage.
"He stated he thought he was going to die and that the guy would try to get out of the garage, and described thinking he could act like a caged animal. ... He stated he didn't want the male to get away and that he wanted him to be caught. He stated that the police can't catch burglars in the act."
According to the charging document, Kaarma said he didn't communicate with Dede before firing four shots into the pitch-black garage.
However, Pflager allegedly told police her husband said "hey, hey" before chambering a shell in the shotgun. She then heard Dede say "hey" or "wait" before Kaarma fired the first two shots, the affidavit stated.
Pflager went to turn on the lights in the garage, but before she could her husband fired two more shots, the affidavit stated.
Kaarma allegedly told police that he aimed high to avoid hitting the car, but holes in the garage indicated that three of the four shots were low and the fourth shot was high.
"The impact marks also indicated that the gun was swept across the garage," the affidavit stated.
Pflager told police the couple had been burglarized two times in the past three weeks, and they wanted to stop the break-ins.
In addition, a hair stylist told police that during an appointment a few days earlier, Kaarma talked about staying up nights trying to catch a would-be burglar.
"I'm just waiting to shoot some (expletive) kid," Kaarma allegedly told stylists at the Missoula salon.
Said the affidavit: "He told (the stylist) that he had been burglarized a few times, that was why he was waiting up at night to catch someone and shoot them. (She) reported that the defendant was being extremely vulgar and belligerant. She asked the defendant to quit swearing and he said he could say 'whatever the (expletive)' he wanted."
On Monday afternoon, Kaarma's attorney, Paul Ryan, portrayed his client as a homeowner intent on protecting his wife and baby – and frustrated by the police department's inability to solve the recent burglaries.
"He took the steps that no one wants to take and shot," Ryan said. "It wasn't his intent to kill because he didn't know who was in there, and where the person was, and what was in the person's hands as far as weapons."
"It was a split second," Ryan said. "It happened very quickly, and unfortunately a young man lost his life."
During Kaarma's initial appearance in Justice Court, Ryan said that Pflager – who was in the courtroom with the couple's young child – held the young man in her arms while he died.
Ryan told media after the appearance that police initially indicated that they weren't going to recommend charges against Kaarma.
Citing Kaarma's right to protect himself and his home under Montana's "castle doctrine," Ryan said that he and his client are prepared to fight the charge as far as they must. "My client, without question, will enter a not guilty plea," he said.
The castle doctrine states that when a forcible felony occurs within a home, the resident of that home has a right to defend himself. However, it also states that a person who decides to use that force must believe they are at risk of serious bodily injury or death.
Prosecutors and police see no such defense for Sunday morning's shooting.
"The state doesn't believe that Kaarma identified Dede as a threat to commit a forcible felony in the garage," prosecutor Andrew Paul said in a telephone interview after the hearing. He did not speak to the boy, or even see him, before firing four times, Paul said.
"He actually sought Dede out by essentially trapping him in the garage," Paul said, adding that every gun instructor tells students to identify the target before firing.
Prosecutors requested a $100,000 bail Monday afternoon during Kaarma's initial appearance, while Ryan argued for the man to be released on his own recognizance.
Geer set bail at $30,000 and remanded Kaarma to the Missoula County jail.