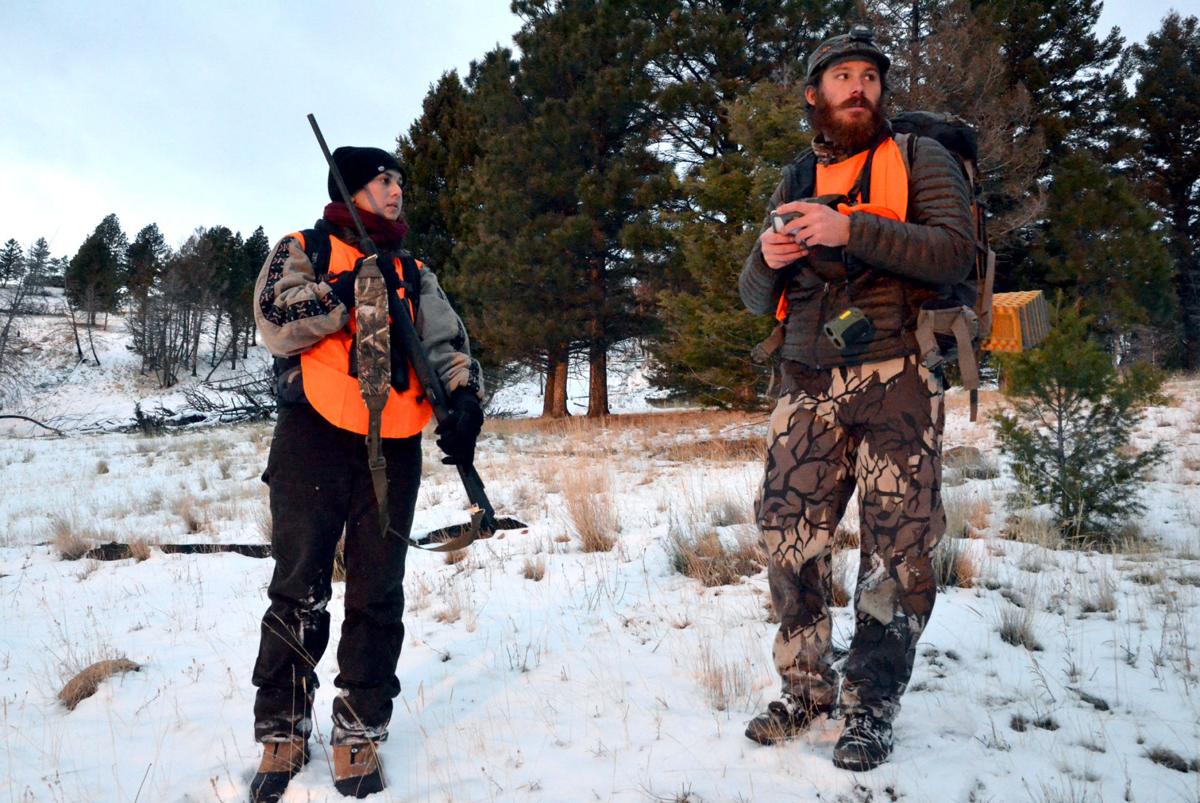 PHILIPSBURG — What does it take to get up before dawn and try to kill dinner?
Willingness to leave a warm sleeping bag? Carnivorous desire for lean red meat? Stamina and woodcraft to haul 25 pounds of survival gear across miles of wild country? A license, legal or ethical?
Two dozen hunters and would-be hunters confronted all those questions last week high in the John Long Mountains. They came home with three mule deer bucks, hundreds of sore muscles, and a bone-deep understanding of Montana hunting culture.
University of Montana wildlife biology doctoral student James Goerz had been inviting friends to hunt with him at his family's cabin west of Philipsburg for years. In 2015, he and fellow UM student Mateen Hessami added some structure to the season, recruiting colleagues from the Franke College of Forestry and Conservation.
"This isn't just an excuse to get out and hunt animals," Goerz said. "It's about introducing people to fair-chase principles and public-land hunting. We've done this with about 20 or 30 new hunters in the last two years. About a quarter of them harvested their first animal through this. It's kind of cool to see that tradition start within their family and circle of friends."
Last weekend, 12 would-be hunters convoyed to the Goerz cabin after Friday classes ended. They were accompanied by another 14 experienced hunters, all members of the UM student chapters of Backcountry Hunters and Anglers and/or the Wildlife Society. Some novices like Craig Martynn had hunted big game in places like California or Wisconsin, but never in Montana. Some like Ashton Bates had hunted ducks but never big game. And Becca Romero spent the summer saving money to buy her first rifle while taking state hunter safety classes to qualify for her first-ever hunting season this fall.
"I've had an interest in hunting ever since I got here," said Romero, who grew up in Stockton, California. "But I never knew how to get into it."
So the senior wildlife biology major who wants to be a game warden joined the BHA student chapter two years ago. That put her in touch with people who could explain the ethics of fair-chase hunting, the techniques of field-dressing game and the schedule of getting legally licensed to participate.
"There's not a lot of hunters, even within the wildlife biology department," said Hessami, who leads the BHA student chapter and puts in about 40 days a year hunting with bow or rifle. "This is the first collegiate BHA chapter in the country. Our mission is to get people who've never hunted before out hunting. Because by hunting, we're basically funding what we're studying."
Montana Fish, Wildlife & Parks gets 88 percent of its $113 million annual budget from licenses and fees related to hunting and fishing. It also manages millions of dollars from federal grant programs fed through excise taxes on hunting and fishing equipment. That money pays for habitat restoration, acquisition and management, hunting law enforcement, hunter education training and non-game wildlife biology.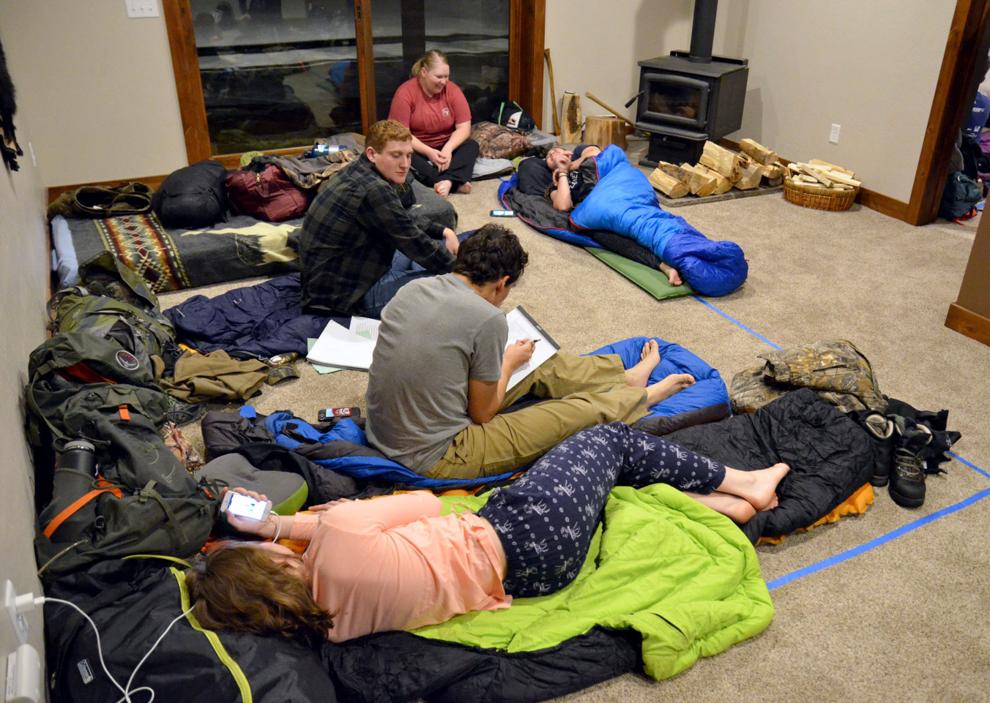 This August, the national Boone and Crockett Club started an effort to burnish the reputation of American hunters. The Missoula-headquartered national organization scores and catalogs trophy big-game animals. Its "Hunt Fair Chase" campaign emphasizes the "moral connection hunters have always had with the game they hunt," according to club vice president C.J. Buck.
"Hunters have always been a minority," Buck said of the initiative. "But, there was a time when sportsmen were widely respected for their skill, commitments to wildlife, and how we conducted ourselves. Today, we do not need to look far to see that hunting's modern relevance is being questioned, if not being outright attacked. This includes sportsmen ourselves, not just the activity of hunting."
Boone and Crockett only recognizes hunting trophies taken by fair-chase methods. Every word in that previous sentence highlights the philosophical talus slope hunters must cross. Are Daniel Boone and Davy Crockett historically worthy icons? Why recognize dead animals as trophies? Is "taking" a euphemism for killing? Who decides what's fair about the methods used in a chase to the death?
"To be heard and understood in the court of public opinion, you must first have earned your permission to speak," Buck said. "Fair chase is our permission to speak. It says that not only are there laws that govern hunting, its participants go beyond the law and hold themselves accountable to personal code of ethics that show respect for the game. This is what our society needs to hear to quiet the critics, and they need to hear and see it from us."
FWP reports that elk, deer and antelope hunters spent about $324 million in Montana in 2016. The revenue supported about 3,300 jobs. Resident and nonresident big-game hunters logged about 2.2 million days in the field, and they hauled out about 9.3 million pounds of meat. Individually, that breaks down to 206,267 resident hunters and 47,145 non-residents.
Nationwide, hunter numbers are falling. More than 35.8 million Americans fish and 86 million watch wildlife, according to a 2016 U.S. Fish and Wildlife Service survey. Just 11.5 million hunt, and that's down about 2 million from the 2011 total.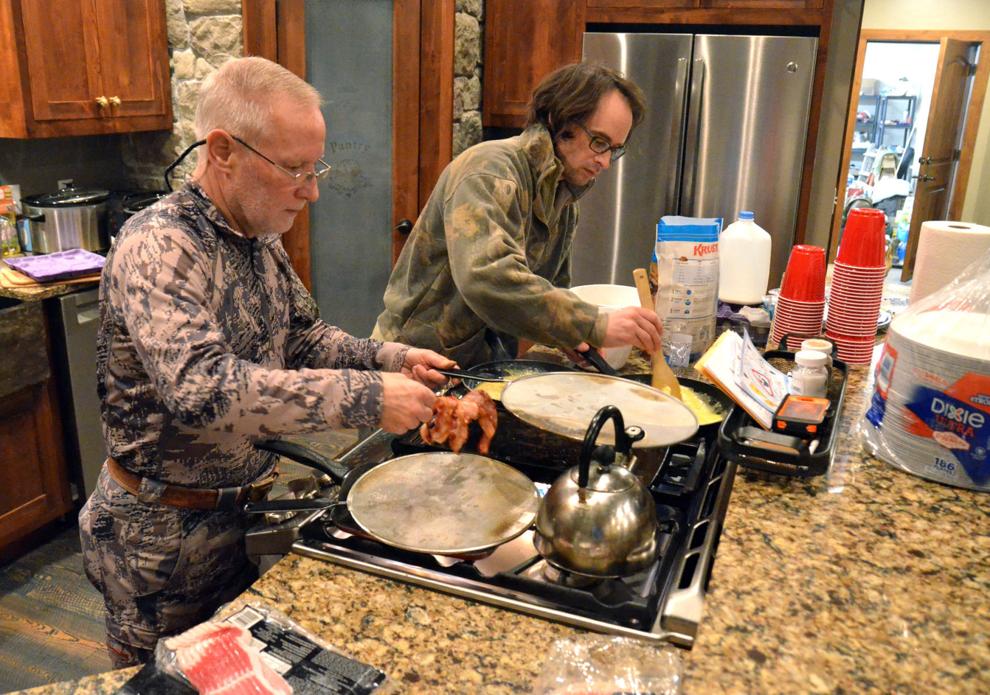 Just three of last weekend's novices had the residency status to buy licenses for this year's hunt. The other mentees took a more spectator stance. Big-game rifles are expensive, and so are nonresident hunting licenses (which also often require a lottery application placed in March). Nevertheless, the chance to tag along on a Montana Big Sky experience was lure enough.
"I've been hunting all my life, but only ever bow-hunting," said Madeline Damon of Burlington, Wisconsin. "A rifle hunt is a different thing for me. I've never seen a mule deer or an elk up close before."
The hunt started with steaming bowls of venison stew around the kitchen of James' father Ken Goerz's cabin on Friday night. To a roomful of wildlife biology and resource conservation students, retired Forest Service district ranger Randy Hojem led a campfire talk about how to land jobs at land management agencies and related fields. The dozen experienced hunters gathered around maps and GPS screens, divvying up drainages where they could find game and avoid one another. Then each mentor teamed up with one or two mentees to check gear, pack lunches and sort out the coming morning.
Morning came about 4 a.m., when Goerz father and son started the first batches of bacon, scrambled eggs and pancakes. By 4:15, most of the two-dozen sleeping bags were empty and the third pot of coffee was brewing. Truck doors started thumping shortly before 5 and a line of taillights snaked into the still-starry darkness.
Romero teamed up with Tommy Williams, a fellow northern California native-turned-Montanan senior wildlife biology student. He belonged to both the Wildlife Society and Backcountry Hunters and Anglers student chapters.
"I learned to hunt on my dad's shoulders before I could walk," Williams said. "I came up here for the first time three years ago, and did the mentoring for the first time last year. This is the biggest it's been."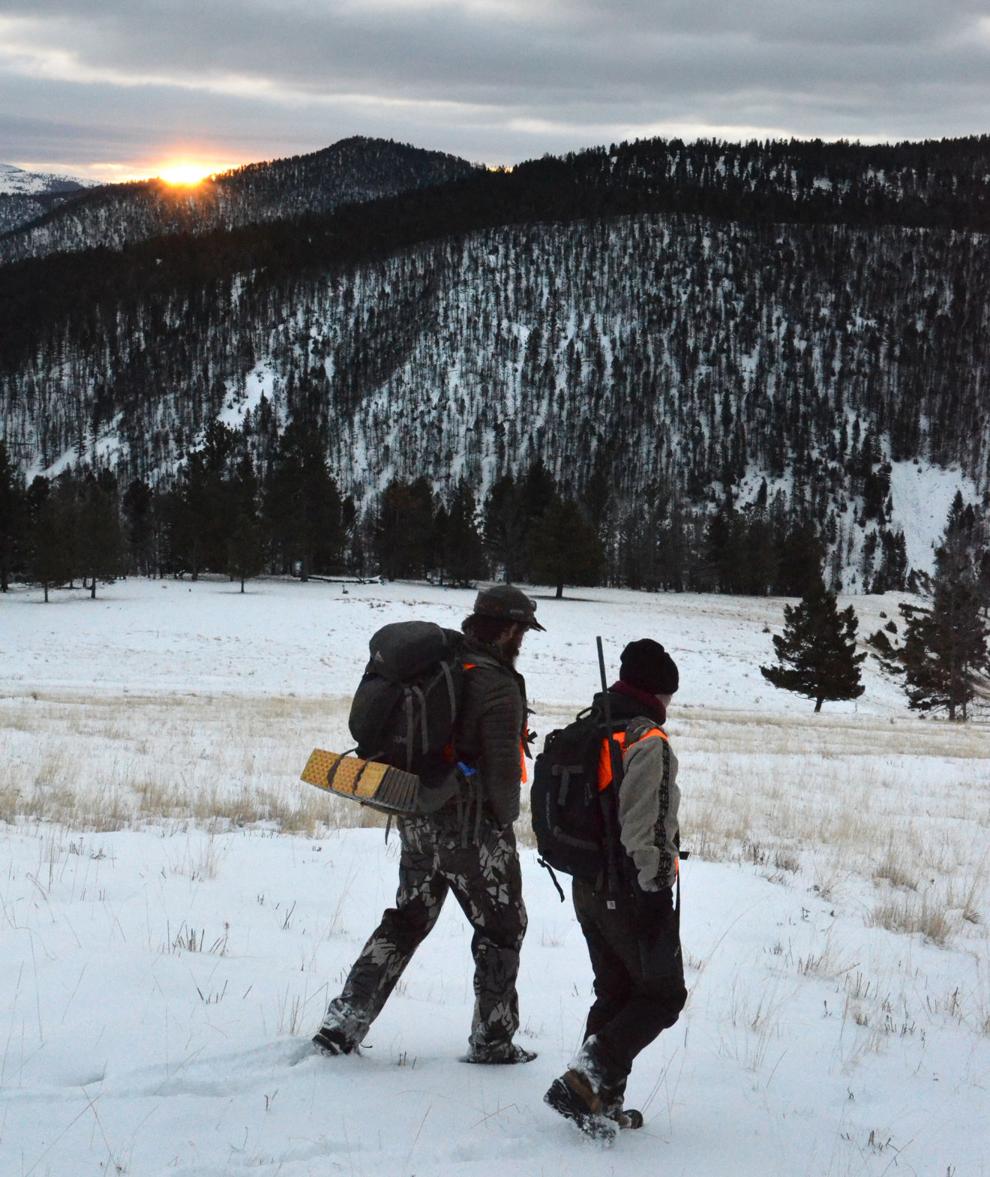 Ken Georz drove Romero and Williams high into the mountains above Stony Creek. An hour before 7:12 a.m. shooting light, they started walking in ankle-deep snow for nearly a mile away from the road. Then they sat under a tree above a rolling hillside and waited for the sky to brighten.
Williams picked the area for deer rather than elk, and bet that local muleys would start moving right around official sunrise at 7:42. As it happened, a mule deer doe appeared right as the sun started reddening the Long John ridgetops. A legal fork-horn buck was following behind. As Romero chambered a bullet in her Remington .270 rifle, the pair spooked and vanished in a fold of the landscape.
Williams kept watching while Romero got her rifle ready, and correctly guessed where the deer would come out of the defile. By then they were scrambling through the trees about 200 yards away — close enough to get excited about but too far for a certain shot on the run.
Several miles across the drainage, Tanner Saul was leading Martynn up another slope when they saw what appeared to be deer in the pre-dawn moonlight. As they got within 400 yards, they realized it was a herd of about 50 elk. They crept within 250 yards, only to learn the seven or eight males were spike-antlered: too young to legally shoot.
"As we were watching the elk, Tanner spotted some mule deer does," Martynn said. "They were in a group about 1,000 yards away. I saw them too, but when I put the binoculars down and then put them back up I couldn't find them. And then — holy s--- — I saw one of the biggest deer I've ever seen. I couldn't see any antlers, but I could see the rolls on skin on his neck. That's one fat deer."
Saul and Martynn crossed a gully and climbed the crest of the next hill to get behind the mule deer. They dropped their packs to better stalk. Martynn said he looked over a rise and saw the buck lying with a group of does, back to him, 80 yards away. The sighting was so sudden, he started shaking.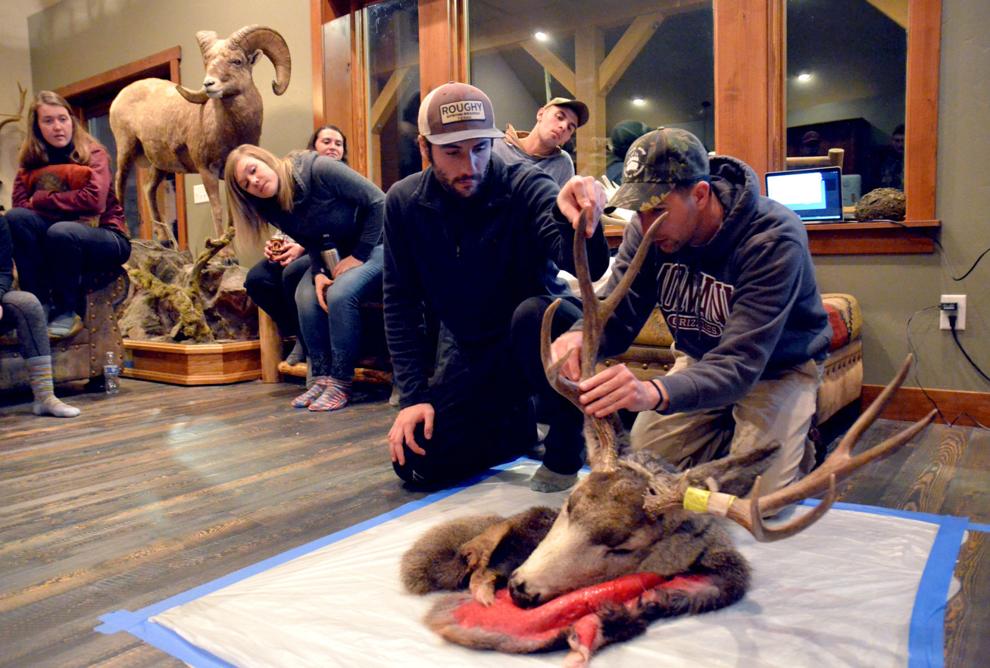 "We snuck right on top of him," Saul said. "Craig stood up, but he didn't like that, so he knelt down, but he couldn't see as well, so he stood up again. I was just telling him to keep breathing."
Martynn found a stable shooting position and fired. The buck died so instantly, its does didn't startle. They slowly stood up, confused by the gunshot and the collapse of their paramour.
"That's the biggest deer I've ever seen killed while hunting," Saul said. They estimated the buck weighed about 215 pounds on the hoof. That assumption came as the lesser-known part of the hunt began. It took an hour to skin and bone the animal, and another four hours to pack out the meat, hide and head with its 4-by-5 antler rack.
"We've got some sore shoulders and beat knees," Martynn said. "It was jackstraw lodgepole pine all the way back."
Freshman wildlife biology student Nicole Ballard was getting a similar lesson in rutting behavior in yet another drainage.
"We were tracking a group of deer until we saw the does, and then they spooked," Ballard said. "But then they came back to the same spot. And when we turned around, here was this buck walking right at us."
Mentor Charlie Henderson shot twice at the buck and missed. But the mule deer, apparently overwhelmed by its breeding desire, kept advancing. Henderson's third shot killed it at less than 20 yards.
"I definitely want to try and do this on my own," said Ballard, who was along as a spectator-turned-game-hauler on her first hunt. "It was a cool experience. It's fun to track so many animals, especially in winter. You can see all their tracks."
Back above Stony Creek, Romero and Williams were getting their own lesson in invisible wildlife. They found fox tracks, elk tracks, and shortly after 10 a.m., a flurry of white tails of deer moving too fast to identify. Romero got on a set of tracks and started following them, as they led into deeper and steeper hillside forest. As the slope started looking like a black-diamond ski run studded with tree trunks, she muttered, "I hate this mountain."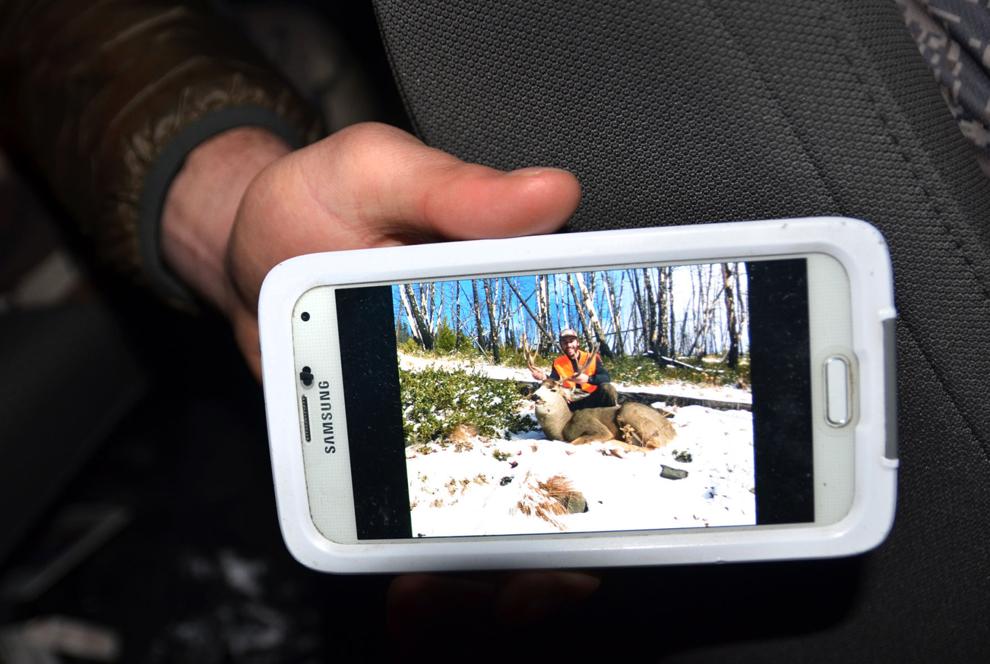 Eventually, the slope peaked out to a vista revealing miles of public land in all directions. Scars of old forest fires left some drainages spiky as porcupine backsides. High meadows far away held elk, still untroubled by hunters prowling far below. The duo shared whispered conversations about professors in the wildlife biology department, urban sprawl around Sacramento, and the shenanigans of fellow students.
An hour before sunset, they ran into another buck-and-doe pair. This time the buck stotted back into heavy timber, but the doe remained. A tense 20 minutes ensued as Romero tried to find a good shooting position without spooking to doe, in hopes the lovesick buck would return. Sunlight faded. The doe grazed. Shadows grew bitter. Luck expired.
Fortunately, Ken Goerz's warm truck was just a 15-minute walk away at this point. In the back was the meat from a fork-horn mule deer buck he'd shot by himself in between depositing his household hunting parties.
Back at the cabin, the exhausted party swapped stories while the Goerzes grilled venison burgers and chops. UM wildlife biologist Colter Chitwood gave an amateur demonstration of the Boone and Crockett technique of scoring antlers, using Martynn's massive buck for illustration. It worked out to an unofficial score of 135 7/8s, out of national trophy range but bigger than any of the mounted deer on Ken Goerz's cabin walls.
Hessami grew up in Vancouver, British Columbia, and didn't start hunting until his family moved to Idaho when he was 12. Sitting in a roomful of satisfied new hunters, he considered the results of the weekend.
"My whole life growing up, I've been thrilled with the concept of going out in the woods and sourcing my own food," Hessami said. "Going out with new hunters reminded me how I was 10 years ago, going out with my uncle, asking all these questions. Most of them were kind of in my shoes. They haven't hunted before. I saw that same excitement. It made hunting that much more special than someone who's been used to it their whole life."