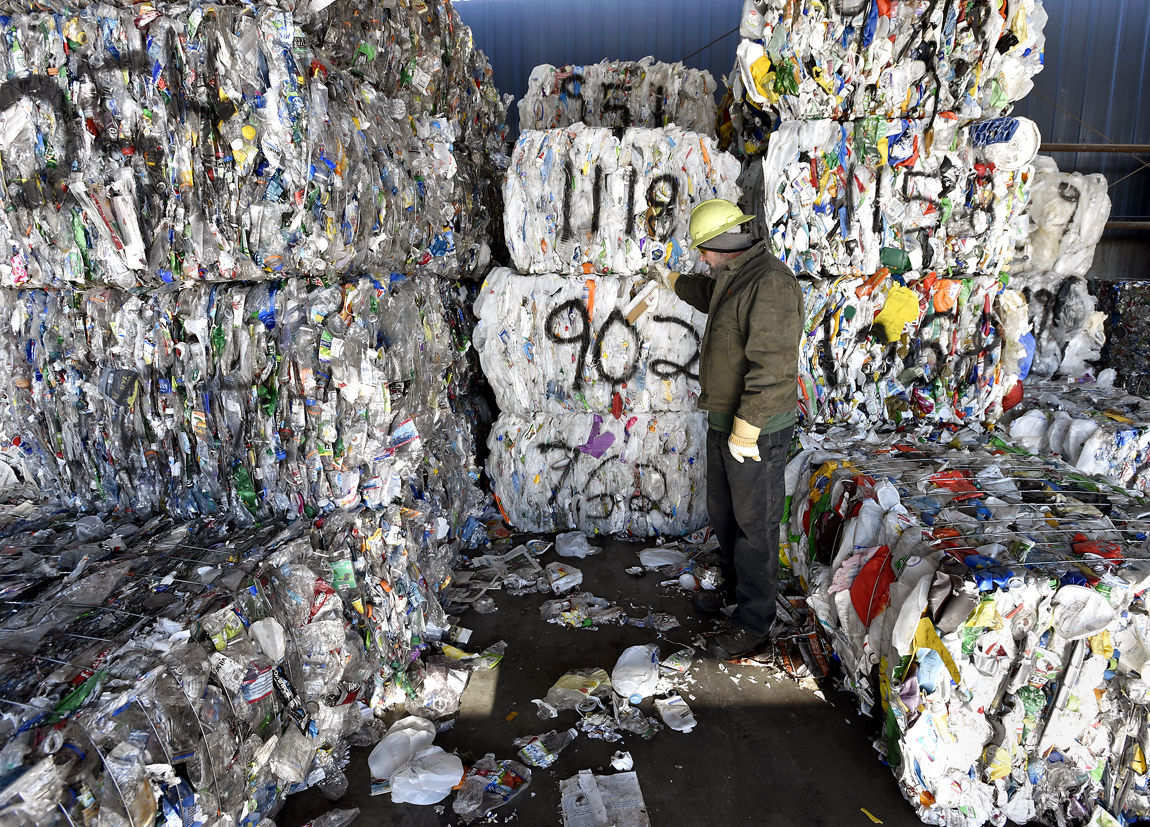 Recycling in Montana just got a little trickier, thanks in large part to China.
Glacier National Park no longer is recycling type 1 and 2 plastics, but Yellowstone National Park will continue to do so. Pacific Steel and Recycling in Missoula will continue to take plastic, but the company's other regional offices will not accept it. Flathead County has stopped taking plastics and tin cans, but the company that services the City of Whitefish continues to recycle them. Lake County and Missoula's two main household recyclers — Republic Services and Garden City Recycling — will continue to accept type 1 and 2 plastic.
Dusti Johnson with the Montana Department of Environmental Quality's Recycling Program said 95 percent of the United States' recyclables are shipped overseas, with the bulk going to China. The country now has strict guidelines in place on what it will take after deciding that too many "contaminated" items were mixed into the recyclables. Those contaminants can include food, diapers or other unrecyclable items.
"It's a national, an international problem," Johnson said Monday. "Then, with the market battles this morning over tariffs with the U.S. and China, I don't think it matters if (the recyclables) are clean or dirty. One thing people forget is that when recycling materials, what you're selling is a commodity, and if nobody wants to buy it you're stuck with it."
Recycled plastics often are used in China's textile markets. Last summer, China announced its new "National Sword" policy, which took effect Jan. 1. It banned some recyclables and created strict guidelines over the quality of the mixed bales of recyclable items.
The move came after China complained for years about the quality of the recyclables coming from the United States, Johnson added.
"I think people didn't take heed, and now there's nowhere to take plastic," she said.
Mason Mikkola, manager of Missoula's Pacific Steel, said they accept three grades of plastic — but only bottles and jars — because people also bring other, more valuable recyclable items to the drop off areas.
"We have to pay to dispose of the plastic, but all of the other stuff we get offsets that," Mikkola said. "I also think its good public relations, but somewhere down the road we'll need to look at the business situation."
Glenda Bradshaw, general manager of Republic Services, said they accept all clean, dry and empty plastic in the curbside containers, along with metals, papers and cardboard. They're actually paying a company to take the plastic.
"We're doing that because we're committed to recycling and the environment, but this recent situation has made it expensive for us," Bradshaw said. "It's a very complex situation, and people don't understand what's happening. It's a global issue.
"How long can we do that? I don't know the answer to that. We'll continue to watch the situation and make good decisions."
Many recycling businesses have already trained people to put the correct item in individual bins, keeping the plastics separate, along with different bins for paper, cardboard and other recyclables.
But sometimes, so-called "wishful recyclers" will toss in an item that's not allowed — like plastics type 3 through 7 or glass — and that can lessen or even remove the value of an entire load.
"People think that if they put it into the recycling container, the company is going to find something to do with it. But they're really just adding contamination," said Allison Batch, the sustainability programs coordinator for Citizens for a Better Flathead.
Other times, people might toss in a half-full bottle of ketchup or peanut butter, and that will contaminate the load.
"Since our recyclables are separated by the consumer, we are still able to take plastic, as long as people do the right thing," said Mark Nelson, the Lake County solid waste manager. "But I had to throw out a load after somebody put those black pots that plants come in; those aren't recyclable."
Batch sees this as an opportunity for the United States to focus on keeping its garbage local. She believes that with an increase in demand for plastic materials for items like decks and park benches, it's an opportunity for the nation to invest in recycling infrastructure.
"I think maybe in the long term this might be a good thing for the recycling industry, and for the United States to take responsibility for all the garbage produced here," Batch said.
It's also an opportunity for people to think about what they're purchasing, staying away from plastic containers or only buying those using recycled materials.
In Glacier National Park, Laice Dedrick is the sustainability educator. She said Glacier's "Green Team" is trying to figure out what their options might be and possibly recycling other materials. Glacier's remote location makes it more difficult to recycle than Yellowstone.
"Maybe we can recycle granola wrappers, the containers the people use to carry dehydrated foot into the backcountry — things we see as a niche," Dedrick said. "Other than that, we're in the same boat as the other people. We're waiting and hoping that the recycling market will rebound."