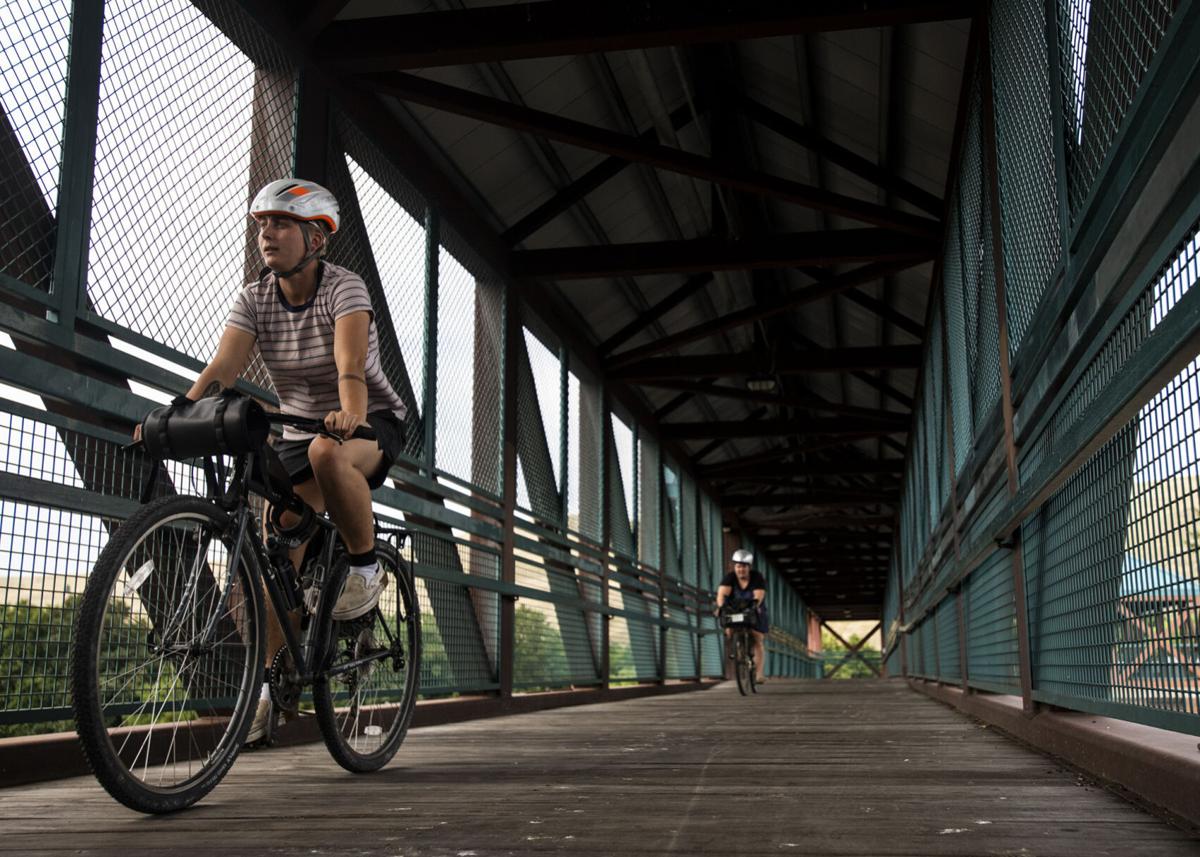 Parks and outdoor recreation have been especially valued in Missoula throughout the COVID-19 pandemic, with about nine out of 10 residents going to their parks and 92% saying they think parks are worth investing in, Parks and Recreation Director Donna Gaukler said Wednesday.
"Our great outdoors became critical to individuals' mental health," Gaukler said. "We saw families doing the remote learning on public lands and in parks, we saw multi-generational hikes, we received endless comments about 'Thank goodness for Parks and Recreation because I can access those trails, we can visit the park.'"
Gaukler outlined the findings Wednesday as part of the Parks and Recreation Department's budget request to the Missoula City Council. The Parks and Rec budget totaled $7.47 million in the 2020 fiscal year, and the council will consider a proposed $7.73 million budget for FY2021, which includes new requests such as $92,000 for a community-based program to provide before-and after-school services for families in the Northside and Westside neighborhoods, as well as requests to fund ongoing projects such as the completion of the Rattlesnake Dam restoration, Waterworks Hill trailhead improvements, Clark Fork River riparian restoration and the first phase of Westside Park construction. 
At the meeting, the Office of Housing and Community Development requested money for the Affordable Housing Trust Fund and joint statewide advocacy efforts, and the city's fleet maintenance also made budget requests.
Requests from Parks and Rec include $1,200,000 for completion of the Rattlesnake Dam restoration, $779,130 for construction costs associated with replacing the Northside Pedestrian Bridge, $189,750 for overhauls to Red Fern Park, $131,250 to replace a restroom at Greenough Park, and $190,000 for aquatics maintenance to cover things like the replacement of the 50-meter pool liner at Splash Montana, as well as $100,000 to plan the process of redeveloping the Northside Park. The department is also requesting $175,000 for Clark Fork Riparian restoration, which would include the design of sustainable river access points through downtown Missoula.
Smaller asks from Parks and Rec include $50,000 for trailhead improvements to Waterworks Hill that include rebuilding the trailhead and and parking lot and adding an accessible loop, $54,000 to complete Bellevue and Syringa bike parks, and $9,963 to support underfunded developed parks.
Parks and Rec is also requesting $91,652 for a proposed community-based program in partnership with Missoula County Public Schools that would provide before- and after-school inclusionary services for kids and families at Lowell Elementary School and in the Northside and Westside neighborhoods.
"I know these are big asks but it's a big idea," Gaukler said.
Gaukler said the Westside neighborhood is home to some of Missoula's greatest systemic poverty, with 80% Lowell's students qualifying for free and reduced lunch. The school also had the lowest participation in remote learning. She said the program would be an opportunity for schools to partner with Parks and Rec to better use facilities after school, on weekends, during the summer, and on holidays.
Gaukler said the program would be the "first real, in-depth school-city partnership where we use shared resources, shared facilities to better serve our community to achieve a higher level of equity, inclusion (and) success."
If the program goes well, Gaukler said she would like to implement it across all of Missoula, and City Council member Julie Merritt suggested making Franklin Elementary School the next part of the project.
The departments' requests come as part of the city's budget season for fiscal year 2021. Every Wednesday for the next couple of weeks, department heads will come before the City Council's budget committee to make their case for their wish lists. The preliminary budgets are posted on the city's website. Additional information with dates is also available on engagemissoula.com.
The city makes revenue projections based on the information it has at the start of the budget process, although it won't know what its revenue will be until Aug. 3 when the city receives certified taxable values from the Montana Department of Revenue, which allow the city to calculate tax levies. After the city receives the certified taxable values, it will reassess and prioritize budgetary requests. Not all requests will make it into the budget, which is open to public hearing beginning Monday, Aug. 10, until City Council is expected to vote on the budget on Monday, Aug. 24.
The Office of Housing and Community Development is requesting one-time general fund contribution of $750,000 for the Affordable Housing Trust Fund and $75,000 for the Missoula Mobile Crisis Response Team, for which City Council has approved resolutions to support each. Housing and Community Development is also requesting $15,000 to invest in a joint statewide advocacy for 100% clean electricity and $20,000 for a joint statewide 100% clean electricity economic analysis.
"While much has and can be done at the local government level to mitigate the impacts of climate change, there remain state-level policy constraints and obstacles to Missoula and other communities with adopted roles to transition to 100% electricity," said Chase Jones, the city's energy conservation and climate action coordinator.
Jones said that funding the advocacy work will give local government, the business community and other partners a presence in the Montana legislature and Public Service Commission so they can work on removing constraints and transition to an electricity and energy supply system that mitigates greenhouse gas emissions and climate change.
Engen said the city has already programmed the $750,000 for the Affordable Housing Fund for FY21, and that the city may up the contribution depending on taxable values from the Montana Department of Revenue, and CARES Act distribution.
"My hope as well is to start looking at this as an ongoing contribution, but in the meantime, to the degree that we can," Engen said.
Get local news delivered to your inbox!
Subscribe to our Daily Headlines newsletter.