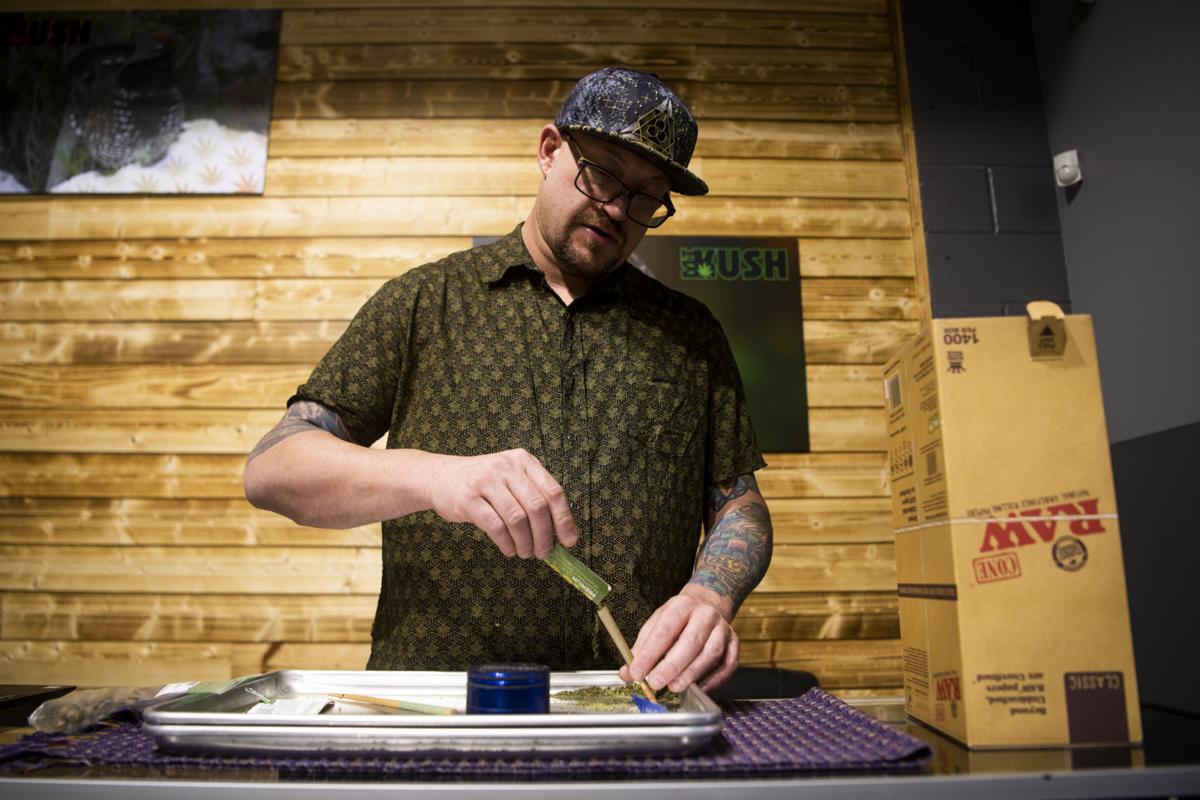 As the Jan. 1 date nears for when medical dispensaries in Missoula County can begin legally selling recreational marijuana to all adults age 21 and over, city and county officials are considering some regulations on the industry.
There are 70 marijuana-related businesses in city limits and another handful in the surrounding county.
Ballots for the Nov. 2 municipal general election are in the mail. Voters will decide whether to implement a 3% local-option marijuana excise tax on the retail value of medical marijuana and recreational marijuana sold in the county.
Voters have the choice of taxing medical marijuana, recreational marijuana or both. The tax would also apply to all associated products containing marijuana.
Meanwhile, the city is planning to take public comment on a proposal to amend city zoning code related to recreational cannabis businesses.
City planners have recommended a 500-foot buffer between dispensaries and a ban on non-transparent glass storefronts, as well as a ban on home cultivation or manufacturing as a legally allowed home occupation. They say the proposed changes would increase safety and preserve neighborhood character.
City council member Gwen Jones summed up her concerns at a recent committee meeting.
"Our Hip Strip and downtown have already had a huge impact by (cannabis) stores coming in," she said. "For decades, people have worked so hard to create a vibrant downtown and millions and millions have been invested in our downtown area."
She believes cannabis stores should perhaps have a 1,000-foot buffer between them.
"In the space of just 12-18 months we're just seeing a huge dramatic change in the entire vibe downtown with marijuana stores that are going in that are basically front-loading as medical prior to the January 1 start date of recreational (sales)," Jones said.
In September, the Missoula City Council's land use and planning committee heard from city planners about the proposed changes to zoning laws.
Spencer Starke, a city project planner, said there are 70 marijuana-related businesses in city limits. Of those, 50 are dispensaries and 20 are split between manufacturers, cultivators and mixed-use businesses.
Cassie Tripard, a city planner, said there are a few main "impact concerns" that can be mitigated through zoning codes.
First, there are public health and safety concerns associated with marijuana-product manufacturing, she said. Those include chemical production, the need for proper ventilation, mold prevention, disposal of wastewater and high energy use. To mitigate that, those businesses could be relegated to certain industrial zones.
Second, commercial cultivation and manufacturing within homes can impact residential character and cause disturbances, she said. That activity could be banned within the city, but wouldn't apply to people growing marijuana for their own personal use.
Third, too many businesses clustered in certain neighborhoods can cause saturation, she said.
"A map of existing businesses shows a saturation of dispensaries in certain areas, particularly the downtown area, the intersection of West Broadway and Russell and a portion of Brooks," Tripard explained. "If dispensaries continue to cluster, that will lead to a lack of diverse uses in that particular neighborhood, affecting form and access to amenities."
To mitigate this, planners propose the 500-foot radius buffer between any new marijuana businesses.
And finally, opaque or frosted windows cause a reduction in safety for the public, she said.
"To obscure products and provide security, many dispensaries have frosted glass installed or otherwise opaque windows," Tripard said. "This causes a lack of a transparent, active storefront."
That means people can't see outside to the street from inside a business. She called transparent windows "crime prevention through environmental design."
"Essentially, people are less likely to commit crimes when people inside buildings can see out on the street," she said. "Also, people who see accidents on the street can call for help."
Tripard and her staff recommend a ban on frosted windows. The city must decide whether to let existing businesses keep their frosted windows or bring them into compliance, she said.
City council member Amber Sherrill asked the city planners if they've considered a cap on the number of business licenses granted to cannabis businesses in the city.
"I'm wondering if we're going to get a flood of this from every place around us," she said.
Only medical dispensaries that were established before November of 2020 are allowed to sell recreational marijuana starting on Jan. 1, but in July of 2023 recreational marijuana business licenses will be available to the general public.
Starke noted that only counties that approved Initiative 190, which legalized recreational sales to adults in Montana, will be able to have recreational business licenses. Counties that didn't approve that initiative will have to vote whether to allow recreational sales.
He noted that all the counties surrounding Missoula County will have recreational sales starting this January, which means planners don't expect Missoula to be an island of recreational sales for the region.
"We took that into account," Starke explained of the decision to not implement a cap.
Council member Heidi West also said limiting the number of recreational licenses is a bad idea.
"We didn't want to replicate what we see happening with liquor licenses," she said. "Those sell for over $1 million and are largely unattainable. Making a cap could create economic issues in the long run."
Council member Jordan Hess said he doesn't want to over-regulate marijuana businesses.
"Voters approved this by an overwhelming margin, so having a light regulatory touch and focusing on safety is a good approach," he said.
Hess noted that if a 500-foot radius buffer between cannabis businesses is implemented, it would effectively create a city-wide cap.
Sandra Vasecka was the only city council member to not move forward with allowing planning staff to draft an ordinance that would amend city zoning code.
She disagrees with banning opaque glass and the 500-foot buffer. she said.
"It should be the businesses' right to protect their customers' privacy," she said. "I disagree with frosted glass and also dictating what businesses can buy property and where."
No cannabis business owners spoke at the meeting, and several who were contacted by the Missoulian did not respond to a request for comment.
A timeline for when the city council will discuss the subject can be found online at engagemissoula.com.
Jennie Dixon, a planner for Missoula County, said the county government is also in the process of forming regulations as it pertains to cannabis businesses.
"Our focus is going to include energy conservation measures," she said. "Our research has shown cultivation activity consumes 7-8 times more than an average commercial use and the county is interested, given our carbon-neutrality goals, in taking a look at that."
Missoula's three county commissioners voted unanimously to approve giving voters the option to implement a sales tax on marijuana products. The county estimates that if the tax is placed on both recreational and medical pot, it would generate around $716,000 every year based on research from the University of Montana.
In 2022, it's estimated that $217 million worth of marijuana will be sold in Montana, with nonresident visitors buying nearly $30 million of that chunk.
The county would get 50% of the revenue, while 45% would go to the city and the remaining 5% to the state.
The details would be worked out after the vote, but the county is exploring using a percentage of the revenue to offset property taxes. Some of the money might also go to funding the mobile crisis unit and preventing homelessness.
Medical marijuana in Montana already has a 4% state tax. Recreational marijuana will have a 20% state tax once it's legal.