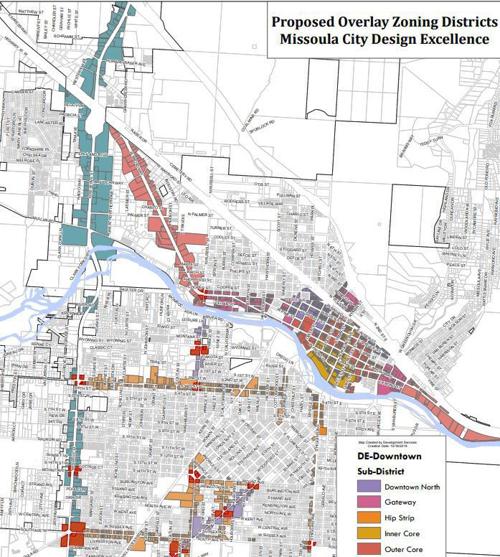 The total market value of construction projects in Missoula since 2014 is approaching $1 billion.
As the building boom has intensified, so too has the scrutiny over how businesses look, feel and interact with other infrastructure.
Now, the city is considering implementing new architectural and design standards for new private business built downtown and in commercial corridors.
"We want to work on creating a new set of design standards for private development that is more responsive to locations," explained city planning services manager Laval Means. "We want to kind of amplify up the kind of quality we see in the city and even more so, and it would also help to address concerns we've seen in the past."
The new zoning overlays, if approved by the City Council, would not apply to single-family homes, duplexes, townhouses or multi-dwelling unit buildings in residential zones. They would apply to commercial businesses and multi-dwelling buildings in commercial zones.
City planner Ben Brewer said the city's goal is to respond to community concerns and promote high-quality design that fits each neighborhood's character.
"This is mainly in response to community concerns," he said. "The community expresses that it cares about design in the city standards, and what we have now isn't adequate to address community concerns over the years."
The city hired a consulting firm, Urban Advisors, to conduct an economic analysis of the proposed new standards. Through four case studies across multiple development types and scales, the study found that the impact of the overlay design standards on development costs would be low when incentives are utilized. Incentives that are considered include a reduction in required parking ratio based on proximity for alternative transportation modes, which the study's authors said seems particularly beneficial to developers.
The new zoning overlays would apply to downtown and main commercial corridors, such as the West Broadway area. City planners have been working on the Design Excellence Project for almost two years at the request of citizens and City Council members, some of whom felt some recent development projects in Missoula did "not express Missoula's sense of place and identify or reflect its character," according to Brewer and Means.
Some new projects are ostentatious, meant to capture attention with splashy bright facades and lighting. Some are more understated and encourage pedestrian interaction.
When a new Verizon building went up on East Broadway several years ago, some City Council members said their constituents felt the structure's façade and lighting system were obnoxious and didn't fit in with the neighborhood character. The Verizon building has been mentioned many times at city planning meetings as design requirements are discussed.
Brewer said the proposed standards are not in response to that particular project, but acknowledged that it "didn't help" with citizen concerns over a lack of design standards. He noted that some projects, such as the new Conflux Brewing building and the Garlington, Lohn and Robinson law building downtown, are good examples of pedestrian-friendly edifices.
According to Means, the new guidelines might specify what type of materials can be used for a façade, where the parking can be located and how far back from a sidewalk a building should be located.
On Wednesday, Nov. 7, the City Council's Land Use and Planning Committee will discuss an ordinance to amend the City Zoning Map and other discussions about the new guidelines.