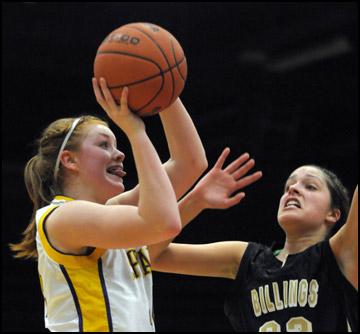 BUTTE - The Missoula Sentinel girls' basketball team kept its season alive with a thrilling 42-41 victory over Billings West in a loser-out game Friday afternoon at the Civic Center.
Freshman DJ Reinhardt sank a 12-foot jumper for the go-ahead basket, 40-39, with 43 seconds left. The reserve forward then stole an inbound pass at the other end of the court to set up two free throws by junior teammate Bryn Hasquet, who scored a game-high 20 points in the win.
Reinhardt chipped in six points for the Spartans, who advance to another loser-out game Saturday, and senior guard Brette Rubie had nine points and nine rebounds.
The fifth-ranked Bears scored once more with five seconds left and had a chance for the win after Rubie missed a final free-throw attempt, but West guard Danielle Muri, guarded closely by Rubie, couldn't get a shot off as the two raced back up the court in the final seconds.
Sentinel, which outscored the Bears 14-11 in the final frame, trailed at all three of the previous quarter breaks. The Spartans (17-6) play the loser of Friday's late semifinal between Butte and CMR in an elimination game Saturday at 10:30 a.m.
Lauryn McKay scored 11 points to lead the Bears, while Muri added eight.
Get local news delivered to your inbox!
Subscribe to our Daily Headlines newsletter.