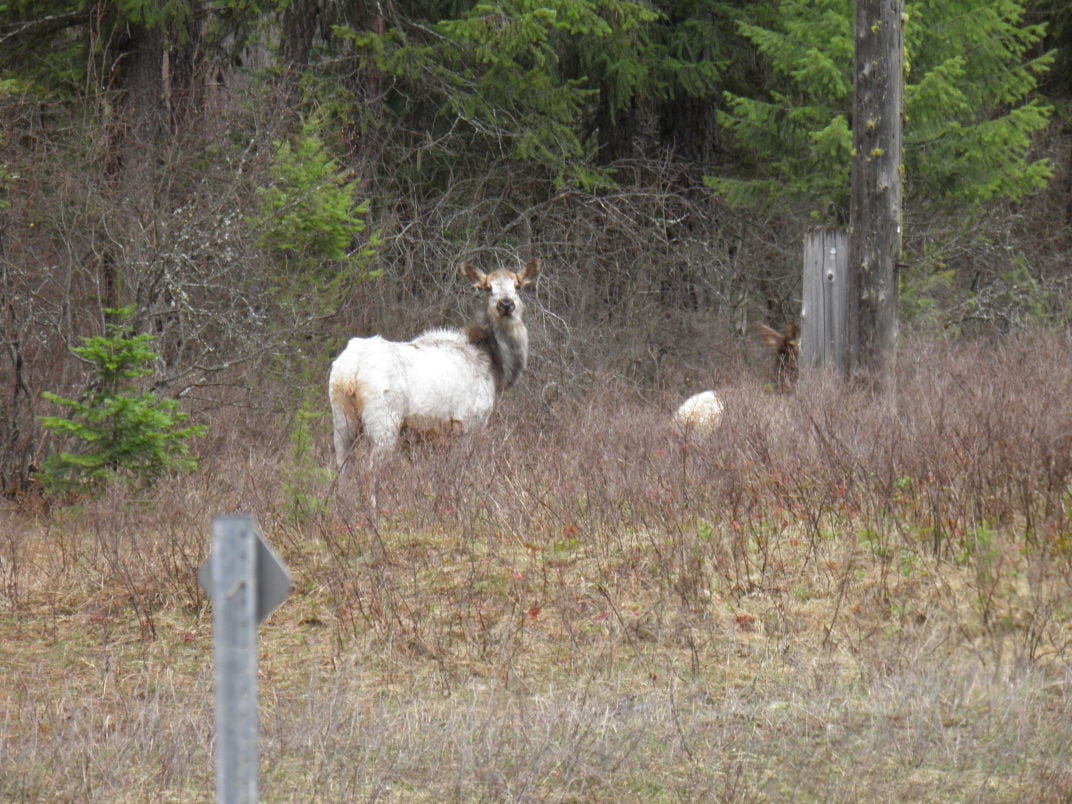 THOMPSON FALLS – It will be hard for this elk to hide come hunting season – at least, until the snow flies.
Until then, she stands out like a sore thumb.
The cow elk is white. Not a true albino – her eyes are dark and her nose is black – but most of her hair is white as a polar bear, the result of a recessive gene, according to Montana Fish, Wildlife and Parks biologist Bruce Sterling.
Several people have spied the white elk in the Prospect Creek drainage outside Thompson Falls this spring – including Sterling, who saw it from the air during a population survey a couple of weeks ago.
"You can't miss her," Sterling says.
Lisa Koker took pictures of the elk when she and her husband saw it while they were driving through the area.
"We were wondering what was wrong with her" at first, Koker says. "We thought maybe she was really old, or not shedding right."
A friend circulated the photos Koker took among wildlife biologists, including Sterling, and that's when the recessive gene consensus emerged.
"It has to be a recessive gene that both of her parents must have been carrying," Sterling says.
Gordon Luikart, a professor of conservation ecology and genetics at the University of Montana's Flathead Lake Biological Station, agrees.
Both parents may have been the normal brown color of elk, Luikart said after seeing Koker's photographs.
"But if each parent is a carrier of the recessive gene, then this offspring got both of the bad copies," he said.
It's obviously rare, Sterling and Luikart agree, but just how rare Sterling says he has no idea, and Luikart can only hazard a guess.
"I'm speculating, because there's not a lot of data," Luikart said, before settling on 1 in 50,000 to 1 in 100,000.
He initially thought it might be even rarer than that, but that was before he forwarded Koker's photos to elk experts.
One told him a white elk had been seen by UM researchers in the West Fork of the Bitterroot. And last spring, hikers in Yellowstone's northern range spotted one. The hikers reported that the white elk, also a cow, seemed to be more vigilant than the rest of the elk she was with, and also tended to stay in the center of the herd, possibly a learned behavior to protect herself from other predators.
Luikart suspects the birth rate may be lower. The rarest thing is probably a calf born minus the normal coloring living more than a few months, given how easy it is for predators to spot them.
"You can imagine a white calf trying to lie in a green or brown field," he says.
The unusual condition is called leucism. When pigmentation cells in an animal or bird fail to develop properly, they are said to be leucistic.
Sometimes it results in white patches; less often, in completely white creatures. The Thompson Falls elk is "80 (percent) to 85 percent white," Sterling says, with some dark coloring on her mane and a tinge of brown on her ears and the top of her head.
"I don't know how old she is but she's definitely not a calf," Sterling says. "She's at least 1 1/2 years. Since we hadn't heard about her before, if I had to take a guess I'd say she's a young cow."
The biologist isn't sure the elk will even make it to fall.
"They do stand out, and are targeted by predators," Sterling says. Being white is "probably great in the wintertime, but white on a green or brown background is pretty easy to see."
That's part of the reason they're so rare, he says.
"A lot, because they're targeted, don't live long enough have a chance to breed," Sterling says.
It's been approximately 15 years since he's heard of a white elk in the Thompson Falls area.
"It was a bull elk, up the Thompson River," Sterling says. "Interestingly, it was seen as a calf. It was harvested, as a 2 1/2-year-old bull, a little three- or four-point, by a hunter. If I remember right, it was more white than this one, with the same traits of albinism because of a recessive gene."
That gene makes it much harder for the elk to survive, but Koker is rooting for her.
"It was a pretty awesome sight," she says. "I hope nobody takes her."