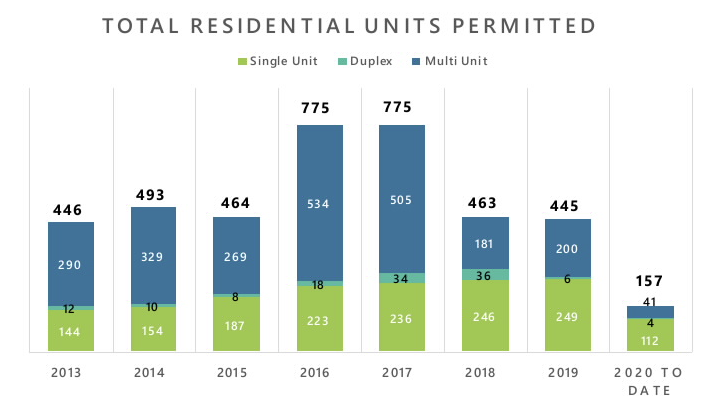 Missoula saw a surprisingly strong second quarter of construction activity during the coronavirus stay-at-home order and economic turmoil, according to data from the city's Development Services Office. Meanwhile, housing construction is off to a historically sluggish start even as a lack of supply drives up prices.
Through the first six months of 2020, $117 million worth of building permits have been approved in the city. That's the strongest first six months of activity in Missoula since at least 2010 with the exception of the year 2017, which still stands as a record year for development.
In the months of April, May and June during the pandemic, Missoula recorded $72.9 million worth of construction. The city's statistics only take into account the cost of constructing the building and not other soft costs like land acquisition, financing and design.
"Development Services staff issued 1,788 building permits in (the second quarter of the year) compared to 1,656 in (quarter one)," explained Development Services' business manager Alicia Vanderheiden. "Several large-scale projects are underway including the Missoula International Airport, the DJ&A Office Building, new VA hospital and the St. Patrick Hospital Critical Decision Unit."
Other large projects on the way in Missoula include a 122-room Staybridge Suites motel on Reserve Street, a 105-apartment complex at Grant Creek Village, an expansion and remodel of DeSmet School and a three-story office/commercial building at the Old Sawmill District.
Housing construction, though, has been on an extremely slow pace.
In the last six months, building permits were issued for a total of 157 residential units. That includes 41 multi-dwelling units, 112 single units and four duplexes.
That's a pace that, if continued, would see 2020 recording the fewest residential units constructed since at least 2013. For example, last year saw a total of 445 units constructed and 2016 and 2017 both saw 775 units constructed.
Brandon Bridge, an economist and the director of forecasting at the University of Montana's Bureau of Business and Economic Research, recently detailed in a new report how Missoula's housing supply has been constrained.
"Missoula's aging housing base has been exacerbated by sluggish building since 2010," Bridge explained. "Moreover, estimates show that a large majority of the relatively few homes being built since 2010 are homes targeted for upgrading home buyers. It is estimated that less than 30% of new construction in Missoula County since 2012 have been entry-level structures. Meanwhile over 60% of new construction has contributed to the inventory of higher end move-up housing units."
Bridge found Missoula saw a surge a half-century ago of new housing, but nothing like it ever since. In 1960, nearly 30% of houses in the county were over 30 years old.
"The 1970s were (record-setting years) for home building in the county, with over 10,000 housing units added between 1970-79," Bridge wrote. "This resulted in a flipping of proportions. By 1980, almost 40 percent of housing units were less than 10 years old, while structures that were more than 30 years old declined to slightly below 30 percent of available units. Since then older structures have continuously increased in proportion."
Then, things flipped back again.
The most recent data estimates that structures that are older than 30 years make up approximately 62% of housing units in Missoula County, while units less than 10 years old now account for about 5% of structures.