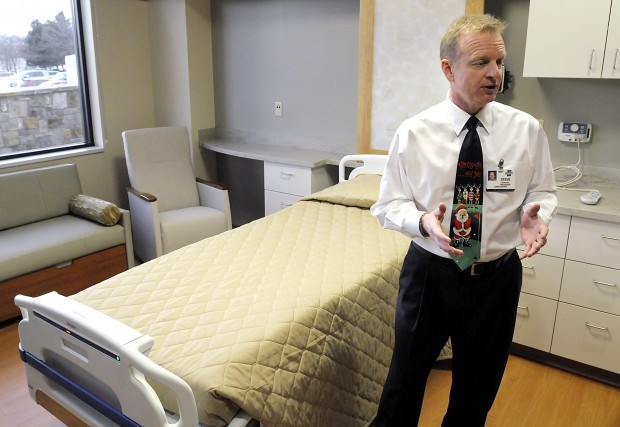 Decreased demand for acute care services at Community Medical Center means some employees will be out of jobs, while others face reduced hours or furloughs.
Between layoffs and retirements, about 20 positions will be eliminated. Combined with furloughs, the changes will amount to 60 fewer full-time equivalency positions at the Missoula hospital, which employs more than 1,020 full- and part-time workers, said Steve Carlson, the hospital's CEO.
"I think naturally some people are disappointed, and I understand that," Carlson said. "We take no satisfaction in having to adjust work hours for people I'm sure are feeling the economic pinch."
Managers have been taking a one-day furlough each pay period for the past two months, but about $3 million in savings must be realized. The bulk of the savings will come from the staffing adjustments, said Mary Windecker, the hospital's vice president for planning and marketing.
The number of nursing positions affected will reflect the size of the department, which is about one-third of hospital staff. The ratio of nurses to patients will remain within accepted national standards, Carlson said.
The recent change in staffing at Community reflects the declining demand for acute care – when a patient is admitted to the hospital for at least 24 hours, Carlson said. "We are working through what both hospitals in this community are working through, which is really an issue which is not local but is national."
According to global outplacement consultancy Challenger, Gray & Christmas Inc., announced job reductions in health care are dramatically higher this year.
From January to September in 2012, there were 26,080 reductions. That number is at 41,085 for the same time span this year.
Montana has not escaped the trend.
"The short answer is: Yes, there is a trend nationwide for hospitals to see fewer acute care stays," said Bob Olsen, vice president of the Montana Hospital Association.
The long answer is that some hospitals are bucking the trend and seeing an increase in demand because of population growth or because smaller hospitals in outlying areas are cutting services, which pushes patients to the larger centers. Some areas not experiencing a drop in patient volume are Kalispell and Bozeman, Olsen said.
Marcus Daly Memorial Hospital in Hamilton also is not experiencing a decrease in admission rates, said John Bartos, the hospital's CEO.
No layoffs are planned, he said. "Today we do not have any plans for that to occur, but what the future brings and what will be happening in D.C. as they address the deficit and address payment to hospitals, that's unknown."
Montana lawmakers' decision not to expand Medicaid and a 2 percent cut to Medicare reimbursements due to sequestration have put a strain on hospitals around the state, as administrators search for ways to become more efficient and cost effective regardless of admission numbers, Olsen said.
Technological advances in surgical techniques have made medical procedures less invasive, meaning shorter hospital stays. Readmission rates also have decreased, he said.
Increased vaccination rates for common acute illnesses, including influenza and pneumonia, reduce overall rates of illness and hence the likelihood of hospital stays, he added.
Also, people are opting against non-essential procedures because of larger co-pays required by their insurance plans, Carlson said. "And I think that's a trend that's likely to continue."
Providence St. Patrick Hospital also is looking for efficiencies, despite actually seeing a roughly 5 percent uptick in patient admissions through September, said Jeff Fee, the hospital's CEO.
Those admissions, though, are for medical reasons, not surgical procedures. Hospitals make more money from surgical admissions, while profiting little, if any, from treating patients with illnesses such as pneumonia, Fee said.
Market forces, along with the Affordable Care Act, are forcing hospitals to alter their care delivery model from the current model, which relies on high numbers of patients, to one focused on keeping patients out of hospital beds altogether, he said.
"And so that does mean in certain cases that jobs go away," he said.
However, it also means that new jobs are created and other job descriptions are retooled, he added.
St. Pat's has managed to avoid across-the-board cuts to this point, Fee said. "And we hope to be able to continue to do that."
Instead of sizable staffing cuts, mandatory furloughs were put in place earlier this year, largely for employees who don't already take cuts in shifts depending on the number of patients, and financial compensation packages were offered. About 50 employees took the option of voluntary separation. Another way the hospital has been saving money is through attrition, Fee said.
Programs are being evaluated and as much non-essential work that can be is being eliminated, Fee said.
It's unclear how many of the 1,785 positions at St. Pat's and with the Providence Medical Group will be affected.
Fee refrained from saying how many positions could eventually be eliminated or what service areas could be impacted. People are "anxious enough as it is" without worrying about their job ending up on the chopping block, he said.
The trend of decreasing hospital admissions could turn around as soon as next year when implementation of the Affordable Care Act, which requires virtually all Americans to purchase health insurance or pay a penalty, is expected to increase patient volumes for hospitals nationwide.
Olsen, though, said that it's too early to tell what impact more people with insurance would have on hospitals or on demand for acute care.
"The uninsured that require inpatient care are already being cared for, so having insurance won't mean additional admissions or days. There may be some additional care at the physician's office and for diagnostic services, pharmacy and so on," he said.
If demand does increase, so will staffing levels, Carlson said.
In the meantime, the hospital will manage costs relative to demand. For example, the number of cancer patients is expected to dramatically increase, and the Community Cancer Care Center was completed this fall, he said.
Community Medical Center also continues a process with a health care financial advisory firm to strengthen the hospital, as well as to connect with possible partner organizations.
All the market changes along with the overall trend of decreasing admissions will make for several turbulent years in the health care industry, Fee said.
St. Pat's will continue to find efficiencies and to streamline processes, he said.
Looking forward, the hospital will strive to be proactive in adjusting to the new model. Already, a pilot program at Providence St. Joseph Hospital in Polson seeks to manage high-risk patients to keep them from being admitted to the hospital, he said, adding that program created job positions.
As more patients are shifted to outpatient clinics, nursing positions could shift to outpatient clinics as well, Fee added.
Already, the push to outpatient clinics is being seen in Helena, Olsen said, adding that job losses at hospitals don't necessarily mean job losses overall in the community if clinics and ambulatory surgery centers take on more patients and need more staffing to handle the demand.
Ultimately, changes at hospitals are similar to management people would expect from any other business, Olsen said. "It's because changing times require management to react."