The Missoula City Council recently got a long-anticipated look at detailed concept images for the new $35.5-million, four-story Missoula Public Library  to be built downtown starting this fall.
Missoula County voters approved a $30 million bond in 2016 for the new building, and the Foundation has so far raised $4.37 million of its $5.5 million goal for additional private funding to complete the project.
Chris Martison, a principal with A&E Architects in Missoula, was joined by Karl Olson, the director of the Foundation for the Missoula Public Library to present the images for the city council's Committee of the Whole last week.
Martison said the design team is really focused on bringing a lot of light into the building, incorporating the natural geology, beauty and colors of western Montana and making it as inviting and accessible as possible.
"The building is very modern," he said.
The concept images show floor-to-ceiling glass on the lower floor (above a basement parking garage) and the fourth-floor common area/community room almost entirely clad in glass. There could be an outdoor deck on the fourth floor and/or the second floor.
"The first level is very busy with the market space, and it will have a really strong connection to the community," he said. "The second floor is a place of discovery and a place of interaction (for children's programming). The second floor is also a lot of transparency, with reading niches that kids can crawl in and read.
"Level three is the adult floor. It's getting lighter and quieter. And on level four we have the connection to the sky. Level four is a pretty exciting space from our standpoint."
He said the top floor would have an event space that would house 250 people that connects with views to the south, along with a reception area and a public-use boardroom with great views. There are also plans for a monument wall that would span the building and connect all the floors.
"It gives you a sense of the magnitude of the space," Martison said.
Olson said a recent major donor to the library sponsored the fourth floor space.
"As much as we talk about glass and light and all these cool things that make it both beautiful and functional, they are going to honor someone in their family," Olson said. "They want to honor a person who believed that community storytelling was important, and they see the event space as one of those big living rooms where people come together and share their narratives as we do in life. That's what triggered that donation."
Olson said he's extremely confident the foundation will reach its goal by December, saying they are waiting to close on an additional $300,000 to $400,000 that was promised last month. When council member John DiBari asked if the library has a backup plan for what would get built if no more funds were raised, Olson was full of conviction.
"The library is fortunate to have the library foundation," he said. "We're not even entertaining the question that (meeting the fundraising goal) won't (happen) and our track record thus far shows that it will happen."
Olson said the goal of the presentation was to give the city council a "broad brush view" of library plans and to bring them up to speed on the total picture.
"We are really pleased with the way it's gone," Olson said. "It's a scientific process. We are really well-trained to do this part of it. Beginning as early as 2013, plans were laid out, we followed those plans and the plans are paying off."
Olson said that the plans are based on the "pretty simple and important" concept of relationship-building.
"Both the $30-million bond voted for in 2016 and the $4.4 million in gifts raised thus far are wonderful evidence for the public trust and affinity for the mission and services of the public library," he said. "This is a project that anyone in this community will be able to sign on to and put in as a feather in their cap.
"That's a big feather in the cap of this community for many generations to come."
Martison told the Missoulian he wants to be very clear that the images he presented are concept images and the uncertainty in construction costs could alter details.
"We're still in a place where we're trying to balance this budget, and it's hard," he said. "The stuff you see in the images may not be what's actually there. The details may change. Construction costs — building materials costs and labor costs — are rising every day. So we're still working through a challenging budget period due to that uncertainty."
Martison told the city council that they've had to be very careful on how they release information about the new building.
"It's an interesting time for construction," he said. "It's a very visible and highly looked-at project in the public's eye, so we want to be very cautious with what we show and make sure we can build what we show under costs that are occurring."
Olson told the Missoulian that the design team of A&E Architects and MSR Design have about two more months of design work to finalize before a complete version can be unveiled.
"All work to this point is still in draft mode," he said.
However, the construction manager is getting close to guaranteeing costs. Olson said that part of the process has been affected by volatility in the building materials markets, such as steel, and robust development in Missoula.
"Missoula Public Library is committed to staying within budget," he said. "The Library Foundation is committed to securing the private funds needed to complete the project. In both cases, everything is on track."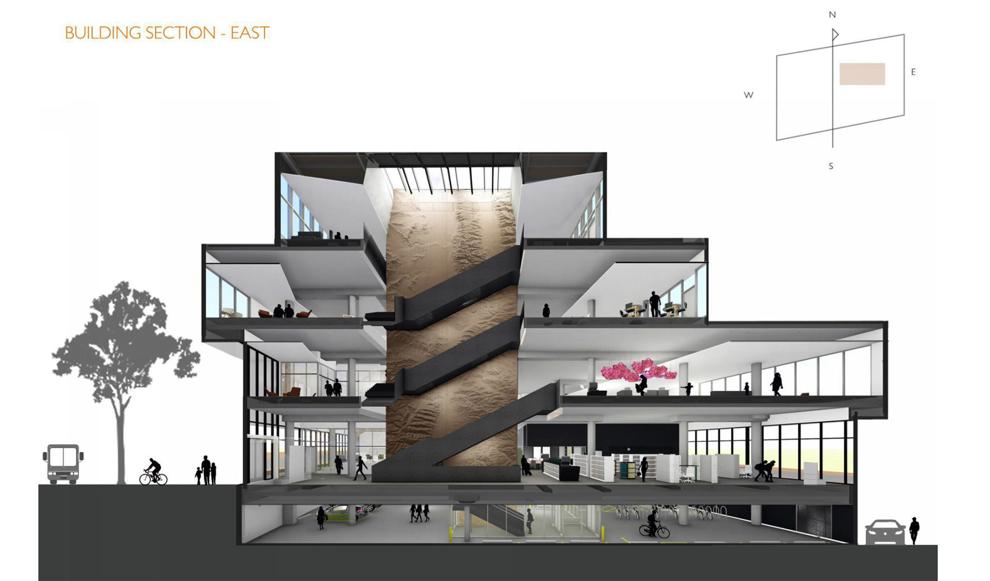 The 105,000-square-foot facility will be built directly to the east of the current library at 301 E. Main St. and should be open at least by 2020. Besides library services, the new building will house Missoula Community Access Television, The spectrUM Discovery Area (a public science museum for kids), the Families First Children's Museum and a concessionaire-run café.
SpectrUM is working on a climbing exhibit and a water exhibit for their space, and there will be a "Live Lab" where scientists can come in and give demonstrations.
There also will be a spot where homeless people or others requiring social services and support can inquire and access those services. 
Council member Julie Armstrong said how that social service area is done will be important. "You are going to have homeless and transients, so I want to see an area for them to connect with folks that come in once or twice a week that's planned so it's not disruptive," Armstrong said.
Olson said library director Honore Bray was in Philadelphia last week for a training on how public libraries consolidate those types of services under their roofs. He also said the library is looking at forming a partnership with the University of Montana so that the library serves as a "training ground for students that's structured" and has additional hands-on help for folks that spend a lot of time in the library — people that library workers call "daily readers."
Council member Gwen Jones said she thought the concept images were "really fantastic."
"It's such an enriching resource for our community, and you're taking the concept of library and moving it forward for future generations," she said.
Council member Heather Harp also called the designs "truly remarkable."
"We take such pride here in Montana of our natural beauty," she said. "And yet very infrequently do we put money behind the structures in which we reside and participate and play. To have that same kind of vision of beauty, this is extraordinary. As modern as it is, and it may not agree with everybody, this is extraordinary and very well done."