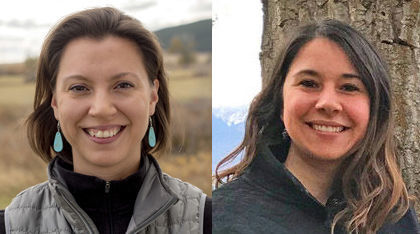 Two Montana conservation groups have new leaders at their helm.
The Nature Conservancy in Montana announced Monday that Amy Croover is the new state director, picking up the reins from Richard Jeo who left in December 2018.
Also Monday, Missoula's Five Valleys Land Trust named Jennifer Zaso as its new executive director. She replaces interim directors Amber Sherrill and Greg Tollefson, who stepped up after former Executive Director Grant Kier retired and ran for public office.
Croover will be based in Missoula and started the new job Oct. 15.
"Whether you're a newcomer, a fifth-generation Montanan or have been part of the landscape since time immemorial, Montanans have a deep connection to place," said Croover. "It is my job to listen to those voices and to understand how we can work together, as Montanans, so that people and nature are all thriving under the Big Sky."
Croover previously worked at Business Oregon, the state's economic development department. She also worked for U.S. Sen. Jon Tester, D-Montana, for seven years, handling Native American affairs, resource conservation and the nexus of Montana's native people and the state's lands and waters.
She grew up on Washington's Kitsap Peninsula and attended Salish Kootenai College, majoring in Environmental Science and Restoration Ecology.
Croover will lead a staff of 34 and oversee an annual budget of $5.5 million. Her primary role involves working with partner groups, government agencies, elected officials and other key decision makers "to build alliances and shared agendas that advance science-driven conservation outcomes in Montana and around the world," according to the job description.
Zaso most recently was the development and outreach director at the Jeannette Rankin Peace Center, and was development director of the Wildland Firefighter Foundation in Boise. The land trust noted that she has a strong background in corporate and nonprofit strategic planning, organizational development, and fundraising, along with "extensive knowledge of land conservation work."
"We look forward to Jennifer's leadership, as Five Valleys, our great staff, and our wonderful community work together to meet the challenges of protecting those natural values that so enrich the lives of all in western Montana, in the years ahead," Kathy McAllister, the Five Valleys' board president, said in a news release.
Zaso was raised on a dairy farm in western New York that operated on conservation lands managed by a local land trust. She holds an MBA in sustainable business and non-profit management from Antioch University, and she first came to Montana in 2016.
"I am honored to have been chosen to be at the helm of such a prestigious conservation organization, to provide stability and growth for the future, and to be a part of protecting some of our country's most beautiful landscapes and habitats," Zaso said in a news release. "The staff and board of Five Valleys is world class, and I look forward to working with them to fulfill such an important mission in this incredible and irreplaceable part of Montana."
Zaso will oversee a $1.1 million budget with a staff of 11.