The poster child for commercial building design standards in Missoula is getting remodeled from its current gaudy façade to a much more subtle look.
The Cellular Plus/Verizon Authorized Retailer building at 610 E. Broadway near downtown was built in 2016. It generated community backlash and controversy immediately for its garish red neon lighting, bold color scheme and large lighted signage on the prominent corner.
Eric Delphy, the manager of the Cellular Plus store, said Wednesday the company is remodeling all its stores for a more modern look. The store on Reserve Street was redone last year, and work on Broadway is underway.
"It will have just kind of, basically, a subtle gray appearance. That's what we're doing here," he said. "It's an exterior remodel to align with what Verizon is doing with a lot of our newer stores in the company."
Merisa Saunders, the marketing director for the company, said the new look will "be a little bit more modern."
"I think it's going to be a great addition to the neighborhood," she said. "We're redoing all our stores."
When it was first built, the Broadway storefront stood out from other commercial architecture in Missoula, and it was brought up repeatedly in subsequent city meetings as evidence the city needed commercial design standards. City council members said in 2017 and 2018 that their constituents felt the façade and lighting system were obnoxious and didn't fit in with the neighborhood character.
Under the new regulations, the Verizon building probably wouldn't have been approved, according to city permits and land use division manager Denise Alexander.
"That building would have been what's called a 'building as sign,'" she explained, noting an entire building can't be a sign. "If someone came in with something like that (now), we would probably deny it or would send it to design review board."
Delphy said he's attended a lot of downtown meetings and was aware of strong feelings about the store's appearance.
"I was aware of mixed reviews," he said. "Some people came in and were not a fan. Some people came in and loved it. It was a mixed bag there."
You have free articles remaining.
Alexander said the city didn't put any pressure on Verizon to change the store's appearance because it was built before there were design standards.
"They decided they would change things on their own," she said. "They're doing this on their own behalf."
Alexander said she's assuming the corporation knew the building was often referenced in city council meetings as officials discussed tighter standards.
"They must have seen things written about it and heard people talking about it," she said. "I think (the design standards process) started with (that building). (The city) didn't want buildings to have all completely the color of the logo. The reason was people didn't really like the look of that. Now, you have to measure all the signs and there's maximum amounts of how large signs can be. If the whole building is a sign, it's definitely too much."
Alexander said the city was unable to deny a permit for the Verizon building when plans were originally submitted.
"They were very adamant about what they wanted," she said.
Ben Brewer with the city's planning office told the city council last year that there was no one building that spurred the new design standards, but acknowledged that the Verizon store "didn't help."
Since the new design standards were implemented, major projects, like the new AC by Marriott hotel being planned for the old Firestone building site at 175 Pattee St., have had to undergo much more rigorous design review board meetings than they would have in the past.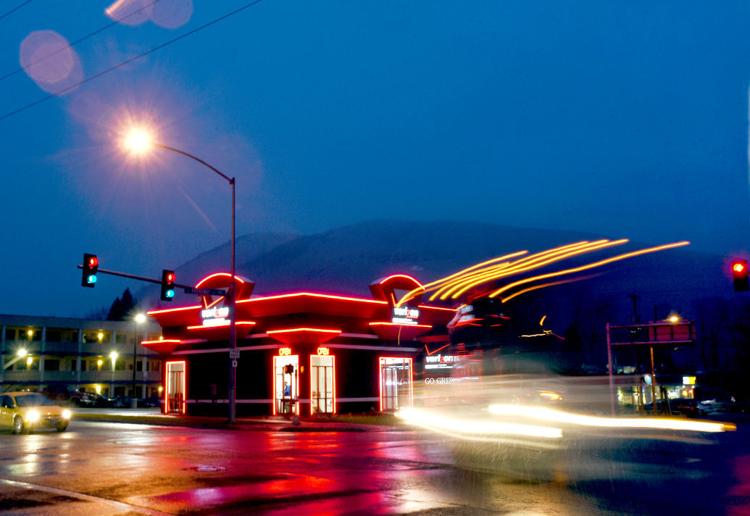 According to city planning services manager Laval Means, who spoke with the Missoulian last year but was unavailable on Wednesday, the new guidelines specify what type of materials can be used for a façade, where the parking can be located and how far back from a sidewalk a building should be located. The city conducted four case studies across multiple development types and scales and found the impact of the standards on development costs would be low when incentives are utilized.
Incentives include a reduction in required parking ratio based on proximity for alternative transportation modes.