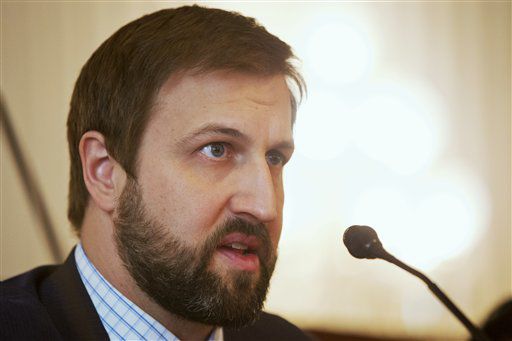 Montana has flattened the curve better than most other states, but the economy is suffering in the midst of the COVID-19 outbreak, and the Treasure State shouldn't expect to get back to normal anytime soon, global public health experts said Friday.
"We may never get back to the normal that we were at before," said Beth Cameron, who headed the pandemic response team for the White House under two different administrations.
The pandemic has decimated commerce and stressed health care systems, but public health and the economy are intertwined, said Jeremy Konyndyk. Moving forward, officials need new tools to manage the crisis.
"The main tool at the moment is hitting pause on the economy, and that is a terrible tool. It's a really awful tool," said Konyndyk, former director of Foreign Disaster Assistance for USAID.
At the same time, he said it's better than current alternatives, although he offered suggestions for tools that should be used going forward, such as resources to adequately trace contacts of infected patients.
Those experts and others shared their assessments of the impacts of the pandemic and insight on how to move forward Friday in an hourlong public health town hall videoconference hosted by Lt. Gov. Mike Cooney and Rep. Casey Schreiner, D-Great Falls. At least via videoconference, more than 100 people attended the session with the two Democrats campaigning to take the governor's office in the 2020 election.
"Our return to normal is going to look probably a lot different than what a lot of people think," Cooney said.
At the meeting, the experts discussed the lack of a coordinated response at the federal level, need for collaboration among local and state leaders, the realistic timeline for a vaccine, gaps in recommendations for decision makers, and even the importance of simple practices like hand-washing to continue holding the pandemic at bay.
Cora Neumann, who has a background in public health and moderated the session, stepped aside her run for the U.S. Senate to support Gov. Steve Bullock's bid for the job. She's been working with the team of experts on the call Friday on a project called COVID-Local, at covidlocal.org, to help guide local decision-makers in their responses to COVID-19. In the meeting, she noted "voids in federal leadership" and even "chaos" in response to the pandemic.
Konyndyk, a senior policy fellow at the Center for Global Development, said society won't return to normal until a vaccine is available, and that could be another two or three years.
"It's important to be conservative in our expectations there," Konyndyk said.
Rebecca Katz, professor and director of the Center for Global Health Science and Security at Georgetown University Medical Center, said the pandemic is a 100-year event, but she said it also was predicted and may "happen more frequently."
She said the situation global health experts have most worried about has been "a novel respiratory virus, whether influenza or a novel coronavirus," and the lack of response from the federal government has been "distressing." Pandemic response plans generally are written with the assumption the federal government will provide supplies, equipment and best practices, and few are written at the state or city level, she said. But governors and mayors are trying to identify how to approach the outbreak.
"What we're trying to do is collect best practices as we go. A lot of decision-making now is happening under uncertainty," said Katz, who served as a consultant to the U.S. Department of State from 2004 to 2019 on issues including pandemic influenza.
One thing people need is operational guidance, she said. For instance, business leaders may hear they need to do testing and check temperatures, but no one is telling them how to do that on the ground. For example, how do you screen employees for fever, and how often?
Bullock issued a shelter-in-place order last month and was aggressive in addressing the crisis, so the state is in a solid position as a result, Konyndyk said: "That has meant Montana has had one of the least severe outbreaks in the country so far. That has left the state in a good place."
But he said the situation on the ground remains volatile, and he likened it to a forest fire still setting off sparks in an area of dry kindling. The shelter-in-place order ran through April 24 and the governor presented a plan that takes effect Monday for a gradual and phased reopening of the state, although local governments may instate more restrictive measures to reopen. 
"You need to be vigilant," said Konyndyk, who noted he might feel more conservative about reopening.
To move away from sheltering in place and social distancing and also stay one step ahead of the virus, Montana needs tools that don't shutter the economy, Konyndyk said. It needs to be able to adequately trace contacts who may be infected, a "tried and true classic public health tactic." It needs to be able to quarantine and monitor all of those people in order to prevent spread. It needs to ensure added protections in places that have high-risk populations, such nursing homes, shelters and prisons. And it needs to reinforce the hospital system. He said the job is like playing Whac-A-Mole.
"You're going to miss a few moles, so when you do, the hospitals need to be ready to … handle the surge," Konyndyk said. "That's going to be life in our country for the next two to three years."
Communities threatened by wildfire or earthquakes make choices based on those circumstances, such as doing wildfire mitigation or implementing relevant building codes, and he said public health needs to be approached the same way. The United States has been underprepared for the crisis, he said, and the pandemic has left people more vulnerable as a result.
Cameron said she was detailed to the White House as a Department of Defense employee for both Presidents Barack Obama and Donald Trump, and the pandemics team was supported as part of the nonpartisan transition of government. She said the Trump administration embraced the office for more than a year, but then disbanded it in part in its quest for a smaller White House team and smaller federal government.
In the future, Cameron said she believes such a team will be in place under any administration.
In the meantime, the vice president for global biological policy and programs at the Nuclear Threat Initiative said local and state leaders are collaborating, and their work together is paramount in sharing best practices from their experience. "I think it's a great opportunity for states to lead and be able to do a stronger job coordinating."
She said while it may not feel this way to everyone who has been sitting at home the last month or so, now is the very beginning of the path forward. 
"We have an opportunity to be able to do classic public health and be able to finally for the first time get ahead and continue to stay ahead hopefully for the next 12 to 18 months and maybe longer," said Cameron, . "This is going to be with us in the United States as long as it's with us everywhere in the world."
And although the Bullock administration has lifted the shelter-in-place order and offered a plan to gradually reopen, Cooney said it's still important to follow best practices, especially to keep vulnerable people safe. Continue social distancing, continue to telework if it's feasible, and use a face mask at the grocery store, he said. "Wash your hands."
"This virus is going to be with us for a while. It has to be managed," he said.
Please sign up on Missoulian.com to subscribe to Under the M, the weekly email about the University of Montana and higher education news in Montana.
Concerned about COVID-19?
Sign up now to get the most recent coronavirus headlines and other important local and national news sent to your email inbox daily.