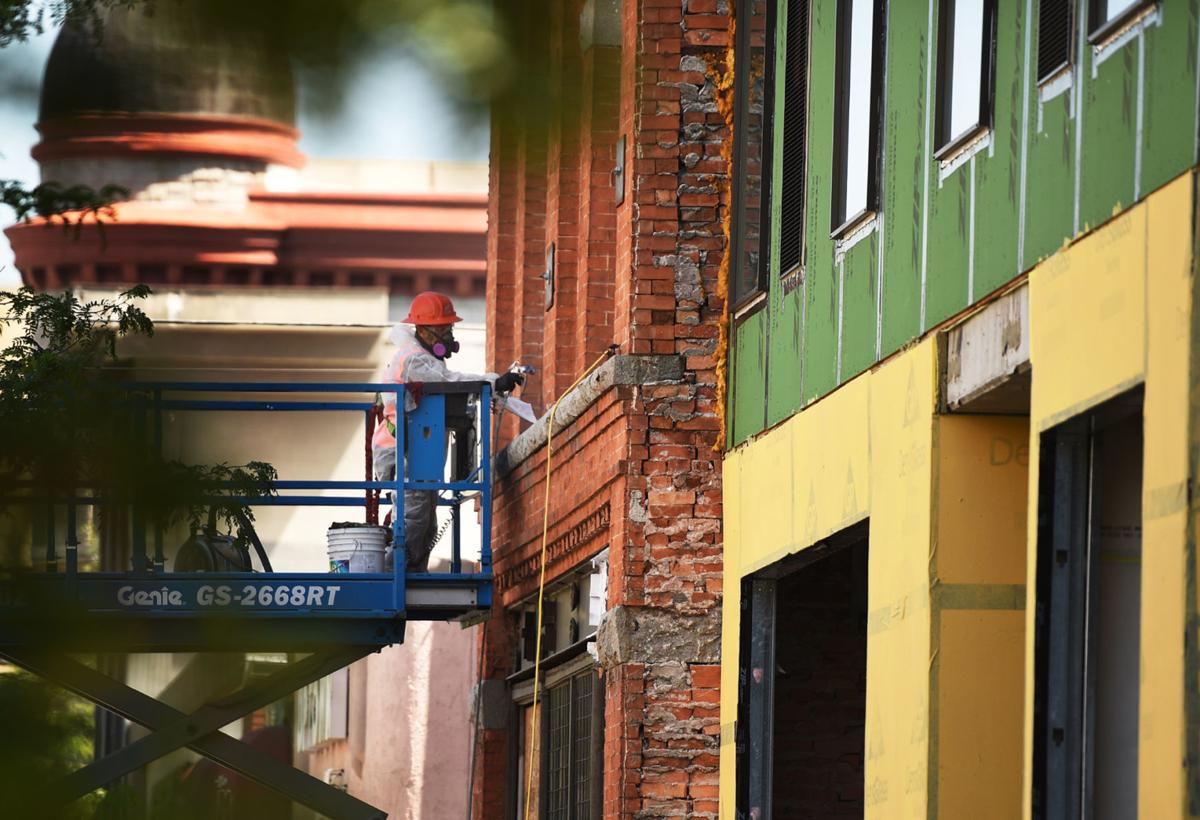 An ordinance adopted by Missoula City Council Monday night enables the city to reimburse the builders of downtown's new Marriott Hotel with tax-increment financing funds.
The 10-2 decision came as an amendment to the Front Street Urban Renewal District plan, which was adopted in 2007. At the time, Macy's still operated out of the old Mercantile building, and "the Plan assumed that the building would continue to function as a vibrant retail center;" explained a Nov. 8 memo by Missoula Redevelopment Agency director Ellen Buchanan.
But the Macy's eventually closed, and Mercantile Investors, LLC is close to finishing a Marriott hotel with ground-floor retail on the site. In June 2017, the Missoula Redevelopment Agency approved a grant of nearly $3.6 million to reimburse the firm for costs associated with the project. But paying that out required bonds, and the agency concluded that those couldn't be sold until the plan was amended.
The ordinance identifies tourism and hospitality development as one of the district's commercial goals, and approves the Mercantile Project as an urban renewal project consistent with the plan. As such, it will be eligible for bonds funded by the district's tax increment financing (TIF), or property tax gains resulting from development there.
"The reason that we're doing this is when the urban renewal plan was adopted … there was not anticipation that there would be the type of hotel development that we're seeing in downtown," Buchanan told the council.
During the comment session, members of the public voiced concerned about the project's impact on costs of living, wages associated with the project, and hotels' environmental impacts, among other topics.
Buchanan addressed some of these concerns under questioning from council members, and cautioned that "if council were to walk back from this, I think it would have a major impact on a lot of decisions about investing in Missoula."
Council member Jesse Ramos took issue with using tax-increment financing to support a hotel project. "I don't understand the drive by the council to promote tourism," he said. "Those are service jobs. They do not pay a living wage."
But council member Bryan Von Lossberg defended the investment. "We're talking about a private development on a private piece of property. … By investing TIF money we get some things for the public good of the community" — like buried utilities and preserving part of the historic Mercantile façade — "that we wouldn't otherwise get."
Council member Julie Armstrong, meanwhile, posited that attracting more hotels and other service businesses would boost competition for the same pool of workers, driving employees' wages up.
Heidi West also voiced skepticism, questioning whether the hotel project's activities were already covered by the plan. "It's a fairly general document, and I feel that commercial development includes tourism. Especially in our current economy, I don't think it's something that needs to be called out as a specific goal."
In the end, she and Ramos voted against it, with the 10 other council members voting for it. The ordinance will take effect on Feb. 6, at which time the city will be able to issue bonds.
Also on Monday night, City Council voted to transfer responsibility for the city's hazardous-weed management program from the fire department to development services, change inspection protocols for city sidewalks, and approved a revised fee schedule for city parks.​