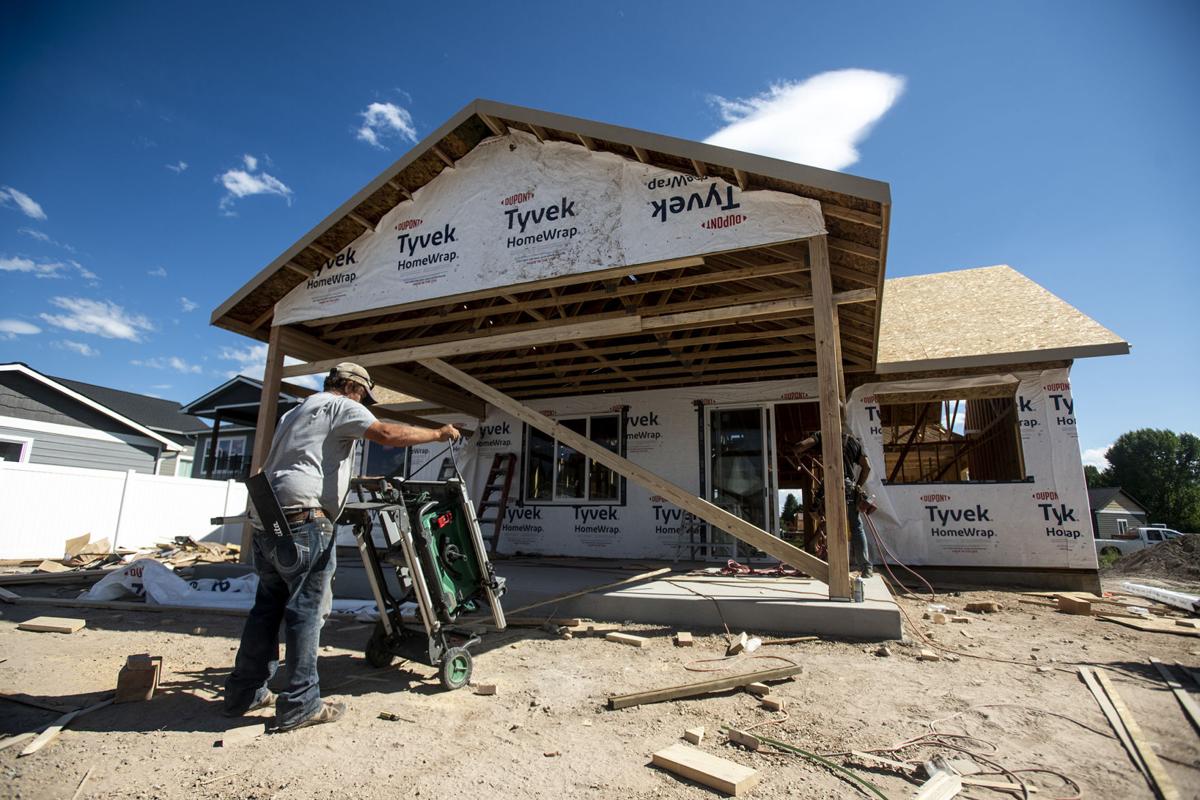 It can take a decade for new subdivisions to be completed in Missoula County, for a variety of factors, and there isn't enough housing being built to meet demand, say county officials.
But according to data presented Wednesday by the Missoula County Clerk and Recorder's Office staff to the county commissioners, there's been a 29% increase in the number of property-related documents processed by the Missoula County Clerk and Recorder's Office this fiscal year compared to last year.
That translates to 803 more documents processed per person, per month, compared to the nine-year average. And county experts don't expect the development boom to taper off anytime soon.
The housing boom is creating "choke-points" in the various departments in the city and the county that need to approve new construction projects.
"What we're hearing from developers is it can take years for subdivision (completion)," said county recording director Shyra Scott. "It can take a decade to see a new subdivision go from conception to sellable lots. That doesn't include construction, and large subdivisions are costly."
Many of the reasons for the delays are outside of the county's purview, including engineering, financing, state permitting and infrastructure buildout. Some subdivisions are also purposely phased so they take longer, and others are delayed by the developers.
On Wednesday, the staff of the Clerk and Recorder's office provided an update on how they've revamped their website and processes to streamline and speed up their work.
In order to improve access to place-based information and provide accurate data to decision makers, the county staffers unveiled a multi-year, multi-stage project to the media called "Map Missoula."
Enhance access to recorded land records like deeds, surveys, mortgages and lien records
Accurately depict changes to property boundaries and ownership since 1864
Provide a citizen-access portal for information about property
Capture and compile data to make county operations more efficient and policies more reflective of our county's goals
"The most important thing is for people to have access to tools and be more active in local government," Gernant said. "It allows the community to be involved."
The county says that they've cut land-division and survey approval times in half by transforming the review process. 
The new Subdivision and Survey Tracker allows all the various departments that have to review a project to check things off at the same time. Gernant said smaller projects are approved four to six weeks faster and larger subdivision approvals are obtained 10 weeks sooner.
"This is a great example of county departments coming together to improve a public service without additional cost to the taxpayer," Scott noted.
Scott and Gernant said they believe the housing boom is not going to go away in 2021.
"Experts don't anticipate this ending in the next year or so," Scott said. "It's different than the boom in 2006. What's different is this is true demand. People want to live elsewhere. It's not a financially-fueled boom. It's driven by a change in consumer behavior. People want to go to Montana. We are seeing that in our office."
She clarified that the 2006 housing boom had more to do with lenders handing out loans to under-qualified buyers and a financial bubble.
"This is actually a demand," she said. 
Samuel Scott, the real property projects coordinator with the County Clerk's office, said the cumulative construction is not keeping up with demand.
According to the Missoula Organization of Realtors, the county needs to add 600 homes every year to keep up with population growth. Since 2018, data shows that the county and city combined have created 756 new property parcels through subdivision development.
"While that doesn't necessarily equate to a home being built and sold, it's a pretty good barometer of the market as a whole," Samuel Scott explained. "The numbers just reinforce everything we're hearing about our housing prices."
Scott said the project to streamline subdivision review is one of the most advanced in the state, if not the country. 
"With these layers on this map, you can highlight a piece of land and it will show a proposed subdivision or a division approved or in the works or denied, it shows where the property is, it shows a tracking number and it shows dates of public hearings," he explained.
Shyra Scott said developers sometimes have a hard time getting calls back from county departments when they're going through a subdivision review.
Gernant and Scott both believe that the City of Missoula and other cities in Montana could replicate what they've done without a lot of new costs.
"There's greater in-migration, a lot of demand to live in Missoula," Gernant said. "It's a great place to be a Zoom worker, doing Zoom conferences. A lot of that has led to an increased demand for housing in Missoula. While that increases urgency, I agree with commissioner Dave Strohmaier that we've got to make sure we're developing in a smart way that doesn't hurt the community."
Shyra Scott said the long-term objective is to expand the mapping system to include soils data and animal migration patterns so environmental impacts of development can be captured and a more comprehensive view of a property can be found at the click of a button.
Samuel Scott said the future of homeownership looks "fairly bleak" even for couples with relatively well-paying jobs in Missoula, which means it's even bleaker for low-income residents.
"With everything you hear about affordable housing and the sense of urgency, you look at the numbers and we're only creating a fraction of what we need," he said. 
David Erickson's most memorable stories of 2020
My five favorite stories of the year involved housing insecurity in Montana, fast-rising housing prices, out-of-state buyers flooding the market here and taxes.
In early November, I completed a data analysis that showed that a tiny fraction of Montana's highest-income earners reaped a disproportionately huge slice of the savings from the Republican Tax Cuts and Jobs Act of 2017. The law also made it easier for wealthy people to buy second homes. In the second part of my story on that law, I asked experts and politicians to talk about the benefits and drawbacks of such a sweeping piece of legislation. My other three stories looked at how a near-zero rental vacancy rate combined with soaring median home sales prices in Missoula have affected working-class residents, real estate agents and others.
Housing is perhaps the No. 1 issue at the top of most Missoulians' minds, so I'll be keeping track of that in 2021. Thanks for reading!