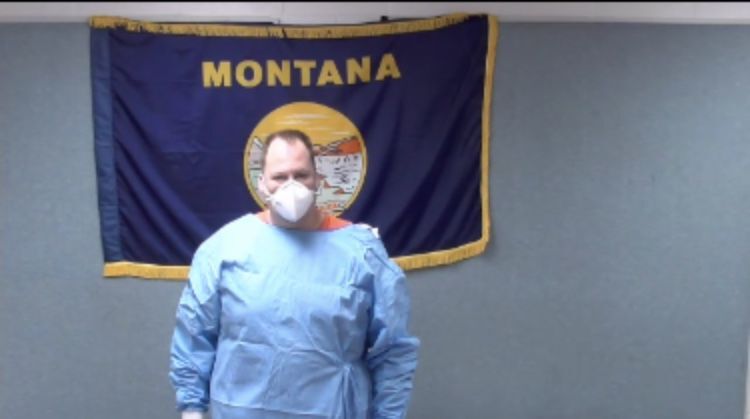 Bail was set at $1 million Monday for a 42-year-old Missoula man whose wife said he assaulted their 3-year-old son, shot her in the shoulder and then told her to tell authorities he had fired at an intruder.
Sean Alan Shriner is charged with attempted deliberate homicide, assault on a minor, assault with a weapon and tampering with witnesses and evidence. 
According to charging documents filed in Missoula County District Court on Monday, Missoula County Sheriff's deputies responded to a home on the 1900 block of Bluebird Drive on July 24 after a woman called 911 to report she had been shot in the left shoulder. In the background of the 911 call, Shriner allegedly can be heard saying, "The intruder is here, I'm trying to shoot him," before the sound of additional gunfire. 
The woman was transported to Providence St. Patrick Hospital. She told law enforcement her husband, Shriner, had been drinking before claiming he saw someone peeking in the window. He then fired in that direction, she said. She told deputies Shriner has PTSD from his military experience, according to charging documents. A search of the home yielded 13 shell casings outside the window, according to court documents.
A day later, on July 25, the woman contacted the sheriff's office to report her initial story about the incident had not been correct, and that she lied because she believed Shriner would get out of jail and kill her if she told the truth, court documents state.
In an interview with a detective, the woman said she got off work early because she was concerned about Shriner; he had been drinking at a strip club in Missoula before picking up their 3-year-old son, according to court documents. They began arguing at the house and their son began "acting up," she told law enforcement. Shriner then grabbed the boy by the neck with both hands and began to twist his head in a motion that she feared would break the boy's neck, according to court documents.
The woman said she was able to get the boy away from Shriner, who then retrieved an empty .22 caliber revolver and dry-fired it at the woman and her son. After the argument continued, Shriner retrieved a second firearm, this time a 9-millimeter handgun. He pointed that gun at the woman and shot her through the shoulder, according to charging documents. 
"Defendant immediately began planning his story and said (he) was going to go to jail for this," Deputy Missoula County Attorney Jordan Kilby wrote in charging documents. 
Shriner allegedly refilled the 9-mm handgun magazine and told the woman to tell 911 he had seen an intruder, according to charging documents. He then broke out the window of the kitchen and fired the gun several times, she told authorities.
"This is not the first time that something like this has happened," Kilby said at Shriner's initial appearance on Monday. "The victim in this case told detectives about a history of domestic violence."
Kilby requested Missoula County Justice of the Peace Alex Beal set Shriner's bail at $500,000. Shriner appeared in court via video wearing a mask and a gown on Monday, a measure in place to prevent the spread of COVID-19 within the jail. Public defender Jeff Wilson waived his bail argument for a later date, and Beal doubled the bail request to $1 million.
Shriner's next hearing was set for Aug. 10 at 9 a.m.
If convicted, Shriner could face a maximum sentence of life in prison.