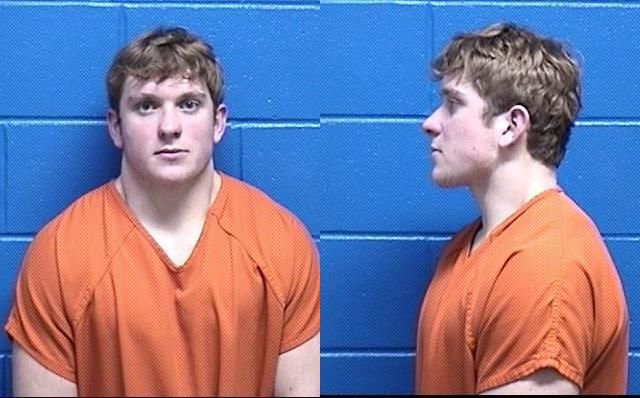 A Griz football player pleaded guilty Monday after being accused of running from cops and hiding in a dumpster downtown after getting caught drinking underage at the Top Hat early Saturday morning, according to court records.
Tyler Mathew Flink, a 20-year-old University of Montana Grizzlies linebacker from Missoula, pleaded guilty to misdemeanor obstruction of a peace officer and being a minor in possession of alcohol in Missoula Municipal Court on Monday morning.
According to court documents, Missoula police responded to the Top Hat, where police "believed a group of males was engaging in disorderly conduct."
When police attempted to make contact with them, Flink fled. Records indicate Flink hid in a dumpster and made "numerous attempts to elude law enforcement officers on foot," until police located him on the 200 block of East Pine Street and arrested him at 12:40 a.m. Saturday.
Flink was booked in Missoula County Jail at 1:30 a.m. Saturday, but was released about an hour later after posting his own bond, according to the Missoula County Jail Roster. He pleaded guilty at an initial court appearance Monday morning.
Missoula County's daily public report shows 10 Missoula police cars and one Montana Highway Patrol car responded to the 100 block of West Front Street, the location of the Top Hat, at 12:27 a.m. Saturday.
In a text, University of Montana Athletics director Kent Haslam said Monday he was aware of the charges, and the Athletic Conduct Team will decide what the repercussions are for Flink, a redshirt sophomore. Flink, a Big Sky High School graduate, had nine tackles in 2019.
"We are aware of an incident over the weekend involving a student-athlete and law enforcement," Haslam wrote. "As we do whenever we have this type of issue, we will follow the process described in the student-athlete code of conduct."
Haslam said he couldn't speculate what the ACT would decide on for the penalty, but confirmed that both the obstruction and MIP charges are Category III offenses, the lowest of three categories.
In the student-athlete code of conduct, a mandatory minimum penalty rubric determines some possible outcomes, depending on the seriousness of the offense and how many offenses there were. If the two charges are treated as two separate Category III offenses, Flink would receive a "minimum suspension of 10% of scheduled contests."
If treated as a single offense, it would incur any number of penalties, including a behavior contract, alcohol counseling, or game and practice suspension.
In the court system, a minor in possession charge carries a maximum penalty of a $300 fine on first offense. Obstructing a peace officer carries a maximum penalty of six months in jail and a $500 fine.
Sign up for our Crime & Courts newsletter
Get the latest in local public safety news with this weekly email.