Before she woke up in the hospital, the last thing Julia Johnson remembers is the heat from the engine block and the sound of her own screaming.
Johnson called it a "beautiful thing" that she doesn't remember the pain from the pavement grinding against her arm, shoulder and back like soft wood on sandpaper as she was trapped between the ground, her bicycle and the SUV on top of that. 
"A lot of it is just not in my brain," Johnson said during an interview at her home on Friday.
The 20-year-old Missoula woman is recovering at home after she was struck by an SUV while riding her bicycle and dragged beneath it for nearly a block on Higgins Avenue on July 15. She's made a mighty recovery in the time since, although the wounds on her back have made it hard to sleep, and her arm and torso are still heavily bandaged.
She hasn't seen the bicycle since the crash, as it is presumably held in evidence while the Missoula Police Department's investigation is ongoing.
A GoFundMe page set up for Johnson's recovery has raised more than $9,000 since it was set up on July 20. Information on the page states her medical needs could reach $50,000.
Johnson said she was riding her bike north on Higgins Avenue when the SUV pulled out of a gas station parking lot directly toward her. Among all else, she remembers the realization that the vehicle wasn't stopping, then being pulled beneath it with her bicycle.
Police arrived at the parking lot near Big Dipper Ice Cream, at the other end of the block from the initial collision, on July 15 to find roughly 30 people trying to lift the SUV pinning down Johnson and her bike. Others had retrieved the jacks from their own cars, police said.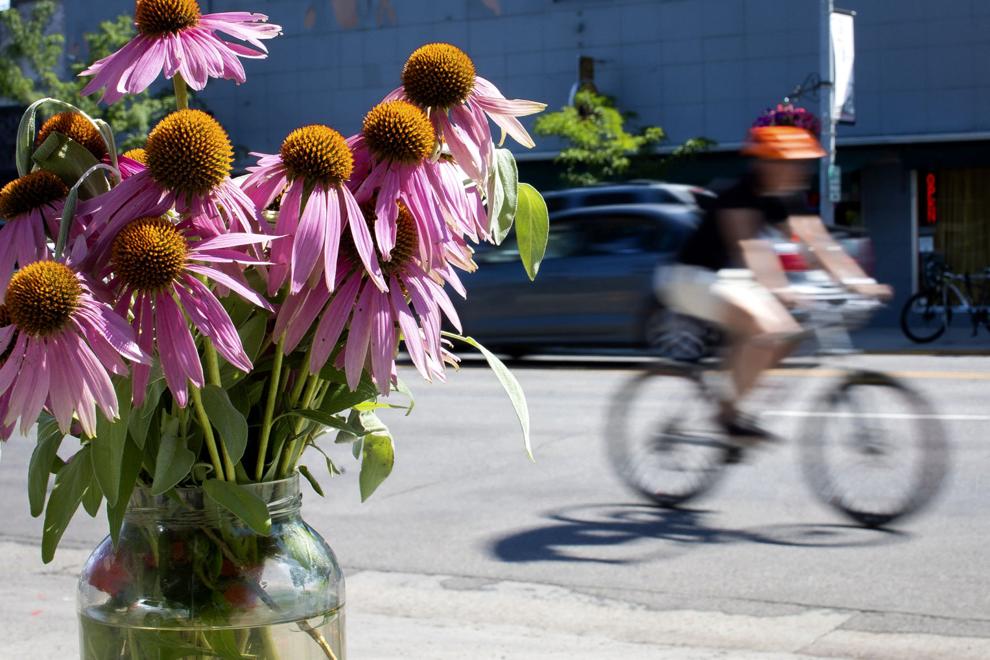 Johnson doesn't remember the people blitzing the SUV to help, but she said she has been heartened by the response since the incident.
"It's just wonderful," she said. "It's not just people from (the crash), but people I haven't talked to in years. It has been wonderful, but on the other hand, it's been so surreal."
There's an effect of disassociation with traumas like Johnson's. The wounded body she sees in the mirror feels foreign, and the news coverage about the incident seems like it truly must have been someone else's bad fortune. She's easily reminded, however, of the way her life has changed.
"This has basically put everything on hold," she said. "There's still going to be more rough days ahead."
Darla Kirchmeier, Johnson's mother, has been helping her with the things Johnson could once do independently, such as showering and cooking food. Kirchmeier works nights, so she was asleep when police came to her door to report her daughter had been injured in a car crash. Not knowing the immediate status of her daughter was the worst part, she said. 
"What am I going to find?" Kirchmeier remembers thinking. At the hospital, medical staff quickly assured her there were no broken bones or brain damage. 
"I thought, 'OK, we can do this,'" Kirchmeier said. 
And they have. She and Johnson are especially thankful today for the community members who leaped in to help, the first responders who were able to get her quickly to the hospital and the medical staff at Providence St. Patrick hospital.  
The 49-year-old driver had been cooperating with law enforcement, and no arrests or citations had been issued. Missoula Police Sgt. Travis Welsh said Friday the crash is still an active investigation.
Johnson hasn't been able to make it back to the street yet where she was struck, and she doesn't know what kind of feelings the ambiance of the scene will bring her. But she wants to return. She's a former employee at Big Dipper and would like to stop by to say hello. 
She's a journalism student at Augustana University in South Dakota, and classes are set to resume next month. Kirchmeier said the university has expressed a willingness to work with Johnson in whatever accommodations she may need.
Johnson said her doctors are hesitant to give her a deadline for when she can be deemed fully recovered, but she is already feeling more like her old, familiar self.