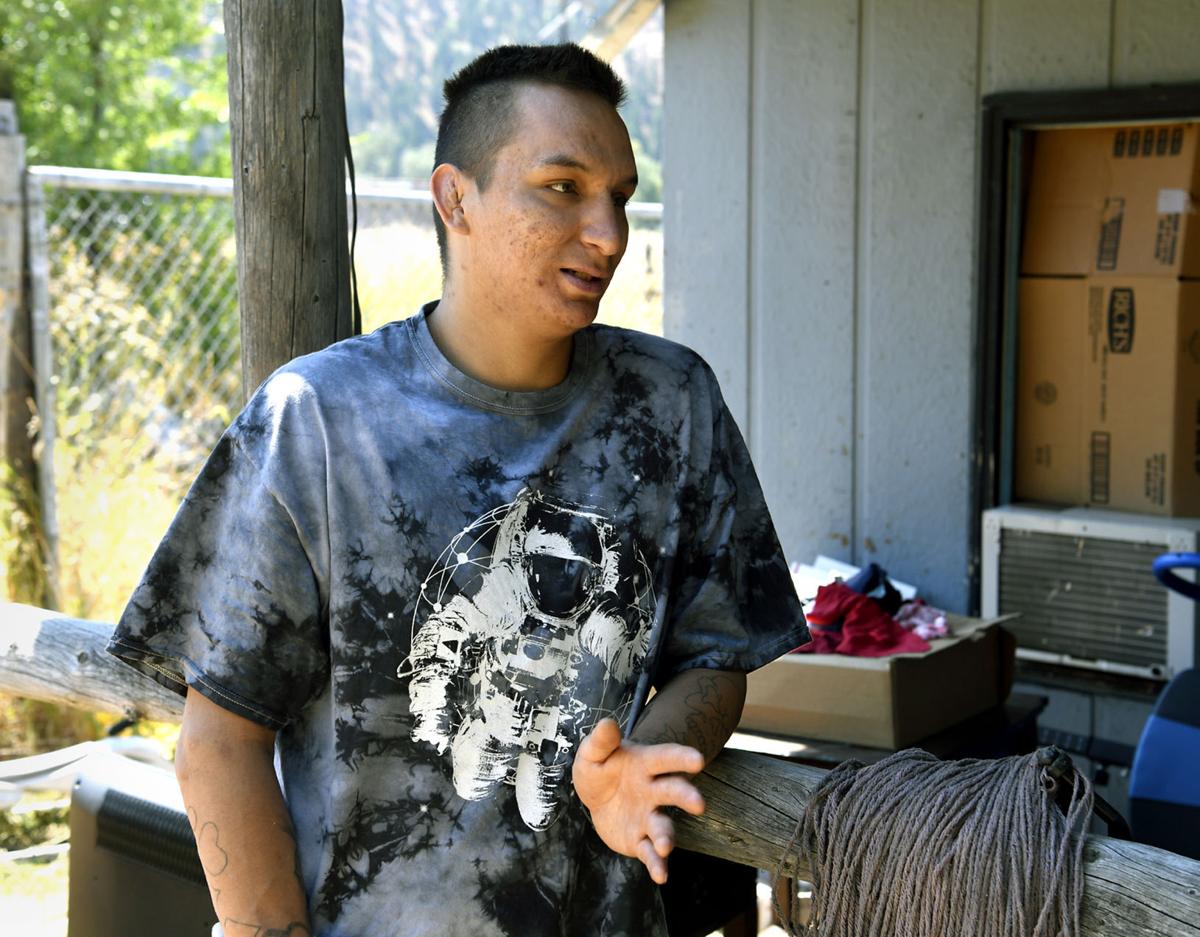 A Missoula District Court judge has dismissed the conviction of a man charged with assaulting a police officer last October, finding prosecutors withheld evidence at his trial that would have bolstered his defense. 
William Jesse-Edward Stevens, 27, was convicted of assault by a jury in Missoula Municipal Court in February for throwing his wallet and a cigarette lighter at Missoula Police Corporal Patrick Malone during a welfare check last fall. After a series of post-conviction proceedings by Stevens' attorney, District Court Judge Leslie Halligan ruled on Aug. 8 that city prosecutors withheld a crucial document in Stevens' case — a use-of-force report generated when Malone kicked Stevens in the testicles after the lighter bounced off his chest — which had been sought by his defense attorneys.
Stevens has been out of jail for about a week now, and he's working at getting back on his feet. He said he spent about seven months in jail since the October arrest, a stint that was extended by an earlier parole violation, and as a result lost both his job and his lease on a rental in East Missoula.
"I took a major step backwards because of this," he said. "I don't think they really realize (this). We're people, too, and at some point I think Corporal Malone forgot that."
He's staying now at a friend's home in Clinton, where he spoke with the Missoulian about his thoughts on law enforcement and the encounter last October.
"I believe cops are a good thing, man. They're here to help — protect and serve, you know?" Stevens said. "Everybody has bad days, man, but that doesn't mean you get to go kick someone in the groin."
Halligan ruled the suppression of the report violated the Brady doctrine, a rule stemming from a 1963 U.S. Supreme Court case mandating prosecutors turn over all evidence to a suspect so they may properly defend themselves in court. While it was unclear if suppressing the document was intentional or negligent, Halligan wrote, the law demands that prosecutors take a "diligent role" in obtaining these sorts of documents. As a result, the judge found the city prosecutor's office suppressed the use-of-force report.
The Missoula Police Department directed questions to the city attorney's office. 
In a statement provided Friday to the Missoulian, City Attorney Jim Nugent it was an "unintentional error" that the report was not provided to Stevens' defense attorney. 
"In this particular instance, a broad discovery request was received, which did not contain a specific request for a use of force report," Nugent wrote. "We have been working with the police department to address this issue and further improve our discovery process."
Pete Wood, Stevens' public defender, declined to comment for this story. 
On Oct. 9, 2019, two Missoula police officers were called to the area of Gharrett Street and Garland Drive for a report of an intoxicated man who had fallen off a bike — not in response to a criminal act. Body camera footage submitted as evidence in Stevens' trial shows him stumbling around when police arrive and ask if he's OK. They asked Stevens for his identification, and he provided his Confederated Salish and Kootenai Tribal member ID. Stevens mentions he is on parole; Department of Corrections records show recent convictions for criminal endangerment and theft. Malone, who is White, then asks, "Who's bike is this?" 
Stevens becomes frustrated with the encounter and begins asking the officers to take him to jail. Stevens grows more and more heated, cussing at the officers as they tell him they will be staying at the intersection to conduct the welfare check. With his back to Malone's patrol pickup, Stevens throws the wallet, which bounces off Malone's bulletproof vest. Then he throws the lighter, which does the same. 
Malone responds by kicking Stevens in the groin, and he and Officer Rachel Hash, also White, take him to the ground and put him in handcuffs. Stevens declines medical attention from emergency services responders and is taken to the jail. The whole encounter lasted about 13 minutes.
"We're supposed to have thicker skin," Malone told the jury at Stevens' trial in February, about five months later. "At the same time, we still have rights not to be assaulted."
Malone said during the trial that the wallet and lighter striking him did not hurt, but he did find Stevens throwing things to be "insulting and also provoking," key words needed to cross the threshold of Montana's assault statute. Malone said Stevens' "combative" stance during the encounter had concerned him. Stevens said he was frustrated because he just wanted to be done with it and taken to jail.
Malone, a 15-year veteran of the Missoula Police Department, also told the jury kicking Williams in the groin was an accident. He meant to kick Stevens in the lower abdomen, he said, he's just not as limber as he once was. But Officer Hash's body camera footage was still rolling after Malone turned his off, capturing Malone saying, "The second time he threw something at me, I just, I groin-shotted him. I wasn't going to fight fair."
At trial, Stevens' attorney asked if such a statement suggests kicking Stevens in the groin was not an accident.
The use of force report doesn't mention the kick landed to Stevens' groin or testicles; here, too, the report simply says Malone was "aiming for the lower abdominal area."
The report, reviewed by Malone's supervisor, also notes Stevens' race as White, although the ID he provided to officers during the incident is clearly a CSKT Tribal ID. The report states the incident took place at 10:30 p.m. on Oct. 19, 2019. Malone's supervisor, an MPD Sergeant, approved Malone's version of events at 11:28 p.m.
In her very first line of opening statements at Stevens' trial, city prosecutor Angie Bakken tried steering the jury away from the question of whether race played into Stevens' arrest.
"This case is not about race," she told the jury. From two different camera angles, she said, "There will be no question left in your mind.
"This is not an excessive use of force case, by any stretch of the imagination. This is not a case grounded in racism, by any stretch of the imagination. Mr. Stevens brought on everything himself, and you'll see that for yourself."
Wood, Stevens' public defender, countered the assault charge in its entirety.
"We believe there was an assault in this case," he said during his own opening statements. "We believe it was Corporal Malone that assaulted William, not the other way around."
After watching the body camera footage, the jury convicted Stevens of assaulting the officer, a misdemeanor. But during the trial, Wood learned of the use-of-force report's existence. He filed a motion for post-trial dismissal, claiming the prosecution had withheld the report despite a request for discovery, otherwise known as evidence and reports related to Stevens' case. Missoula Municipal Court Judge Kathleen Jenks denied the motion, writing it was not clear whether Wood had requested the report. When Wood appealed to the Missoula District Court, Bakken, the city prosecutor, argued the report was not a "police report" but instead a document related to internal department training and personnel. Judge Halligan disagreed.
In her order ruling a Brady violation had been committed, Halligan wrote withholding the use-of-force report was a consequential error, although it was unclear to whom the direct fault should be assigned. 
"Either the prosecutor did not ask for it when she should have, or she did but the police incorrectly assumed it was not responsive to her requests for reports about the assault incident," Halligan wrote. 
The Montana Public Safety Officer Standards and Training Council, which oversees training as well as police misconduct cases, said Friday it had received a recent complaint of misconduct against Malone, and forwarded the complaint to Malone's employing authority. The Missoula Police Department confirmed Malone remains on the force.
Since his release, Stevens has been out in Clinton, enjoying swimming in the river in the heat. It's a sublime change of scenery from a cell, where he said he saw people move through the criminal justice system like a conveyor belt. From Stevens' perspective, how long the ride on that belt lasts depended a lot on a person's race.
"I got to watch other people come in, people who got different charges and see their bonds set," he said. "Whether he's Native or White or Black or Mexican, it's definitely different. Mexican dudes are getting 25 years to life, and White dudes with the same charge are getting half that."
In his own case, Stevens is hesitant to charge Malone with racism. He said he never thought before about whether race played into his interactions with police. The thought is sort of baffling to him; the year is 2020, shouldn't we be over this, he asks.
"I would like to say no, really, I would," he said. "But how aggressive he was and the way he came off, I don't know."
Stevens said, particularly of Judge Halligan's order, he sees the system did work out for him.
"It was good, it gives me hope for the future and for the justice system," Stevens said. "I've met some really good cops, and I've met some really bad ones, too."
But did the way the system handled this case, from beginning to end, change his view?
"Next time I will be a little more hesitant in asking for help," he said.
Stevens' bike is still waiting at the police station for him to pick it up.