Even with a noose around his neck in a stockade behind the Missoula jail, Joe Vuckovich swore he hadn't murdered Mrs. Jerry Shea.
"I am losing my life as innocent as any man that ever was hung," the 33-year-old Serbian maintained in broken but clear English on a February morning in 1922.
Nora (Goff) Shea was shot dead on Missoula's Northside on Feb. 12, 1921. Vuckovich was there and then he wasn't, leading authorities on a manhunt that ended with his capture four days later 35 miles east of town.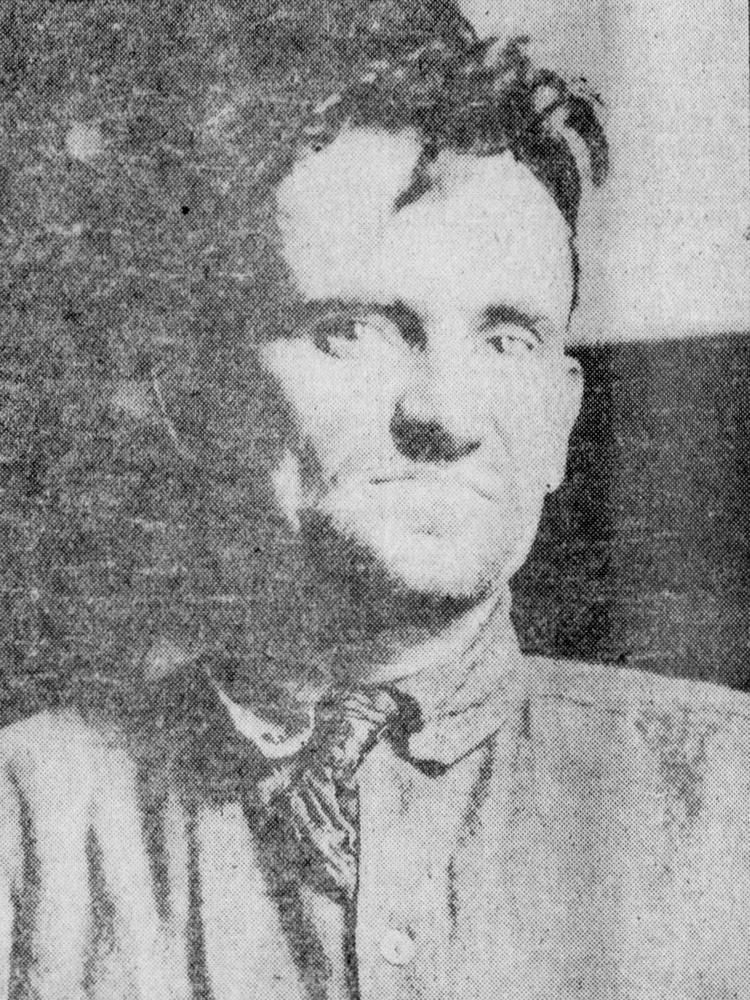 A convicted bootlegger and known womanizer prone to violence, Vuckovich was tried and convicted of murder in Missoula district court. He was sentenced to die, but for most of a year his lawyer's appeals delayed the hanging.
A final entreaty to Gov. Joseph Dixon, accompanied by 5,000 signatures on a petition asking the sentence be commuted to life in prison, was rejected in the final hours. Vuckovich was hanged at 6 a.m. on Feb. 17, 1922, and pronounced dead 10½ minutes later.
Tom Donovan, in his 2007 book "Hanging Around the Big Sky," said Vuckovich was the last man in Montana to be put to death on a jerk-type gallow. A 320-pound weight was dropped, pulling the 140-pound Vuckovich off the ground and breaking his neck. Two hundred invited guests watched.
Donovan listed it as the eighth legal execution in Missoula County dating back to 1883. The ninth was that of confessed murderer Philip "Slim" Coleman from a scaffold inside the Missoula County jail in September 1943. That was the last hanging in Montana and the last execution outside the walls of the state penitentiary in Deer Lodge.
History tucked the murder and hanging into its macabre pages, to be resurrected on occasion over the years but with no further twists.
Which makes Cliff Iverson's "confession board" all the more curious.
The pine board is all of a foot long and five inches wide. It came from an old house Iverson's father had moved from Missoula to Piltzville in the Bonner area decades ago. The small house still stands as a rental off Rustic Road.
Anton "Tony" Iverson immigrated from Norway in 1928 and went to work for the Anaconda Forest Products mill in Bonner. He retired in 1970 as head outside millwright. The same year L.A. Hurt moved the house from the 400 block of East Broadway. It joined four others displaced when Interstate 90 was built earlier in the 1960s.
After Tony Iverson's death in 1990, and his wife Thyra's passing in 1993, Cliff Iverson and his siblings prepared the homes for sale.
That's when the confession board caught his eye.
"I'm thinking it must have come out of the garage," he said last week. "It was probably lying on a workbench or something."
On one side of the board, in what Iverson thinks is his father's writing in the carpenter's pencil a millwright always carries, is a synopsis of the Vuckovich story: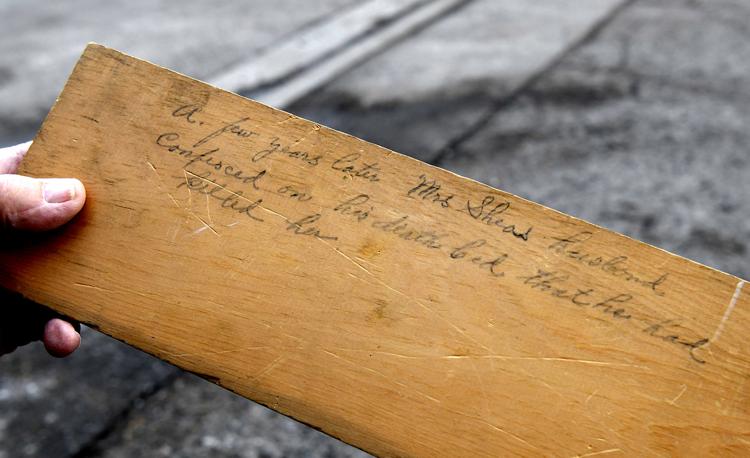 Hanged on Feb. 17, 1922, for the murder of Mrs. Jerry Shea … ran away to the hills … captured near "Bear Mout Mont." … convicted … granted stay of execution … maintained innocence … "last words were that he was not guilty of the Crime in wich he was Convicted."
Turn the board over, and in the same handwriting: "A few years later Mrs Sheas husband confesced on his death bed that he had killed her."
Trial by 2-by-4 is no trial at all. There appears to exist no other evidence that Jerry Shea admitted to killing his wife. For history's sake, justice was served when Vuckovich was hanged. He wasn't the first to go to his death proclaiming innocence.
But what if he was telling the truth?
Jerry Shea died 30 years later in Miles City. Obituaries in 1952 said he was there visiting his daughter, Mrs. Frank Carlson. Marie Carlson had been 2½ and her sister Elizabeth 5 when their mother was murdered.
According to the Montana Standard, Shea was born in Michigan in 1886 and spent his childhood in Butte. The family moved to the Bitterroot Valley in 1899, and Shea lived at the original home place 3 miles west of Stevensville.
"In 1914 he was married to Nora Gofee (sic), who preceded him in death," was the only mention of Mrs. Shea.
No word of their home in Missoula in 1921, which news reports said was at 504 N. First St. Today that's kitty-corner across the street from the north end of the Northside pedestrian railroad overpass. At least for a time, Jerry Shea worked in the Northern Pacific yard in Missoula, not on a ranch near Stevensville.
Nora Shea was shot two blocks to the east, at a corner of North First and what was then Rose Avenue, now Woody Street. Sun Mountain Sports and the Zootown Arts Community Center are in former warehouses across the street.
There was no eyewitness to the shooting, which happened between 7 p.m. and 8 p.m. on a Saturday evening and prompted a banner front-page headline in the Sunday Missoulian: "Missoula Mother Shot in Cold Blood."
The subheads included: "Mrs. Jerry Shea is Murdered by Joe Vockolvich (sic). Whole City Startled … Talk of Lynching Heard."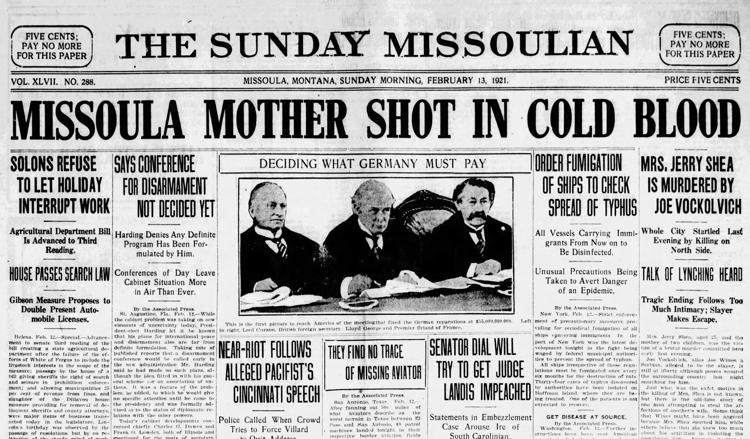 Jerry Shea told police his wife had left their home to buy candy in preparation for a family trip to the Bitterroot to visit relatives. A 13-year-old boy told police he'd seen her walking down the street with Joe Wines, as Vuckovich was known.
Near the Burkhart grocery store at the corner of North First and Rose, "Wines crowded Mrs. Shea off the side walk and put his face close to hers," the boy said and the Missoulian reported. "Apparently they were quarreling. A few minutes later a shot was heard and Wines was seen running west on North First."
The initial news account included an interesting detail. Jerry Shea said he was in his yard when the shooting occurred. He wasn't first on the scene, but he was there quickly, while his wife was still lying unconscious on the ground, her bloodied head on a pillow provided by one of the first arrivals.
"He knelt beside his wife with one knee upon her body. 'Here, don't do that,' someone called. 'She is my wife,' Mr. Shea replied."
She was taken by ambulance to St. Patrick Hospital but never regained consciousness.
Vuckovich sure acted like a guilty man. Neighbors said Shea knew Vuckovich was "tampering with his wife's affections" but was afraid to interfere, the newspaper reported.
Vuckovich's troubles began a couple of weeks earlier. He and Peter Kossich were arrested following a disturbance at the Shea home on Jan. 25. Vuckovich was said to have slapped Mrs. Shea, bloodying her nose, and to have taken her two children as far as the gate of the yard before leaving them and jumping in an automobile with Kossich. They only stopped after Chief of Police W.J. Moore fired into the back of the car when they returned.
Vuckovich threw away a gun and the car stopped. The men were arrested and Vuckovich was fined $250. Nora Shea would not appear against him.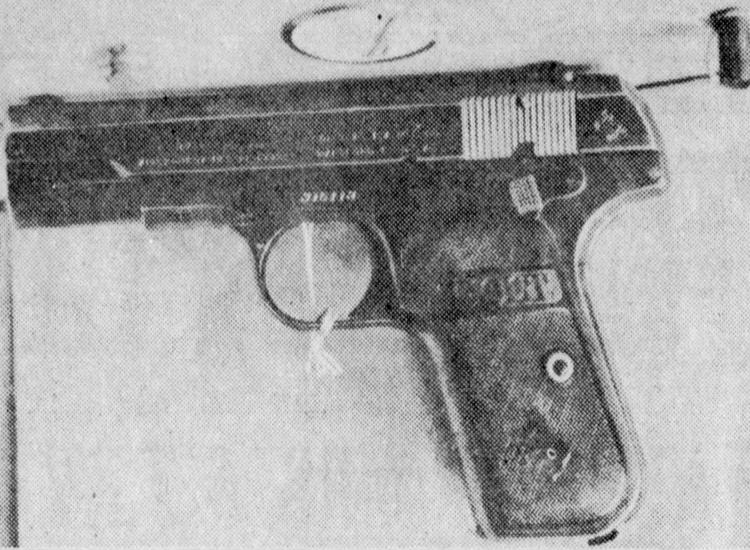 Five days later, Wines/Vuckovich was back in the police report, arrested for bootlegging whiskey. He was released on bail the following day.
Just before dawn on Feb. 13, the morning after the shooting of Nora Shea, Vuckovich showed up cold and hungry at a ranch house in Grant Creek. He allegedly told E.C. Henry that the law was after him and said, "They have got me this time — they will sure hang me this time."
The Henrys thought he was referring to a Prohibition violation. They fed him and let him stay, only to discover later that day he'd robbed them of clothing and food and disappeared. Vuckovich walked east through the Rattlesnake, to Bonner where he stayed a night in an empty cabin, then up the Clark Fork Valley. He was spotted by a train crew and captured west of Drummond near Bearmouth.
At trial the following month, Deputy Sheriff Barney Wheeler, one of his captors, testified that Vuckovich confessed to the murder on the way back to Missoula. Wheeler said Vuckovich told him, unbidden: "Well, she wouldn't give my money back and I got so mad I shot her. When I get mad I get awfully mad."
Testimony by the Missoulian's Ray Rocene seemed to clash with Wheeler's story. Rocene had interviewed Wheeler when he returned from Bearmouth with his prisoner. He said Wheeler told him Vuckovich had not confessed, "but that he thought he would plead guilty."
Meanwhile, Jerry Shea came under suspicion for his wife's murder, at least in the eyes of defense attorney James L. Wallace.
"Did you shoot your wife?" Wallace asked at Vuckovich's trial in March.
"No," Shea replied, adding that he'd ejected Vuckovich from his home on Jan. 25, when Vuckovich assaulted his wife.
Shea denied he had received $1,500 from Vuckovich, and said he didn't know Mrs. Shea withdrew money that belonged to Vuckovich from a bank on the day of the shooting.
"Didn't you know," Wallace pressed, "about a proposition between your wife and Vuckovich whereby she was to get a divorce and marry him and go back to Serbia with him?"
"Didn't you go to see about a divorce from your wife?"
"Didn't your wife on several occasions threaten to shoot herself?"
The evidence against Vuckovich was strong but circumstantial. Nonetheless, after three hours of deliberation on March 28, the jury of 12 men convicted Vuckovich of first degree murder and fixed the penalty of death by hanging.  
French Ferguson, managing editor of the Sentinel evening paper, interviewed Vuckovich the day after he was captured and asked him straight out if he murdered Mrs. Shea. Vuckovich seemed to feel a responsibility to reply, but said finally, "Maybe, maybe I answer you some time, but I think I better see a lawyer first."
Ferguson concluded Vuckovich was "a contradiction in human form, a mild, sparrow-like little man who, probably, has murdered a woman in cold blood upon a public street, yet who disliked to refuse to answer a question put to him by a man he had never seen before."
Vuckovich was hanged a year to the day after the interview. The Missoulian printed a message from him thanking those who signed the petition to the governor on his behalf.
"I want to say as my last message to you that I am losing my life for a crime I did not commit," he wrote. "I want to tell you from my heart that I am an innocent man. I am going to my death with a smile. I have no hard feelings in my heart toward anybody. They have just made a terrible mistake."
Mike Hopkins hadn't heard the tale of the Vuckovich hanging and the mystery confession until Friday, when he got a summary over the phone at the state Capitol in Helena. 
"That's the most interesting story I've heard in the Legislature this session," he quipped.
A Republican representative from Missoula House District 92, Hopkins has introduced legislation for the 10th session in a row to abolish the death penalty.
He said he's not sure how the story applies to his bill's quest, "other than there are multiple examples throughout the U.S. of individuals who have been put to death by the state, via the death penalty, who turned out being innocent."
Hopkins pointed to the recent pardon by Florida Gov. Ron DeSantis of the so-called "Groveland Four," four young black men who were wrongfully accused of raping a white woman in 1949. Three were convicted. The fourth was beaten to death by an angry mob before the trial after he'd escaped from jail. None of the three was legally executed but all were dead within a few years by either violent or mysterious means.
"The only thing I would add," Hopkins said, "is obviously the only way to guarantee the state isn't in a situation of executing an individual only to find out later they're not guilty is not to execute the individual."
There had to be a reason Tony Iverson wrote about Jerry Shea's "confescion" in 1952 in so definite terms on such an unorthodox surface.
As far as Cliff Iverson knows, his father never met Jerry Shea in the years from 1928 to 1952 when he lived in the Bonner area and Shea lived on the family ranch near Stevensville.
"They would insulate the houses with newspapers in the olden days, do you remember?" he said. "My son-in-law said he's sure the story must have been on a newspaper in the walls of the house and caught his eye, so he grabbed the board and wrote it down."
Shea's obituary in 1952 was in at least three state newspapers. But no published account can be found of a confession, in the Missoulian archives or other Montana newspapers digitized on newspaper.com.
Tony Harbaugh, sheriff of Custer County where Shea died, graciously took time last week to search the coroner records for the entire year of 1952 but came up empty.
In fact, he said in an email, "There is no coroner log or report on Mr. Shea's death."
Keith Belcher, manager of the Missoula County records center, pored through records there with no luck.
Belcher said he didn't know where an official confession would be recorded.
"I don't think I've ever seen anything like that here," he said.
Willis and Susan Hintz, both retired from the Missoula County Sheriff's Department, are longtime keepers of law enforcement history in Missoula. They're familiar with the details of the Vuckovich hanging but said they've never heard a whisper about a confession by Jerry Shea.
Shea was in and out of Missoula hospitals three times in 1952. He was discharged for the last time in early July, and a blurb in the paper said his daughter Elizabeth had arrived from her home in Fairbanks, Alaska, to see him.
Did she take him, sick as he was, to her sister's home in Miles City? Were both of Shea's daughters at his bedside when he died there on Aug. 21? Did Shea have something to get off his chest that somehow ended up on a pinewood board in a Missoula home?
"Maybe something new will turn up with this story," Cliff Iverson said.
Until then we, like the rogue Joe Vuckovich, will be left hanging in history.