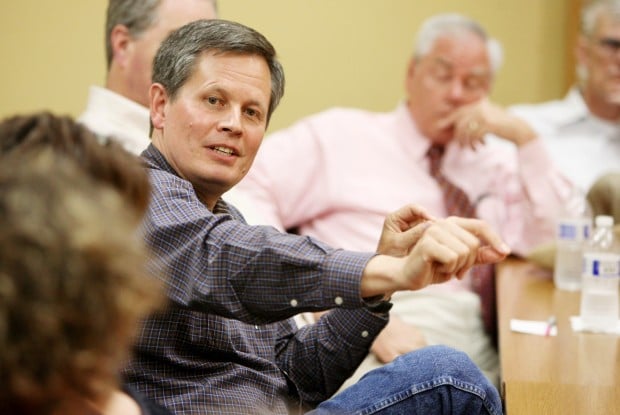 HELENA – Montana U.S. Rep. Steve Daines – a Republican running this year for the U.S. Senate – has fashioned a very conservative voting record in his first 15 months on the job, independent analyses show.
He opposed Democratic President Barack Obama 87 percent of the time during 2013, according to Congressional Quarterly, a nonpartisan publication that covers Congress.
In addition, a 30-year-old rating system devised by two prominent political scientists casts Daines as the most conservative House member in Montana history.
The Montana Democratic Party, which is working to defeat Daines in this year's election, also has called Daines "reckless" and extreme, pointing primarily to his 2013 support for House Republican budget proposals and his opposition to two key bipartisan budget deals in 2013 and early this year.
Daines, in an interview last week, said he prefers to describe his voting record as "pragmatic," and that he sometimes splits from the majority of his Republican Party on key votes.
"Each time I push that button on the House floor, it's not about voting for a political party or what's politically easy," he said. "It's about doing what's right and working to represent the people who sent me back to Washington, D.C., in the first place."
Daines was among a minority of House Republicans who voted to end the 16-day federal government shutdown last October, and he also voted last year to reauthorize the Violence Against Woman Act, a bill that funds programs fighting domestic violence and that many House Republicans opposed.
Yet Daines generally votes with fellow Republicans in the conservative House – and acknowledges that he has a frugal view on government spending, pushing for more budget cuts and spending restrictions.
"Washington, D.C., is not responsibly managing its budgets," he said. "This debt is a threat to our long-term prosperity."
Daines won election as Montana's only U.S. House member in 2012 and is the heavy favorite to become the Republican nominee for the U.S. Senate seat held now by Democrat John Walsh.
Highlights of Daines' voting record for his 15 months as a congressman include:
Daines voted a year ago for the House Republicans' "Ryan budget," which cut government spending by $4.6 trillion over 10 years, cut income-tax rates, repealed the Affordable Care Act and created a "voucher" system for Medicare, allowing the elderly to choose federal subsidies to buy private health insurance, instead of direct coverage from the government.
The Democratic-controlled Senate blocked that budget, eventually leading to the showdown with the House that shut down the government for 16 days last October. Daines joined Republican House votes that precipitated the shutdown, but then voted Oct. 16 for the short-term budget deal that ended it.
But in December, January and last month, he voted against bipartisan budget deals that, among other things, set federal spending levels through 2015 and raised the debt ceiling.
Daines said he opposed the deals because they didn't include any serious spending cuts: "We can't keep raising the credit card limit for the federal government without having spending reforms as part of that conversation."
He has been a staunch opponent of abortion, voting for a bill to make abortion illegal after 20 weeks of pregnancy and co-sponsoring bills to block funding for Planned Parenthood and possibly overturn the Supreme Court decision making abortion legal.
He has voted several times to repeal all or part of the Affordable Care Act, also known as "Obamacare."
He sponsored and voted for a bill to prevent energy development along the North and Middle forks of the Flathead River. The bill passed the House earlier this month and is before the Senate.
Daines called passage of the bill a "major milestone" for environmental protection in Montana and an example of the "pragmatic balance" that Montana voters want from their leaders.
Daines voted for a Republican-sponsored forest bill that would mandate increased logging on national forests. It passed the House last September but has stalled in the Senate.
While Daines opposed the president 87 percent of the time on 2013 House votes where Obama took a position, he actually ranked slightly below the House Republican average of 88 percent.
An ideological ranking system of congressional votes, developed in the 1980s by political scientists Howard Rosenthal and Keith Poole, also says Daines is the most conservative House member in Montana history.
With "1" being the most conservative and "minus-1" the most liberal on a numerical scale, Daines' voting record scored 0.712. His predecessor, Republican Denny Rehberg, scored a 0.529, and his predecessor, Republican Rick Hill, had the second-highest conservative score at 0.551.
Democrats say Daines' budget votes are the most telling, as he has supported budgets that cut vital programs for Montanans and opposed budget deals that fund many of the same programs, such as Medicare, grants for college students, Head Start, rural development and food stamps.
Daines shrugged off much of the criticism as "politics," and said budget bills contain many reasons to vote for or against them.
"I approach each vote as a separate vote," he said. "That's why on some votes, I get criticized from the left-hand side of the spectrum, and on some votes I get criticized from the right-hand side of the spectrum."
Missoulian State Bureau reporter Mike Dennison can be reached at 1-800-525-4920 or by email at mike.dennison@lee.net.