ELBOW LAKE — A plan to remove a wall of rocks is roiling the waters at this small lake on the Clearwater River.
People who own or lease land around Elbow Lake, including a non-denominational church camp that hosts about 600 area youth each summer, are upset with plans by two state agencies to tear down the short wall of native stones that backs up the river to create the lake. The plan is expected to lower the shallow lake's water level by up to 4 feet.
"I just recently found out about it by reading the legal notices in the Seeley Lake newspaper. I'm a little surprised we hadn't been notified," said Lloyd Dailey, director of Camp Utmost, which has leased land at the south end of the lake from the state since 1960. "Our lease specifies we can boat and swim. We have canoes down there and a swimming area with a dock. That's definitely a big part of our program and this will certainly impact us."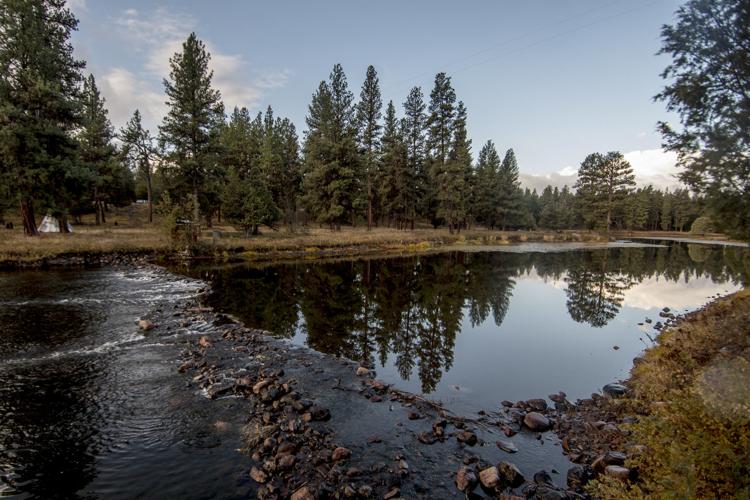 Jeff Calhoun's family has owned property and a cabin on the lake for almost 50 years, and said the dam or "weir" — a low structure built across a river to raise the level of water upstream — has been in place since before they purchased the land. Their property won't be affected as much of some others, but he's concerned about the impacts to wildlife and land that's been underwater for at least half a century.
"We hope to come up with some sort of compromise, where we maintain the weir at our own expense so we can maintain the value of the lake," Calhoun said recently. "We are trying to offer our partnership … to do what needs to be done. Let's sit down and figure out what we can do."
That could be a big hurdle to overcome. While officials with Montana Fish, Wildlife and Parks, and the Department of Natural Resources and Conservation say they're willing to listen to options and comments, their reasons for removing what they call an "unauthorized rock dam" are many and complicated.
In an Environmental Assessment released Sept. 30, the two state agencies note that:
• The weir could impede the upstream migration for some species and sizes of fish, including bull trout, which are protected under the Endangered Species Act.
• Although the structure was issued a temporary permit in 2005 and a permanent one in 2007 from the Missoula Conservation District, that was rescinded in 2013 at the request of DNRC after a water court determined the area residents don't have valid legal water rights. The residents also never got a permit from the Army Corps of Engineers.
• The weir sits on DNRC School Trust Lands, so the water right applicant would have to be DNRC, which also happens to be the state agency that processes applications for surface water rights. Since the basin legislatively was closed in 1995 to new appropriations of surface water, DNRC can't accept or process any applications.
• The hand-stacked rock dam doesn't have a control structure, an emergency bypass spillway or other engineered features that allow for the release of stored water or safe operation of the dam, another reason why DNRC doesn't want to own it.
• The impounded water is suspected to evaporate in an unknown amount, resulting in a "consumptive use" designation, which adversely affects downstream water users in a system that's already over-appropriated.
• The only way to mitigate that consumptive use is to retire or purchase an existing water right in the Clearwater drainage for a "Beneficial Water User Permit." DNRC says it isn't aware of any large consumptive-use rights that could be purchased and changed. In addition, the purchase of the water right would need to be funded by DNRC School Trust Lands, since it would be the owner and applicant of that water right.
• Removing the weir would cost between $3,000 and $5,000 and could be completed in a day by just redistributing the rocks that create the dam.
"In conclusion, due to the complexity of the applications required, the high potential for adverse effect to existing water users, the lack of potential mitigation water available in the drainage, and the cost incurred to DNRC School Trust Lands, as well as the liability of owning and maintaining a dam and reservoir on DNRC School Trust Lands, DNRC does not consider obtaining a water right for the existing non-permitted dam to be a viable option," the EA states.
'No legal basis'
Llad Knotek, a fisheries management biologist who put together the EA, puts it another way.
"It's so clear cut. There's no legal basis for this to be on public property," Knotek said. "We could write volumes about how it affects various species.
"The other option is we could turn it over to the permitting agencies and they (the residents) could have to remove it at their own cost."
When asked if the Environmental Assessment (EA) was just a "pro forma" document, Knotek noted that the issue's been going on for more than 15 years, so they're working through the proper legal steps.
"Out of respect for people's properties up there, we did an EA. Normally, not having stream permits would be a violation and it would be resolved legally," Knotek said. "We have chosen to work with people on a path that was respectful. A lot of people see the rationale for it."
Representatives from the DNRC didn't return phone calls seeking comment.
Not everyone agrees with the conclusions in the EA.
You have free articles remaining.
Residents push back
Two years ago, Greg Browning's lifelong dream of owning a cabin on a lake came true when he and his brother purchased a house on Elbow Lake. They're currently one of five area residents who are waiting for appraisals and State Land Board approval to purchase the lots the cabin sits on from the DNRC.
"Now we're finding out after the fact that the lake will be drained," Browning said. "They're changing the natural characteristics. A lot of the wetlands will go away, and animals will be affected. If they remove the dam, this lake will become a babbling brook no deeper than 6 inches in at least two spots."
Heather Hair lives in a home slightly uphill from Elbow Lake. She doesn't care if it's a lake or a creek, but she is concerned about the fate of the beavers who built a lodge in the area that will be drained if the weir is removed.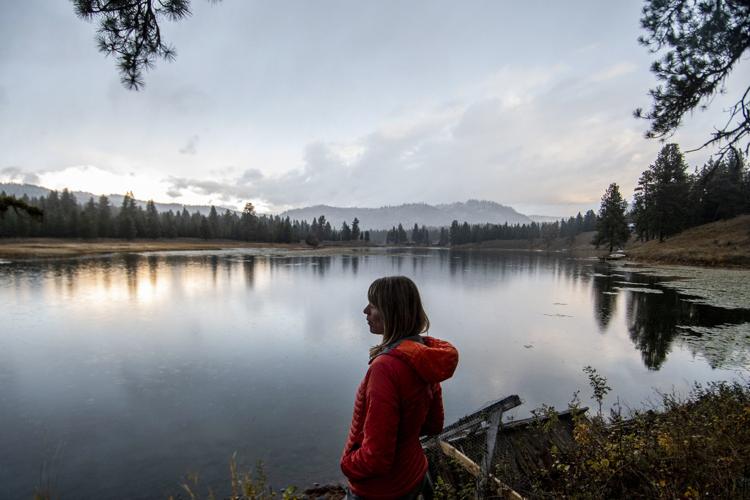 On a recent morning, quacking ducks flitted among lily pads as a light rain fell on the lake surrounded by old-growth Ponderosa pines.
"We will lose this," Hair said quietly. "We'll lose the beaver dams and the river otters. The birds and the waterfowl. This is home to deer, bear and mountain lions; a lot of predators come through here. This will dry up completely or become a swamp without the dam."
"The benefits and impacts to local wildlife species are mixed at the project scale," it notes. "For instance, impoundment enhances deeper, peripheral wetlands used by some waterfowl species and beaver, while shorebirds, amphibians, and other species may benefit from shallower wetlands and unmodified habitat along the river margins.
"Overall, FWP considers unmodified, natural riverine habitat to be the preferred and most beneficial state for this river reach."
More information wanted
In a letter to the Missoula County Commission written by Jon and Lori Watson, they say the "biased" EA doesn't provide any scientific support for its conclusion. They write that species of plants or animals, including grizzly bears, yellowbilled cuckoo, Canada lynx, and water howellia, all listed as protected under the Endangered Species Act, are "not even acknowledged" in the EA.
And that's not their only objection. The EA says the dam removal "may or may not affect property values" but won't affect the use of the land itself.
"Land use, community impact, revenue, aesthetics and recreation, evaluation of significance and general public controversy, are all listed in the EA as having minor impact if the weir is removed. We heartily disagree," the Watsons wrote. "Lowering the lake level will drain decades old wetlands impacting plant and wildlife throughout the Clearwater corridor.
"It unbelievable that two state agencies charged with land and resource management propose draining significant wetlands without a thorough, unbiased environmental review. This action will degrade property values and impact recreational opportunities that occupants along the lake have enjoyed for many, many years."
Both Browning and Calhoun are searching for a compromise in which they can rebuild the dam each year, then knock down a couple of sections to allow fish to pass. They're willing to apply for the necessary permits, and Calhoun offered his family partnership group to be the parties responsible for its maintenance.
Calhoun added that he thought his family had water rights, but those may have been inadvertently dropped over the years.
Randy Arnold, the FWP supervisor for Region 2, said they've worked with other groups in the Clearwater River drainage to mitigate dam deficiencies. But all of those had valid water rights already.
They modified Rainy Lake dam to enhance fish passage. A fish ladder was installed at a dam on Lake Inez, and the homeowners association for residents around the lake agreed to annually remove boards that hold back water three or four months of the year.
A dam on Placid Lake above the Owl Creek outlet keeps non-native northern pike from reaching the water body. They removed an illegal dam and recontoured the channel near the privately owned Emily A lodge.
Both Seeley and Salmon lakes and Lake Inez are held back by natural shallow high spots near the lake outlets, so they won't be working on those, Arnold said. Further down the chain of lakes, future projects include working with landowners on an irrigation ditch to install fish passageways.
"The bigger story is we have been working two decades to mitigate fish passage issues along the whole Clearwater system," FWP's Knotek said. "This is issue No. 6. It's not like it's a random dam project."
Genetic testing shows their efforts are having some success, showing bull trout in Salmon Lake have made their way upstream from Monture Creek and the North Fork of the Blackfoot. Knotek called bull trout the "canary in the coal mine" that show the lakes along the rivers can successfully be connected.
"We know fish are trying to get past (the Elbow Lake weir) and when it was possible, they used it a lot," Knotek said.
Comments on the EA are due by Oct. 29 and can be mailed to Region 2 FWP, Spurgin Road, Missoula, MT 59804 or emailed to shrose@mt.gov. The EA can be found online at fwp.mt.gov under the News heading and search for Elbow Lake Dam EA. Comments also can be filed there online.