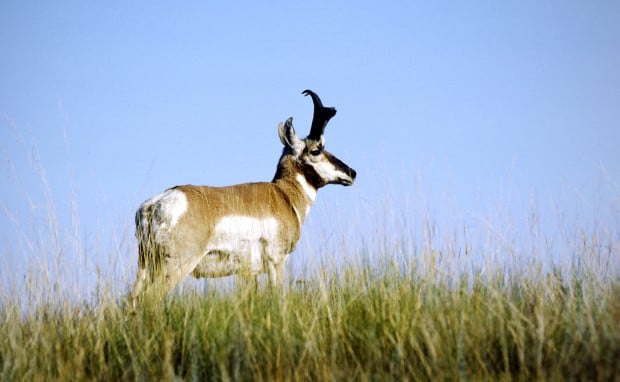 They get together in tightly networked clubs, raise lots of money and know how to bend politicians to their will. But will Montana's hunters come out of the woods to play a significant role in this November's elections?
Despite their passion and pocketbooks, the great orange herd may not stampede one way or the other. Perhaps because their big-game species don't declare political affiliation, hunters too seem hard to target in the ballot box.
"I think we're conservative when it comes to the physical things in life, and on social issues we're in the middle of the road," said Tom Opre, a hunting media producer from Kalispell and past Republican legislative candidate. "But when it comes to outdoors, hunting and fishing, we're out-and-out crazy liberals when it comes to protecting it."
Ravalli County Fish and Wildlife president Tony Jones of Stevensville said hunters are passionate about their sport but passive about speaking up.
"One thing we don't do is let politics come into our meetings," Jones said. "We've got close to 200 members of our group, and they're all very active. They'll go to blows over Obamacare but go in lockstep on stream access."
"Sportsmen" have been a frequent buzzword in Montana's 2012 U.S. Senate race. Democratic Sen. Jon Tester last week forced a vote on his Sportsmen's Act of 2012 (S2525), which compiles 20 hunting-related pieces of legislation into one bill. It includes measures to spend 1.5 percent of the Land and Water Conservation Fund for buying access to isolated public property; provides money for shooting ranges; reauthorizes the Partners for Fish and Wildlife grant program; allows the secretary of Interior to raise the price of Duck Stamps; and reauthorizes the North American Wetlands Conservation Act for five years.
It would also allow people to have firearms on Army Corps of Engineers reservoirs and water bodies; allow bows to be transported through national parks; support fish habitat conservation projects; reauthorize the U.S. Fish and Wildlife Service's Joint Ventures migratory bird conservation program and the National Fish and Wildlife Foundation; provide funds for Multinational Species Conservation such as elephants, rhinos and tigers; and reassert the Bureau of Land Management's authority to sell land to private owners or local governments in return for inholding properties in public lands.
Tester's bill earned praise from the Montana Bow Hunter's Association and the Congressional Sportsmen's Foundation.
It stands in contrast to a House Sportsmen's Heritage Act (HB4089) supported by Rep. Denny Rehberg, the incumbent Republican challenging Tester for his seat. It would encourage hunting, fishing and shooting on federal public lands, "including wilderness areas, wilderness study areas, or lands administratively classified as wilderness eligible or suitable and primitive or semi-primitive areas(.)" It would limit federal wilderness area protections so they "do not prevent federal public land management officials and state fish and wildlife officials from carrying out their wildlife conservation responsibilities or providing recreational opportunities(.)"
It would also streamline federal leases for shooting ranges, allow the importation of polar bear trophies taken on Canadian hunts, permit recreational shooting on federal lands, protect the use of lead in bullets and fishing tackle, and allow the use of dogs to hunt deer in Louisiana's Kisatchie National Forest. Its final portion would block any president from declaring a new national monument without the consent of the affected state's governor and legislature.
The House bill had support from Ducks Unlimited and Safari Club International.
Hunters have difficulty backing politicians because few office-seekers seem to understand them, said author and political activist Susan Campbell Reneau. She said personally, she is voting for Republican Mitt Romney over President Barack Obama because she can't stand the Democrat's business and fiscal policies. But she also finds it frustrating to get GOP politicians to understand her Republican hero Teddy Roosevelt's respect for wild land and wildlife.
"The Republicans today are completely out to lunch in understanding Teddy Roosevelt's conservation principles," Campbell Reneau said. "And it wasn't always that way. Without Richard Nixon, we wouldn't have the Clean Air Act and lots of other environmental protections, and he was a Republican."
Campbell Reneau calls herself a conservationist but not an environmentalist. The former, she said, believe in logging and mining, but also see a need to restrain the human tendency to exploit whatever resource is at hand.
"I won't support raping and pillaging the landscape, or the person who doesn't believe in ever cutting a twig or digging a hole in the ground," she said. "I am not gung-ho about anybody this year. They don't understand the value of limiting human excesses. The Greeks had it right: Everything in moderation."
Rob Arnaud of Sportsmen for Fish and Wildlife said a lot of groups, including his, are scrambling to claim the loyalty of hunters this fall.
"If you talk to the Montana Wildlife Federation, they're the voice of 17,000 resident hunters," Arnaud said. "But if you talk to the Rocky Mountain Elk Foundation or Safari Club International, there isn't a lot of love for the MWF. They seem aligned to only one party. Instead of using politics to further wildlife, I see people using wildlife to further politics."
Retired lawyer Tony Schoonen of Butte said after roughly 30 years lobbying on hunting issues in the Montana Legislature, he still isn't sure what political pole draws hunters.
"People didn't want to get involved until their little private river or hunting area is closed," Schoonen said. "Then they'll try to do something."
Issues like stream access, habitat protection and open land conservation have been under threat in Montana for all his political career, Schoonen said. He thought Democrats had a better record than Republicans at supporting land exchanges that benefited hunters. But the bigger problem was keeping rich newcomers from buying up Montana's best wildlands and closing access.
"I'm 83 now, and if I live to be 300, it'll be the same damn problems," Schoonen said. "You can't let these things go. But you wear out after a while."