A University of Montana wildlife biology graduate spent seven years and made enormous personal sacrifices while traveling to a remote corner of the Amazon rainforest in order to make a powerful documentary about a group of indigenous people whose lives, habitat and culture are being threatened by rapid petroleum development.
Ryan Killackey put his life on hold and braved torrential downpours, parasitic maggots that burrowed into his flesh, terrifying airplane rides into the jungle and threats from oil company officials as he and his team created "Yasuni Man," an award-winning film about a conflict flaring up deep within the Yasuni National Park and Biosphere Reserve in Ecuador, one of the most biodiverse places on the planet.
The film tracks Killackey's Native friend Otobo and his people, the Waorani, as they fight to survive in the face of an industry that is aligned with the government in an attempt to develop the rich oil reserves beneath the pristine jungle. Described as a real-life "Avatar" story, the documentary takes viewers into one of the last bastions of "uncontacted" tribes on Earth, a place where all kinds of bizarre and beautiful plant and animal species have evolved to coexist.
The Waorani have contact with the outside world, but other groups of people live in complete, voluntary isolation and have only been photographed from airplanes, their bodies painted, spears thrust towards the sky. These people, and the Amazon ecosystem which they depend on for food, shelter and clothing, are under threat from companies building roads farther and farther into the area, which leads to illegal logging, illegal bushmeat trading, mining and other development threats.
"The Waorani are truly an amazing people," Killackey said. "And the film doesn't even do justice to how beautiful the forest is."
The film is at times sad, powerful, lighthearted, visually stunning and uplifting. Killackey combined historical research with elements of modern investigative journalism to give viewers an overarching perspective on how the influences of the modern world – especially American demand for oil – are destroying the last vestiges of a true hunter-gatherer society and the ecosystem around it.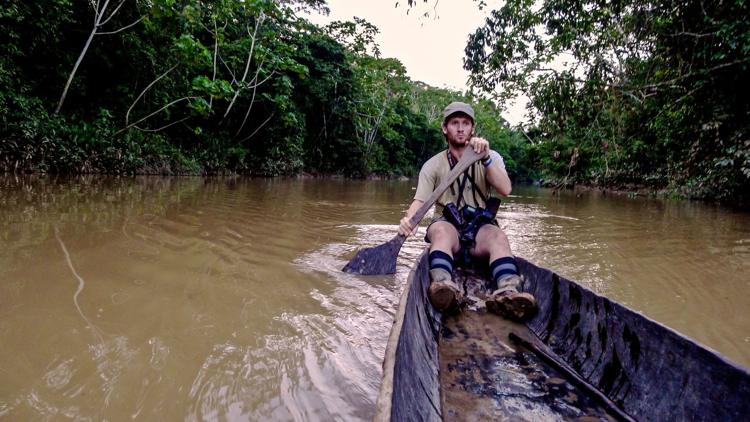 Killackey, who graduated from UM in 2000, started his career on various wildlife biology research projects, studying frogs, tracking and live-trapping wolverines and working as a wilderness ranger at a bear observatory. His passion has always been amphibians, which led him to the Ecuadorian Amazon and a transition to photography and film in 2005.
He worked on several projects for National Geographic, PBS, Yale E360 and others, but his true passion project, "Yasuni Man," began in December 2009. A friend at an ecotourism lodge introduced him to Otobo. Killackey recalls that Otobo was concerned about how oil development might destroy the way of life of his people, and he wanted Killackey to make a film about their plight.
"Otobo invited me to come down over Christmas in 2009, and I went in for 11 days and looked at the whole story from a wide angle," Killackey recalled. "And right off the bat, I knew I wanted to do it."
The project consumed the next seven years of Killackey's life. First, he launched a Kickstarter campaign to raise money. At the time, his project was one of the highest-grossing fundraisers, at $31,000, in Kickstarter history.
He endured a personal family tragedy and suffered a long period of depression soon after, but the story of the Waorani was so important for him to tell that he pressed on.
He had to pay for much of the film out of his own pocket, and flew back to the United States between filming to work odd jobs in zoos and other places to keep going.
You have free articles remaining.
Back in Ecuador, he went on hunts with the Waorani, strapping a GoPro camera to their spears as they hunted tapir and other jungle animals. He camped with them in their huts in the stifling heat and the rain, using Spanish as a common language to communicate, and collaborated with other scientists to document the richness of plant and animal life.
On boat trips deep in the Amazon, Killackey was able to get footage of a place most of the world hasn't seen – and might never see. Killackey was the writer, director, producer and cinematographer, but he relied on a team of editors and others to help create the project.
The story may seem faraway to Montanans, but it echoes the plight of Native Americans who were "civilized" by white settlers and whose habitat and wild food sources were plundered.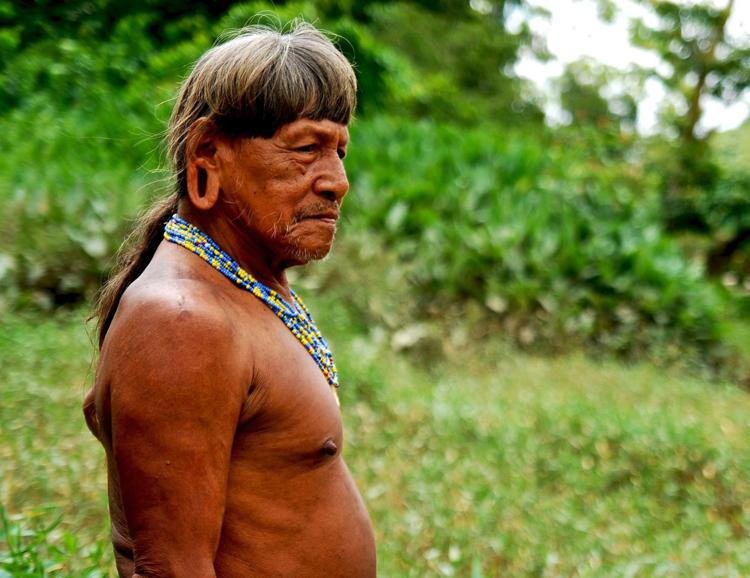 Once under siege by missionaries seeking to civilize them — and eradicate their cultural heritage — the Waorani and other Amazonian people now face human rights violations, inter-tribal revenge killings and the destruction of their forest upon which they depend.  
Killackey captures many tender moments of the Waorani as they fish and cook and laugh with each other in the jungle. He also captures terrifying footage, such as the construction of illegal logging roads and the aftermath of spear attacks.
"Yasuni Man" is his first feature project, and it won "Best Feature Film" at the New York Wild Film Fest and "Panda Award for Emerging Talent" at the Wildscreen Film Festival in the United Kingdom, which Killackey says are known as the "green Oscars."
This past weekend, the film won the "Audience Award" at the San Francisco Green Film Festival, and has been shown around the world. Later this year, Killackey will host a screening for his Waorani friends in Ecuador.
After releasing his film and touring it at many other film festivals, Killackey has been interviewed by the Jane Goodall Institute, National Geographic Radio, the BBC Radio 4 and The Guardian. He's currently trying to get distribution for his film. His film was recently shown at the International Wildlife Film Festival in Missoula.
In the end, Killackey says he doesn't believe tourism can save the Waorani or other Amazonian tribes from oil development, but it might be a more sustainable alternative. He hopes the Ecuadorian government will encourage more biological research rather than natural resource extraction.
"This is a place where people are struggling to survive by any means necessary," he said. "In a perfect world, things would be a lot different."