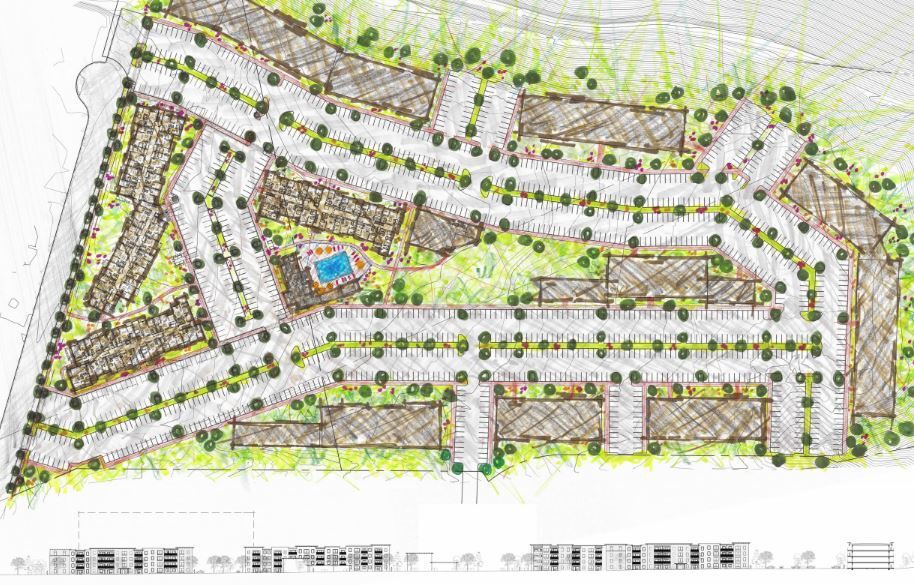 A local developer is planning a roughly $120-million housing project with 960 new apartments on a vacant old gravel pit in the lower Grant Creek neighborhood.
Ken Ault is applying for a city rezone of the 44-acre parcel and said the project, called Grant Creek Village, will be built in phases over the course of six to seven years.
He hopes to have over 100 units available for move-in by this time next year, and then even more would be built in 2021.
"We chose this location for all the amenities nearby," he said, referring to the proximity to hiking trails, Snowbowl, commercial districts and Interstate 90 access.
Neighbors have expressed a range of concerns related to the request for higher density, from traffic increases to crowding at schools. But Ault noted the project would contribute to filling Missoula's significant need for more housing, and he'll be taking residents' input into consideration as he moves forward.
The project would include a clubhouse with a pool and a gymnasium along with roughly 1,500 parking spaces. The apartment buildings would be four stories high, and he wants to include as much green space as possible.
"Going four stories allows us to have quite a bit more green space," he said. "We're pet-friendly."
The project is located at 2920 Expo Parkway, and Ault still needs Missoula City Council approval to have the lot rezoned to RM1-45, residential multi-dwelling.
The City Council isn't scheduled to take up the issue this week, but it could happen in the next few weeks.
Ault presented his proposal to the Grant Creek Neighborhood Council's leadership team in February and got a mixed reaction.
"That first meeting was a shocker," Ault said. "Their main concern was they didn't want the gravel pit developed. But after the initial shock wore off, they brought up some good ideas and suggestions that we'll look at, like putting in a Mountain Line bus stop and a school bus stop."
Bert Lindler, a member of the Grant Creek Neighborhood Council, forwarded the Missoulian an email he sent to Grant Creek residents. In the email, Lindler said neighbors expressed a number of concerns about the project during the first meeting. For one, they were concerned about increasing traffic, emergency evacuation plans, a "sea of asphalt" required for parking, impacts to the crowded Hellgate Elementary nearby and concerns about new residents using private parks in neighboring subdivisions.
Ault said he hopes to keep meeting with neighbors and will take all concerns into consideration as the project moves forward.
He said the rentals would be one-, two- and three-bedroom apartments at market rates, ranging from $850 to $1,000 for a one-bedroom and $1,000 to $1,100 for a two-bedroom.
Ault told the Grant Creek residents that building a parking structure instead of asphalt parking would cost about $35,000 per parking spot, which means that two spaces would cost about the same as building one apartment, so it's not financially feasible.
As for easing traffic congestion, the Montana Department of Transportation plans to improve the southbound lane near I-90 this summer, according to Lindler.
Ault had a traffic study completed by Abelin Traffic Services, which found that the first two phases of the project would account for an 18% and 35% increase in traffic volumes on Grant Creek Road. The study found the development would not create any new roadway capacity problems as long as the improvements are made to Grant Creek Road near I-90, including the addition of a southbound lane.
Kevin Davis, a member of the neighborhood council, said he and a few others have serious concerns about the increased traffic.
"A handful of us are pretty concerned, I would say, about the higher density rezoning," he said. "The reality is me and some others are opposing the rezoning as it stands until we can understand why it would make sense. The current zoning seems to be sufficient, and the higher density would allow for some pretty significant traffic issues that we've been addressing."
Ault said he recently built the Brooklyn West apartment complex on Mullan Road, with rentals starting at $1,175 per month. That complex is between 98% and 99% full occupancy, he explained. That shows him that more apartments are needed in Missoula.
"There is demand," he said. "This project is going to be good for the construction industry here and good for Missoula."
Another meeting with the Grant Creek neighborhood is planned for 7 p.m. on March 12 at the Grant Creek Inn.