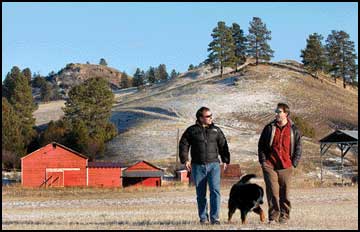 Earlier this week, with the sun out and the sky blue, Stuart Goldberg headed up for a walk on McCauley Butte, a distinctive outcropping beside Target Range School that he and his business partner own.
He encountered a herd of white-tail deer, a sizeable buck and a blue heron. He expected to see an eagle, too.
Goldberg has noticed bear scat on the butte in the past, and depending on the season, red squirrels, beavers, muskrats, red fox, raccoons, black-backed woodpeckers, Lewis' woodpeckers might be spotted, along with hundreds of other wild creatures of land, water and air.
"It's a little bit of everything," Goldberg said. "This is quintessential Montana landscape."
As of Wednesday afternoon, more than 90 percent of that McCauley Butte landscape is now protected from any future development.
Goldberg and Brett Kulina, co-owners of Northern Lights Development, on Wednesday signed conservation easements on 257 acres of the land. It remains in private hands and is private property, but public access may be negotiated later.
The easements make good a promise Kulina and Goldberg made in April when the Missoula County commissioners approved a dense, clustered subdivision at the base of the butte. Commissioners allowed Northern Lights to transfer density from the butte itself to the remaining 19 acres, mostly at the bottom of the butte, where 126 home sites are planned in the future.
Wendy Ninteman, executive director of Five Valleys Land Trust, called McCauley Butte a "first-tier" piece of Missoula's open-space inventory, a piece of property that's been on the open-space wish list for more than a decade.
When it went up for sale, with potential of homes dotting the top and sides of the butte, "that was the worst-case scenario for someone in my business," Ninteman said.
Goldberg said a real estate agent who showed the property stressed how inviting homes on the top of the butte would be. That very day, he said, he and Kulina agreed that if they bought the land, they'd fight to keep most of the butte open.
"It was a quick business decision, it was a very intuitive business decision," he said. "We knew we would never build up there. … And we know we would still come out whole" and be able to make a profit while protecting the view and land.
And thus began nearly three years of designing, planning, negotiating, reworking, redrafting.
Northern Lights designed the subdivision but had to get an OK to transfer development rights from open-land acreage to the other 19 acres. They needed a commitment for city sewer, even though the land is in the county right now.
And Northern Lights couldn't finalize easements until those other details fell into place.
You have free articles remaining.
Negotiating the easements was not easy or smooth, and took more than a year. On Wednesday, Goldberg and Kulina signed over three easements, on three parcels, to Five Valleys Land Trust.
The next phases of the project include starting construction in the next few years, and trying to work out potential public access.
McCauley Butte is private property, and remains so, even with the easements, although Kulina and Goldberg have said from the start they hope to grant public access down the line.
JTL Group has a gravel pit to the east of the property that is to be donated to the city of Missoula by Dec. 31, 2012. It is to be reclaimed and converted into a public park. When that happens, Northern Lights plans to transfer to the city a 3-acre strip of land along the Bitterroot River, giving the city river frontage, Goldberg said.
Then, contingent on the 90-acre JTL land becoming a developed park, Northern Lights plans to allow a public trail to the top of McCauley Butte, Kulina and Goldberg said.
The butte is an inherently beautiful spot, one used by Indians for hundreds of years and enjoyed by Missoulians and Target Range residents for generations, Kulina said. The butte is named after Michael and Margaret McCauley, who settled there in the late 1870s. Michael, an officer at Fort Missoula, operated a dairy on the property.
The only other owners were John and Frieda Klapwyk, who bought the land from the McCauleys in the 1950s and raised livestock and hay there until Northern Lights bought the land in 2004.
"Our relationship with this land is just 2 1/2 years old," Kulina said. "Others have a lifetime of connections with the property.
"When you are on it," he said, "you sense that it not only has a history of human and wildlife use, but that it also has a uniqueness, geologically, in Missoula."
"The responsibility that Brett and I feel is tremendous," Goldberg said. "We are developers, but we also recognize what it is to love the place where you live, to love the place you call home. Development and protecting open space can mutually exist."
Someday, they said, they hope a pedestrian bridge across the Bitterroot River is designed, approved and funded to connect the area to Maclay Flats, on the south side of the Bitterroot River. If that project catches favor, various government agencies and the public will need to be involved.
"This was clearly a property that was going to have some sort of development," Ninteman said. "As far as a model for conservation development, this is going to set the bar very high. This is designed around conservation, instead of the other way around.
"This easily could have gone another way," she said. "I think the community needs to celebrate things when they go the right way. This one went the right way.
"Protecting this landmark is truly a celebration," she said. "This is really a gem."