Ryan Clinch already knew he wanted to study engineering at Montana State University when he enrolled in dual enrollment courses for his senior year at Helena High School. He felt confident that he would pass the classes and earn college credit, which he knew would transfer to MSU and help him get a jump start on his degree.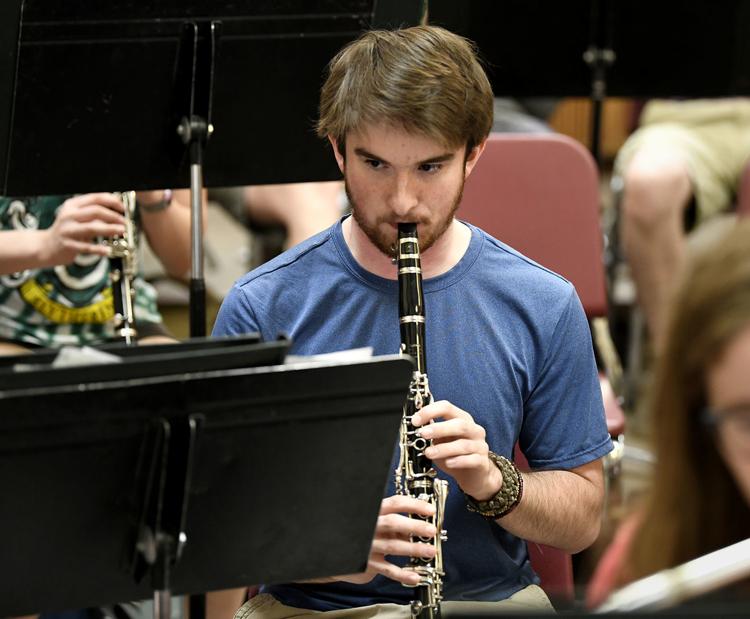 "I feel like it's a good way of easing into college coursework. … It's not exactly like college, but it's kind of like a gradual introduction," Clinch said.
Clinch is one of an increasing number of high schoolers in Montana who are taking dual enrollment courses, which allow students to earn credit for college courses while also earning their high school diploma. The classes give students a taste of college and allow them to explore their interests — or simply get required courses out of the way. 
In one significant effort to open the gateway to post-secondary education, the Montana University System is working to increase the availability and affordability of dual enrollment so more students can enter college with credit already accumulated.
Enrollment in the courses is booming, and many students and educators appreciate the chance to get a leg up on college. But the program is leaving some students in rural areas behind, according to Angela McLean in the state Office of the Commissioner of Higher Education (OCHE) — and students note courses aren't always challenging.
In the 2018-2019 school year, close to 8,000 students were earning credit in at least one college class  — an all-time high for the state, according to data from the Montana Office of the Commissioner of Higher Education. And from 2017-2018 to 2018-2019, the number of students taking dual enrollment courses in Montana increased by more than 1,000. 
It's likely to continue to increase with a new program called "One-Two-Free," which allows all eligible high school students the chance to take their first two dual enrollment courses through the Montana University System at no charge, reducing the financial burden of college.
Although students can earn college credits for free or low cost, some students say the courses aren't as rigorous as other college-earning classes.
Grace Lawlor, another recent graduate of Helena High School who took dual enrollment classes in statistics and college writing through Helena College, said she felt more intellectually challenged by the Advanced Placement tests she took as a junior.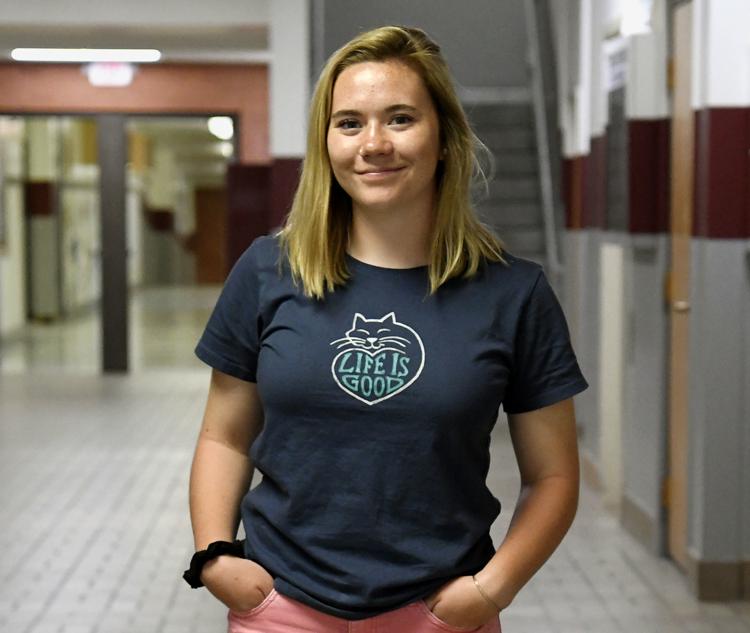 The lack of availability of dual enrollment courses at some schools also creates a widening opportunity gap for students.
"It is, more often than not, our rural students, and in many cases, our students on our reservations who may not have access," said McLean, OCHE's director of American Indian/Minority Achievement and K-12 Partnerships.
Despite the challenges, educators see potential for dual enrollment courses to provide a key connection between secondary and post-secondary institutions throughout the state. 
Students who have the opportunity to take dual enrollment courses say the new "One-Two-Free" initiative is an incentive.
"I feel like it'll get more students to take these classes because they might be worried about having to pay for them," said Clinch, who earned six credits from his dual enrollment classes.
However, many students who are in most need of the "One-Two-Free" program have uneven access to courses because of a state requirement for teachers to have a master's degree in the subject area, which limits some schools' ability to offer the classes, according to Montana educators.
As rural schools across the state struggle with teacher recruitment and retention, students in those areas can't take advantage of the classes as easily as their counterparts in urban areas. 
You have free articles remaining.
Students in schools that don't offer dual enrollment courses can take them online, but McLean said the Commissioner's Office is working with campus-based teams to support more schools and "make sure that every student has an opportunity for face-to-face classroom instruction."
"I think it's very important that by creating opportunities, that we don't unintentionally widen the opportunity gap," McLean said. "We're doing a lot of good work. We're trying to create opportunities for access to post-secondary efforts for students."
Even urban schools such as Bozeman High School have had trouble establishing consistency with dual enrollment course offerings due to teacher shortages, conflicting schedules or a lack of student interest in some classes, according to Abbey Wesche, a Bozeman High School teacher who also teaches dual enrollment courses under the umbrella of business education.
"One of the issues that we encountered with CTE (Career and Technical Education) courses is that we struggle finding employees because there hasn't been a big push for people in those areas to get a degree in education," Wesche said.
However, Bozeman High School has found success in offering dual enrollment courses in other areas. As part of a district-wide initiative to ensure that all students were ready for college-level math, the high school began offering a college algebra course for dual credit.
But students were taking their three years of math required by the district, and sitting out their senior year, he said. "So by the time they got back into math, they'd forgotten all of it," said former Bozeman Public Schools superintendent Rob Watson, now head of the Missoula district.
"So what we did is we took that college algebra class and we put it in their senior year. Now they're getting that math credit in high school, so that when they get to college, they've already gotten it out of the way."
Bozeman High School isn't the only school using dual enrollment courses to help students succeed in college by taking care of requirements in challenging courses such as math.
"Math is the big hang-up in college because they get stuck in the remedial level classes, and then they just give up and quit college," said Nicole Lindgren, a math teacher at Helena High School who teaches both high school-level and college-level classes.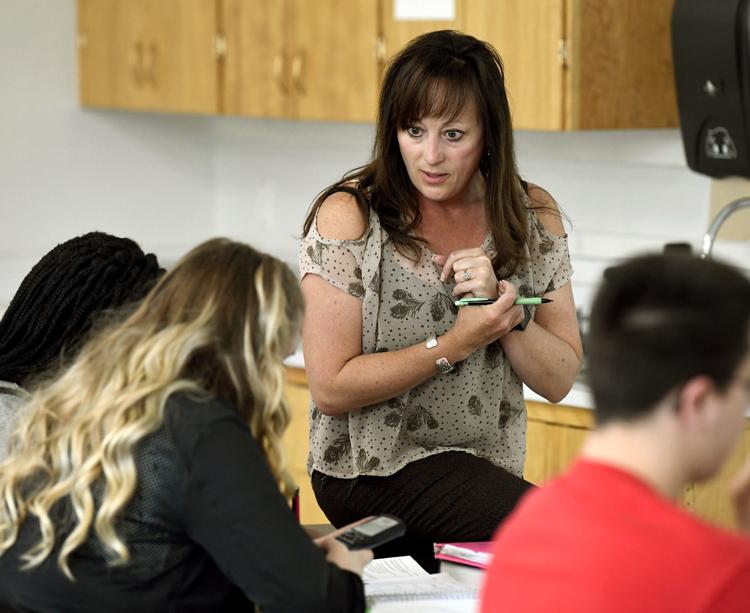 "If they have their math taken care of, I think their chance of graduating is way, way higher," she said.
Lindgren advises all qualifying students at the high school to graduate with a dual credit in math regardless of what they plan to study.
In order to take dual enrollment classes, students must pass a placement test that determines their readiness for the course. If students don't receive a high enough score on the test or lack a qualifying ACT score, they can still take the course, but they can't receive college credit for it.
At schools like Browning High School on the Blackfeet reservation, getting students to qualify for math classes is a challenge in itself. This year, the school tried to get one of their high school math teachers certified to teach a college algebra class, but no students passed the placement test, according to Melanie Magee, a Gear Up coordinator for the school.
In addition to qualifying for the classes, students who plan to attend out-of-state schools have to make sure the credits will transfer. Dual enrollment courses in Montana are only guaranteed to be accepted by the Montana University System, although other institutions may accept them, unlike credits from AP classes which are more broadly accepted. 
Credits aside, dual enrollment classes allow students the opportunity to explore topics and identify areas of interest to study in college.
Joanna Krogstad teaches an interior design class for dual enrollment at Bozeman High School. She said she regularly talks to students about other careers that are related to interior design, like architecture and engineering, and she brings in professionals.
"It gives them a different career idea or path," Krogstad said.