Bob Quinn and Liz Carlisle believe there's a way to revive Montana's struggling rural economies, preserve good soil and save lives at the same time: organic, sustainable farming of nutritious foods.
It involves removing the costs of inputs like fertilizer and pesticides sold by multinational corporations, and boosting profit margins by selling organic foods that are in high demand and low supply.
The duo say Montana farmers can break with the agricultural-industrial complex, hire more workers and find financial success. And by providing more whole grains free from chemical pesticides, they believe they can help alleviate the nation's obesity and chronic disease epidemic. Additionally, organic farming practices conserve soil for future generations, leave nearby waters less polluted, and sequester carbon in this era of fossil fuel-driven climate change.
"I believe this is the future," Quinn explained. "Organic, regenerative agriculture is sustainable. The chemical system is an artificial system propped up by large government inputs and sacrifices by farmers taking low prices for their crops. It causes high costs to the planet, the decline of small towns and the decline of health."
Carlisle is a Missoula native who graduated from Hellgate High School in 2002. She lectures on food and agriculture, sustainability and environmental communication at Stanford University. She wrote a book, "Lentil Underground," winner of the 2015 Montana Book Award, chronicling the sustainable agriculture movement in Montana. Quinn is an organic farmer from Big Sandy who revived an ancient Middle Eastern grain he calls Kamut, also known as Khorasan wheat.
Together, they recently teamed up to write a new book called "Grain by Grain: A Quest to Revive Ancient Wheat, Rural Jobs and Healthy Food." They're on a promotional speaking tour across the region, and recently stopped at the University of Montana to talk with students in the Environmental Studies program.
"What we're saying is instead of growing the cheap stuff, we can grow quality stuff and get paid more for growing quality food," Carlisle explained. "There are health benefits, environmental benefits and a decent wage in return to farmers."
She said their goal is for everybody to win.
"Compare that to the industrial chemical system, where the big winners are people who are extracting value out of the state by selling us chemical inputs and leaving a big gap between farmers and consumers," she noted.
Organic farming, she said, leaves "as much of that money as possible within the farmer's household."
Quinn says his transition from chemical pesticide and fertilizer use to organic farming has made him wealthier and brought jobs to the tiny town of Big Sandy in north-central Montana (where U.S. Sen. Jon Tester also farms nearby).
"People complain about organic requiring more work," he said. "I look at that as offering more jobs. It does require more effort and management, but because we're able to reduce the costs of inputs and increase the value of ouptuts, we've got enough money to hire more people."
They make safflower oil in Big Sandy, along with a crunchy roasted snack made from Kamut.
"So that way we've added 3.5% to the population of Big Sandy," he says, grinning.
Big Sandy's population in 2017 was about 587, and like roughly 50 of Montana's 56 counties it has experienced zero or negative job growth this century. Roughly three-quarters of all the new job growth in Montana since 2000 has occurred in the five most urban areas of the state, and young people are leaving their family farms in rural Montana to pursue jobs in cities.
According to the Centers for Disease Control, the prevalence of obesity in the U.S. was nearly 40% in 2016, affecting 93.3 million adults. Obesity causes heart disease, stroke, Type 2 diabetes and certain types of cancer that "are some of the leading causes of preventable, premature death." The CDC says the estimated annual medical cost of obesity in the U.S. is $147 billion, and costs for those who have obesity are $1,429 per year higher than those with normal weight.
According to the National Institutes of Health, whole grains like Kamut are much better for body weight regulation than refined grains like those found in white bread or many fast-food hamburger buns. The National Institute of Health also published a paper showing "evidence suggests that lifelong cumulative exposure to pesticides may generate lasting toxic effects on the central nervous system and contribute to the development of Alzheimer's disease, one of the most common progressive neurological diseases."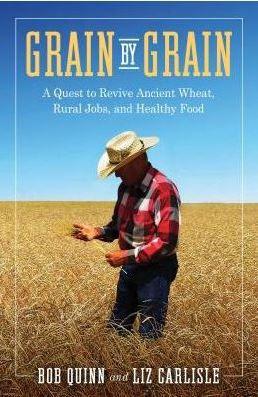 "We have more demand in this country than we have supply," Quinn said. "Organic sales are over 5% of total food sales, but less than 1% of our farms are organic farms. That's quite a gap. And most of that gap is being filled by foreign imports. There's no reason why we can't grow many of those things."
Americans can't grow bananas and coffee due to the climate, he said, but many other foods in high demand can be grown organically here. 
"And the money people are paying at the grocery store could be going to American farmers," he said.
Quinn said since he switched to organic farming, his profit margin has increased substantially. His soil health has increased as well, because he's now using cover crops that put nitrogen back into the soil, rather than tilling every year. Tilling causes some of the surface soil to get washed or blown away every year, and then requires the addition of costly manufactured nitrogen, which washes into streams and rivers. The so-called "dead zone" in the Gulf of Mexico is caused by phosphorous and nitrogen runoff from agriculture around the Mississippi River. And a study from Ohio State University found that the world's cultivated soils have lost between 50% to 70% of their original carbon stock, because it becomes oxidized upon exposure to air when it is tilled and becomes CO2, a greenhouse gas.
"What's happening to the land, with more and more chemicals added every year, in many cases we're seeing a degradation of soil," he said. "So if the soils improve and become more alive and viable, we'll have healthier plants, and that gives us more health."
Quinn and Carslisle know the sustainable agricultural revolution won't happen overnight, because chemical companies have a vested interest in keeping with the status quo. But they see incremental progress all the time, and are trying to spread the word.
"It's the answer to many of the difficulties we're facing," Quinn said. "Organic opened me up to a whole new opportunity by lowering costs of inputs and increasing the output of our harvest by selling into the organic market and increasing the bottom line by a significant amount. It's allowed us to completely pay off our operating notes."
And besides economics, Carlisle believes people want to take care of themselves physically and mentally.
"Good food and good health will be the main drivers of this social change," she said.