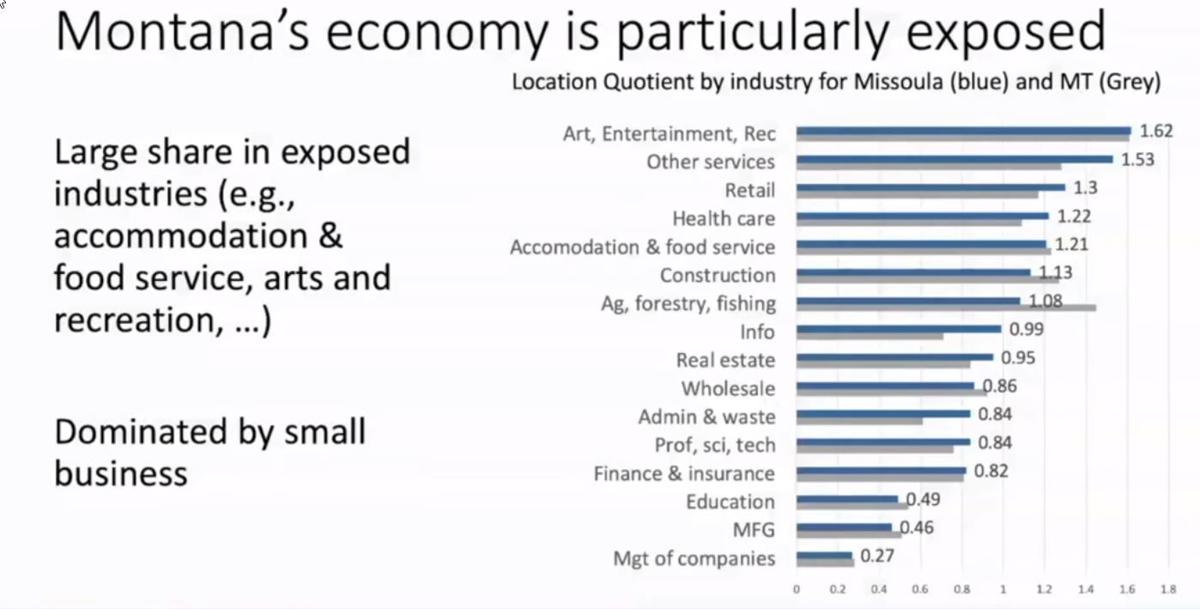 A Montana-based economist told business leaders this week that the Missoula area, and Montana in general, are particularly exposed to an economic slowdown due to the coronavirus pandemic. That's because both the Garden City and the state rely heavily on arts, entertainment, food service, retail and tourism.
"Missoula and Montana are heavily concentrated on arts and entertainment, retail, accommodation and services — a whole bunch of industries that are likely to see very, very significant impacts," he said.
Ward noted that social distancing will result in large losses for restaurants, hotels and other service-related businesses. He said data across the country already shows huge declines in car rentals, manufacturing and restaurant reservations.
"You can see the economy kind of seizing up," he said.
Meanwhile, Montana's top economic development official says the state is taking steps to try to mitigate business losses during the coronavirus pandemic.
Tara Rice, the director of the Montana Department of Commerce, told the Missoulian this week that the state is implementing a number of initiatives.
"The Montana Department of Commerce is considering all public policy options right now," she said.
Rice noted that emergency loans have been made available for small businesses and nonprofits in Montana that have been hard hit.
The U.S. Small Business Administration's Economic Injury Disaster Loan program offers up to $2 million in assistance per business and comes with a 3.75% interest rate for small businesses without credit available elsewhere. The interest rate for nonprofits is 2.75%.
"The first step we've taken in response to what we're hearing from businesses about the difficulty of getting through closures is the emergency Economic Injury Disaster loans," Rice said. "The governor put in a request for that and received a declaration, so that loan program is available to businesses."
These loans may be used to pay fixed debts, payroll, accounts payable and other bills that can't be paid because of the disaster's impact. The loans come with long-term repayments up to a maximum of 30 years, and terms are determined on a case-by-case basis based upon each borrower's ability to repay.
The application process as well as information on assistance available to impacted communities in Montana can be found on this website: disasterloan.sba.gov/ela/.
"Small businesses are the fabric of Montana's economy, and their success is dependent on the ability to freely market products and services to communities across the state and world," said Small Business Administration regional administrator Dan Nordberg. "Local small businesses are bearing the brunt of that impact and facing a severe decline in customer traffic. SBA's top priority is to assist businesses adversely impacted by the coronavirus and our Economic Injury Disaster Loans can be the working capital lifelines they need to weather this difficult time."
Officials with Glacier Country Tourism, an organization with a mission to promote western Montana as a tourism destination, are working to mitigate the impacts of the slowdown.
Tourism is one of the top two largest economic sectors in Montana, according to Racene Friede, president and CEO of Glacier Country. Also, western Montana receives approximately one-third of all tourists to the state. She said her organization will continue to promote the region but with a very different strategy.
Hundreds of businesses in the region depend on tourism for their livelihood, she said in an email.
"We will continue our efforts, but rather than encouraging travelers to come to our region, we are simply planting the seed for future travel once travel is advisable," Friede continued. "We recognize that many of our partner businesses will be severely impacted by the global pandemic, so we're hoping to get the pipeline filled and hit the ground running when it's deemed appropriate."