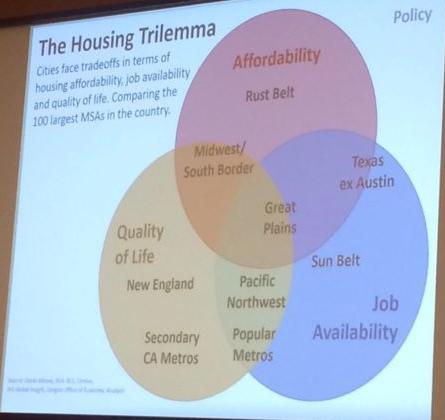 Between 1990 and 2015, housing prices in Missoula rose 114 percent – even when adjusting for inflation. That means that housing prices in Missoula have grown faster than places like San Francisco, Seattle, Miami and New York.
In fact, only two other metro areas have had a higher increase in median home sales prices: Boulder, Colorado and Casper, Wyoming.
That's according to Bryce Ward, an economist with the Bureau of Business and Economic Research at the University of Montana. He gave a presentation on Wednesday to the Missoula City Council's Committee of the Whole on the interaction among affordability, quality of life and wages here. Ward said that most cities try to find a balance between all three.
"What is it that determines whether people want to live in a place?" he asked. "You have to have pretty good jobs, you have to have a good quality of life and an affordable cost of living. But if you have all three, everybody would move there."
Missoula obviously has an issue with cost of living, as evidenced by the high housing prices. Ward said that wage growth is not keeping up with housing prices here. The affordability index, which is essentially the median home price divided by the median income, has risen from 2.83 in 1990 to 5.04 today.
"That's essentially the same affordability as King County (where Seattle is located)," Ward said. "The income levels in Missoula are about 85 percent of national levels."
Ward said that people with no high school diploma or just a high school diploma actually earn more than their counterparts nationally, but people with some college, bachelor's degrees or professional degrees earn far less here than they would elsewhere. And because over 40 percent of people in Missoula have college degrees, it's a big issue.
"We have many college graduates but no wage growth," Ward said. That hasn't stopped people from moving here. Missoula had a net migration rate of 7.3 percent last year, which means more people are moving in than are moving out. For comparison, Gallatin County had a net migration rate of 26.7 percent, but lots of other places in the state have a negative rate.
The regional price parity in Missoula, an index that measures the cost of living, compares to places like Atlanta, Jacksonville, Bend and Milwaukee.
"It's cheaper than average here, but more expensive than the median city," Ward said. "Missoula is cheap but not that cheap. The cost of living is below average nationally, but high for a community this size and growing more expensive at a rapid rate. And income is not keeping up with those changes."
Ward said topography and land use regulations can have an effect on housing prices. He said that Missoula's mountainous topography prevents land from being developed, and he said that Missoula has more restrictive land use policies than places like Billings or Lewistown, Montana.
Ward said that part of the reason housing prices have risen here is because Missoula has such a good quality of life, with access to outdoor activities and natural wonders like mountains and rivers.
"There is a world in which people who have made their money elsewhere say this is a great place to live, but that doesn't support opportunities for our kids," he said.
City council member John DiBari requested Ward's presentation. In his memo to fellow city councilors, DiBari said the presentation would be useful in advance of the strategic planning session the council and city administration are having on Dec. 19th and in advance of consideration of the 2018 budget.
"As council and the administration contemplate budgeting, which I believe is the manifestation of our city's values and priorities, it seems useful to gain context regarding the socio-economic interactions that exist in our community and region," DiBari said.
"In my opinion, it is important to understand the relationships associated with the quality of life, affordability, and wage triumvirate as we move forward with articulating and funding the policy directions important to the city and departmental work plans."
DiBari said that he believes communities can address one or two of the three issues, but usually not all three at the same time, and Ward agreed.