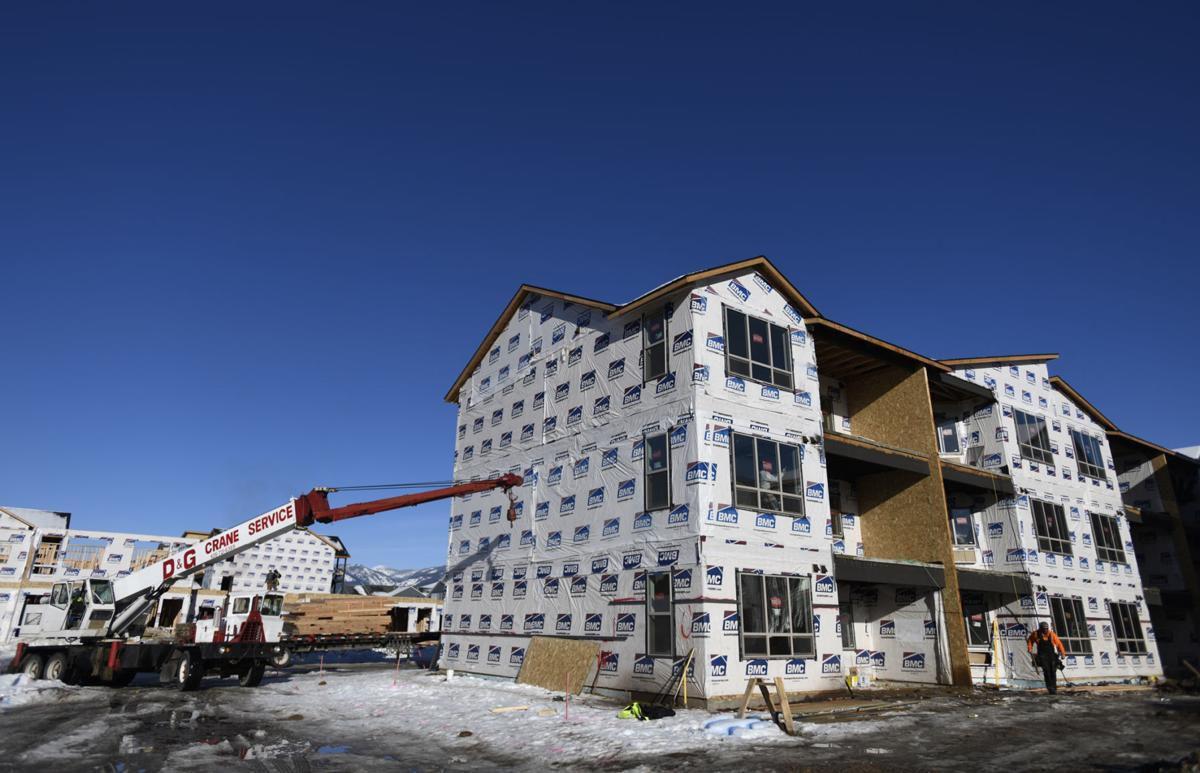 Prices on entry-level homes in Missoula County have been rising faster than higher-end homes, according to Brandon Bridge, an economist and director of forecasting at the Bureau of Business and Economic Research at the University of Montana. Bridge gave one of the presentations at the Bureau's annual Economic Outlook Seminar at the Hilton Garden Inn on Friday morning.
He told the crowd that Missoula's entry-level housing prices, those at the bottom end of the price spectrum, have increased dramatically — 33% since 2012. In the same time period, higher-tier home prices have increased at a relatively modest 26%. The difference is due to a lack of supply and more demand for the less expensive housing. There is currently 3.2 months' worth of inventory for entry-level homes and 8.6 months' worth of stock of higher-end homes here, according to the American Enterprise Institute.
"Entry-level homes are rising in price faster than higher-priced homes," he said.
In fact, if entry-level homes had appreciated in price at the same rate as higher-end homes in Missoula since 2012, buyers would be paying an average of $23,000 less for the entry-level homes than they are now.
"That results in what people in the industry call a low-tier premium," he explained. "You are paying a premium if you want to get into an entry-level home. We are really seeing kind of two different markets here, and this is posing a challenge for first-time homebuyers."
There are spinoff ramifications, he said, including hampering local firms' ability to attract a workforce to Missoula County because people are turned off by high housing prices and choose to seek work elsewhere.
Incomes have not kept up in Missoula relative to housing prices. Bridge said the median price-to-income ratio in Missoula County increased from 3.3-to-1 to 3.6-to-1 from 2012 to 2018, meaning people are spending more of their paychecks on housing now.
Missoula's median home sales price soared to a record high of $315,000 in 2019, a jump of 8.62% over 2018's price. There were 1,408 homes sold in the Missoula Urban Area last year, according to the Missoula Organization of Realtors.
The percentage of renters in Missoula County who are cost-burdened, meaning they pay over 30 percent of their income towards housing, stands at 44 percent, higher than any county with a large urban center in the state except Silver Bow County. The percentage of homeowners who are cost-burdened here stands at 23%, with only Flathead County seeing a higher percentage, 26%.
There's also huge demand for workers in every sector of Missoula's community, which is slowly pushing up wages but causing headaches for employers. That's according to economist Patrick Barkey, the director of the Bureau of Business and Economic Research at UM.
You have free articles remaining.
"You would think that having too many jobs and not enough workers is a good problem," Barkey explained. He said there are good side effects, and he noted that wages in Missoula County have increased by nearly 25% since 2013. Montana's economy is outpacing the state average, he noted.
"Employers are raising wages," he said. "Maybe not enough to satisfy everybody."
But it also means there's a tight labor market, which in the years ahead will continue to hamper companies' ability to find skilled workers.
"The biggest change is you'll have more older workers," he said.
Barkey said the state needs to convince young people that jobs in the construction industry and the trades are viable career options. He also suggested that the state and the nation need to look into boosting the retirement age.
"To me that's just got to be done," he said. "I know it's totally unpopular, but it's just something that fits in with every market force and every biological thing that's happening."
Barkey also noted that the trade war, instigated by President Donald Trump in an effort to force China to compete with U.S. producers, has taken a serious toll on manufacturing and agriculture, especially because Montana exports a lot of goods that have been hit hard by retaliatory tariffs imposed by China.
He said the manufacturing industry has quietly contracted for a few years.
"People are rattled," he said. "Manufacturing has been going in reverse for most of the past year. The ice is getting thinner, but it's really a global phenomenon. Tariffs have impacted import volumes dramatically."
He said the number of shipping containers coming into the U.S. is down 20% from where they were a year ago.
"Montana is highly exposed to retaliatory tariffs. Its' disturbing for Montana," he noted.
Globally, he said, growth is slowing, but he indicated there are no alarm bells signaling a recession yet. He predicts a modest slowdown of growth for Missoula County over the next few years, but still decent growth between 1-3%.