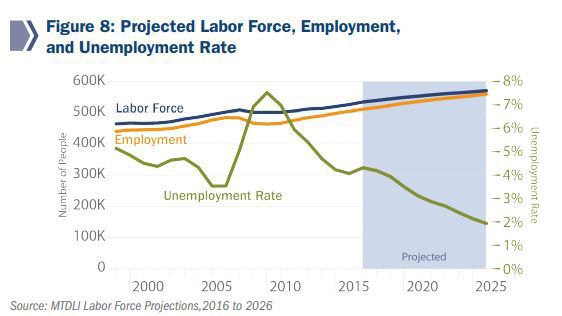 Montana is facing a severe labor shortage as the population ages out of the workforce without enough workers to fill the vacancies they leave, much less fill the new jobs that are being created in the state.
The situation has significant implications for businesses, and that's why economists are increasing their calls for attention to the issue now, as well as offering solutions.
The number of workers in Montana ages 16 to 24 is expected to only grow by about 130 people per year through the year 2026. But the number of workers age 55 and older is expected to increase by nearly 4,000 people a year, according to state economists.
Over the next 10 years, Montana is expected to add about 4,500 workers a year but that's not enough to cover the 5,500 new jobs that are projected to be added every year.
According to Barb Wagner, the chief economist for the Montana Department of Labor and Industry, extremely low unemployment levels of around 2 percent are expected in the next decade if trends continue. Under those conditions, workers can expect fast-growing wages and more opportunities for career growth, while businesses will have to spend a greater share of resources on recruitment, retention and on-the-job training.
"We've been talking about Montana's worker shortage for the last 10 years or more," Wagner said. "That is certainly something that is a concern for the Montana economy, not just in terms of the availability of workers but in terms of passing on intergenerational knowledge to younger workers.
"With all the older people retiring, we need to make sure we're utilizing technology so that we're increasing the labor force participation rate so we can replace workers."
Bryce Ward, an economist at the Bureau of Business and Economic Research at the University of Montana, recently compiled a report that found that while the state unemployment rate is low at 3.9 percent, the Missoula metro area's unemployment rate is at 3 percent (it's at 4.2 percent countywide).
"Given these data, it is not surprising that Montana's employers report they are having a hard time finding skilled workers," he wrote. "This struggle will likely be a common theme over the next several years."
Ward found that there are 223,000 Montanans between the ages of 50 to 65, but only 199,000 between the ages of 10 and 25.
You have free articles remaining.
"As such, the cohorts aging out of the labor force are larger than those aging in," Ward said. "While automation and other economic changes may offset some of the forecasted labor shortages, several communities have undertaken their own workforce studies or other workforce efforts in an attempt to improve their situation."
One way Montana could solve the problem is to entice Montana-born college graduates to work and live here. Currently, 106,000 college-educated, native-born Montanans ages 25 to 64 live in other states.
Ward said there are other ways to address the issue. There may be many people who are qualified for other jobs and would be happier in another position, but they don't apply or take those jobs because they either don't know about them or fail to understand that they would be better off. They also could simply be risk-averse.
"Solving mismatch issues entails providing better information — better information about job opportunities, better information about job conditions, and better information about life in Montana," Ward explained. "It also entails collecting more information about those who might benefit taking a different job or be happier moving to Montana."
Another cause of a worker shortage is that people sometimes lack the necessary qualifications or skills for a better job.
"Solving skill shortages entails helping people avoid mistakes and/or figuring out how to get people to invest in acquiring new skills," Ward said. "It also entails making sure that the correct training and education opportunities are available and affordable, and that these programs are well connected to potential employers."
A third solution is for communities to try to reduce the cost of living and increase the quality of life to help businesses attract workers. If a city has high housing costs relative to wages, as Missoula does, then it can't compete with other communities that offer more pay and cheaper housing. However, Missoula's quality of life metrics, such as its proximity to outdoor recreation  opportunities, give it a leg up on other places.
Wagner said that Montana's workforce shortage is a little bit more intense than other states because of the small population size of roughly 1 million people. However, Montana wasn't as badly affected by the Great Recession, which has enabled the state to bounce back a little more quickly.
"One of the great things helping us address the shortage is that Montana has a very high share of part-time workers," she said. "And I'm not saying we have a low share of full-time workers. We just have a lot more people working part-time rather than not working at all. That's a great way for older Montanans who are interested in continuing to work in retirement, or maybe seasonally, to still do these jobs that aren't for someone who wants to be full-time but are a perfect source of income."
Wagner said that companies need to offer flexible work-from-home opportunities to keep people in the labor force so they can act as caretakers either for little kids or for the elderly.
She said the state is actively working on boosting on-the-job training efforts so people can upgrade their skills while still working as well as making sure Montana's education system is training people for the jobs that actually exist when they leave college or high school.
"We want to make sure when graduates exit the college system, the types of jobs they're trained for are the types that are in the Montana economy," she said. "So there is a short period of unemployment. That helps with student loans. And it helps reduce what economists call labor market frictions, so getting people into labor markets as quickly as possible."