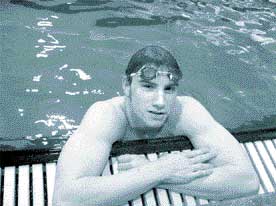 The bell rings at 7:45 a.m. at Hellgate High School to signal the beginning of the day, and most students stumble into first period feeling like they've just rolled out of bed.
Not senior Taylor Brugh. If the 17-year-old standout swimmer looks a little tired coming into school in the morning, it's because of the two hours he's spent swimming laps before class. And after school, he dives back in for two more hours of training - during winter for the Knights varsity swim team and the rest of the year for the Missoula Aquatic Club. When he's not in the pool, he's in the weight room, lifting weights three times a week.
Some might call it torture. But, Brugh says, "I really enjoy it. If I ever didn't have fun, I wouldn't do it."
Brugh's training schedule has been paying off recently, in the form of calls from college coaches, wins at high-profile competition, and qualifying times for national meets. Last year, Brugh placed first in the 50-meter freestyle and the 100-meter backstroke to help the Knights to a second-place state finish. This year Brugh again claimed the 50-meter freestyle in 21.97 seconds, missing out on a chance to repeat in the backstroke only because of a controversial disqualification.
"Apparently the rules say you have to step into the water before your event," explained Brugh, "but Montana high school swimming is the only organization anywhere with that rule and it's never been enforced before. So I jumped in and I got disqualified."
Last summer Brugh took second place in the 100- and 200-meter backstroke at sectionals, a competition one step below the national meet. And in December he placed 33rd in the 200-meter backstroke at the U.S. Open in Federal Way, Wash.
His accomplishments didn't go unnoticed by college scouts. Brugh was offered spots on swim teams at numerous schools, including Columbia University, but eventually chose to accept a full scholarship to the University of Washington.
"I wanted to compete in a place where I could be at my best," said Brugh of his decision to sign a letter of intent with the university in November. "Other schools had better academics, but their swim teams weren't as competitive. (UW) has a good location and a balance between swimming and academics."
Two days after the state high school meet, Brugh was off to Orlando, Fla., to compete in his "biggest meet ever": the U.S. National Championships. Having qualified by time in the 200 backstroke, he competed against swimmers ranging in age from 16 to 34 and placed 47th in the preliminaries in 2:12:14.
"I'm taking a month off," said Brugh, "then I'm training straight through to college. I don't know if I have the talent to go to the Olympics or anything; I just want to push myself to be the best I can be."
Alyssa Work is a senior at Hellgate and managing editor of the student newspaper, the Lance.
Be the first to know
Get local news delivered to your inbox!