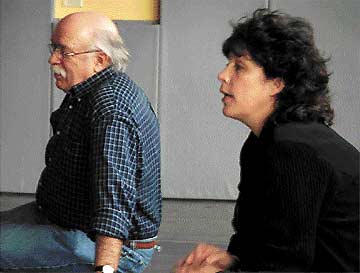 One out of every four women will be sexually assaulted in her lifetime. The Delta Outreach program is focused on reducing this number.
&#8220Delta is about prevention," Michelle Stacer, the Delta Outreach coordinator, said. &#8220A lot of the programs out there are about intervention; we are trying to prevent it from ever happening."
The Delta project is funded by a grant given by the Georgia-based Centers for Disease Control and Prevention to the Montana Coalition Against Sexual and Domestic Violence. The money is then routed to the Young Women's Christian Association. The project targets middle school- to high school-age kids and discusses not only the definition of violence and what action to take against it, but also what causes it.
The most common talk that Stacer gives is the Media Literacy Presentation.
&#8220We start this workshop by looking at pictures of men and women and discussing what exactly the definition of a woman and a man is," Stacer said.
The program discusses gender roles and why they are the way they are.
&#8220We are not trying to blame it all on the media; that's not the case at all," Stacer said. &#8220Everyone always talks about how women and young girls are always pressured to be thin and beautiful but men have that same pressure on them as well. There is a dominant, macho demeanor that is forced upon men and young boys, and we try to discuss why it is that way."
Many times Stacer opens the presentation by showing various pictures. One of them is of two men praying in church, one of the men has his hands on the other man's shoulders.
&#8220Whenever I put that one up, one of the first reactions are a bunch of derogatory terms regarding the men's sexual orientation, if you know what I mean," said Stacer. &#8220But it is a really good way to jump-start a conversation about what it really means to be a man, and the true definitions of the labels that they are applying to others."
On March 2 and 3 teachers Laura Coulter and Heather Nile's classes at Sentinel High School were given presentations about relationship violence. The presentations, although not actual Delta presentations, have the same purpose - to reduce sexual violence. The group discussed the definition of rape and the circumstances in which it can be defined as rape.
&#8220People like to think that women cry 'rape' because they don't want to see how often it really does happen," Stacer said. &#8220My job is not to ask questions, or find out the facts of the situation, my job is to believe the victim and support them, because 99 percent of the time they are not lying."
Society's definition of rape is rather ambiguous. According to Dictionary.com it is &#8220the crime of forcing another person to submit to sex acts, especially sexual intercourse," meaning that those involved do not have to have actual sexual intercourse in order for it to be considered rape.
&#8220Most kids don't understand the definition of rape," Stacer said. &#8220If you feel that something has happened that is wrong, get some help, go to your counselor or give me a call."
The YWCA has a 24-hour crisis line, 542-1944 or 1-800-483-7858, and is located at 1130 W. Broadway. For more information check out the Web site at http://www.ywcaofmissoula.org.