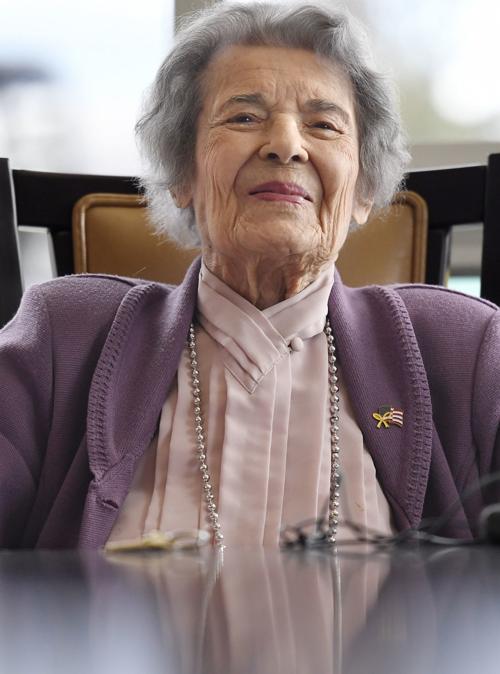 Emma Lommasson lived nearly 108 years. And she spent 90 of them connected, one way or another, with the University of Montana.
Her role on campus became clear to Charlie Thorne in 2001. That year, Thorne was working as UM's fiscal manager of student affairs and looking to re-name the building that housed financial aid and other student services.
"Well, there was only one name that really came up, and it was Emma Lommasson," Thorne said.
Before she died Saturday at St. Patrick Hospital, Lommasson's contributions to UM were many. She had instructed aviators during World War II, given returning Vietnam veterans a warm welcome to a hostile country, and eased co-workers' transitions to their first computers. Beneath it all, her friends and colleagues say, lay a determination to help UM's students.
"I wish I had her knack for dealing with students," Thorne said.
Lommasson first came to UM in 1929 as Emma Bravo, the daughter of Italian immigrants who had settled in Sand Coulee southeast of Great Falls. "We were very, very poor, and I was determined that I was going to have a positive attitude," she remembered in a 2017 interview.
She graduated in 1933, taught high school math in Sand Coulee for four years and returned to UM for a master's degree in 1937. It's unclear how well that credential prepared her for the next topics she taught: navigation and civil air regulations.
When the time came for her to go up, she told Holmquist, "they put a flight suit on me, the helmet, the goggles. I was just ready to step into the plane when they attached a parachute to my chest. 'Do you know how to work a parachute?' someone asked. 'No,' I replied, 'Who cares?'"
Lommasson stayed on the ground once the war ended, holding various roles in the registrar's office from 1945 until 1977 — and helping generations of Grizzlies navigate college life. One of them was Ron Brunell, who arrived as a student in 1967.
"I was in the field house, and there used to be a dirt floor in there, and here she is, impeccably dressed like she always was in high heels, running registration," he remembered.
As Brunell waited to sign up for classes, he had to step out of line in order to take care of another issue. Once that was done, he ran back, worried he wouldn't get into classes, "and she grabbed me and said, 'I saved your classes,' and she took me and got me through registration."
"That's typical Emma," he added.
"She was a delight," remembered Ruth Brocklebank, who held a work-study job in the registrar's office from 1963 until 1967. "I just think she was just a go-getter and didn't always take credit for all the things she did to make the registrar's office run efficiently."
Her skills served UM well when the college rolled out a new, punch-card-based computer system in 1970. "She helped us through a lot of problems," remembered Mick Hanson, who started working as a systems analyst that year. "Even though she didn't understand computers very well, she understood what the end result had to be."
She also understood that students were more than numbers. When Merle Johnson left the Army in 1970 and came to UM for a master's degree, he found a student body hostile to the Vietnam War and those who had fought it. "I learned quickly that I was not welcome," he told the Missoulian in 2015. "The only person I found who was friendly and treated the vets with care was Emma Lommasson, who handled the veterans' GI financial papers. She was a wonderful woman."
When circumstances demanded, Hanson said, she would even help students out of her own pocket. "I can't tell you how many students that she helped financially," Hanson said.
After retiring in 1977, Lommasson volunteered as an adviser for another decade, then continued to subscribe to the Kaimin, hold season tickets to Griz football games and meet with UM's presidents, maintaining a streak from Charles Clapp in the 1930s to Seth Bodnar today.
In a statement emailed Monday, Bodnar called Lommasson "a lifelong champion for education and an ardent supporter of the University of Montana ... While we will miss her, we are buoyed by wonderful memories and by her lifelong demonstration of service, community and positivity."
One of Bodnar's predecessors, George Dennison, honored that career by re-naming the financial aid building in her honor.
"She just loved it," Thorne remembered, sitting in the building Monday. While Lommasson had no children of her own, affection for her runs deep on campus. "We're her family, the University of Montana is her family."
Brunell took the comparison in a different direction. "I remember her as the first lady of the University of Montana. I mean, she had poise, the grace, the competency to help students. She really personified all the values of the university."
A celebration of life will take place on Tuesday, Dec. 17, from 4-6 p.m. in the University Center ballroom.
Get local news delivered to your inbox!
Subscribe to our Daily Headlines newsletter.