'Everything is coming together' - University of Montana's Turco heads for college national finals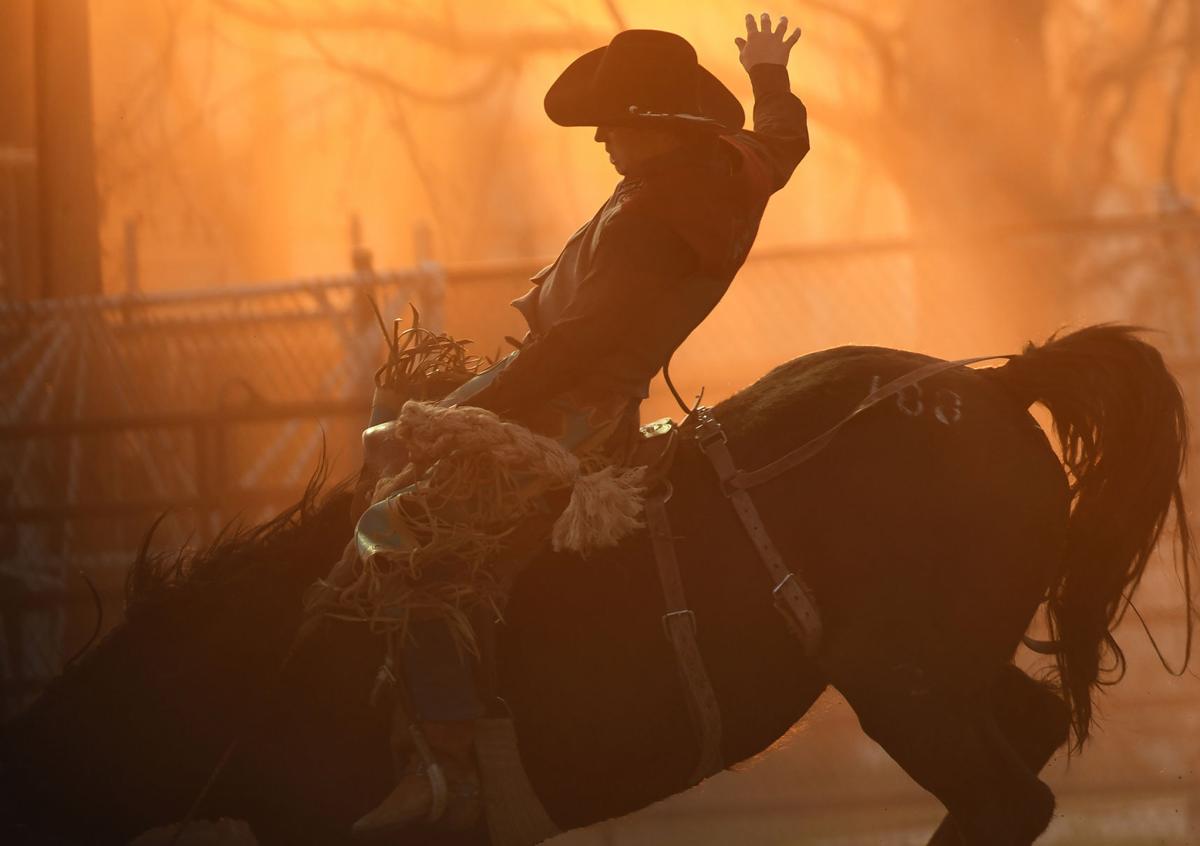 For just the second time this college season, the University of Montana's Tyler Turco didn't leave the rodeo arena a winner.
But despite the second place finish in last weekend's home rodeo at the Missoula County Fairgrounds, the penultimate stop of the college season, Turco remains the top-ranked saddle bronc rider in the nation.
In the moments when he loaded into the chute and the seconds of wild riding that followed when the gate opened, Turco said he barely registered that he was competing at his home arena.
"It is fun, but you can't really tell when you're out there," Turco said. "Afterwards is when you can really tell. I don't notice it when I'm doing my thing, but then when it's over everyone is there, supporting you."
UM Rodeo Team coach Kory Mytty said last weekend's student turnout was the best he's ever seen, and having the local support helped the team members.
"You're competing in front of your fellow students and classmates. You're trying to show them what you can do," he said.
Less travel time is another major advantage of performing in the Missoula rodeo.
"You get to keep the horses in their own barn and yourself in your own bed," Mytty said.
But when Turco looks back on the Missoula rodeo, his focus isn't as much on being able to have more people watching him and his teammates who they know are there to cheer for them, but on his second ride of the weekend.  Turco scratched, receiving no points after failing to get his heels high enough on the horse on the first jump out of the gate.
The error put Turco in second place overall, only the second time this season he hasn't won a college saddle bronc riding event.
"If I just had the score, I would have wrapped up the win," Turco said. "It went all right, but it could have gone better."
The regular season wrapped up this weekend with a rodeo in Great Falls.
The top of the National Intercollegiate Rodeo Association saddle bronc standings has tightened slightly since the middle of the season, when Turco led the county by nearly 300 points. But regardless of how the season ends, Turco will easily earn an invitation to the College National Finals Rodeo (CNFR), which starts June 10 in Casper, Wyoming. Turco missed out on going to the event last year.
"I had a good fall season last year and then my spring season sucked," Turco said. "I was struggling with my riding and my confidence."
No such issue appears to exist this time around.
"Just having all that happen and having that experience just made me want it more. Everything is kind of coming together now," Turco told the Missoulian on Monday. "I'm going into this week as aggressive as I've gone into all of the other ones."
Originally from Franktown, Colorado, Turco grew up around horses, although he's the first in his family to compete in rodeo. In high school he joined a team in the next town and started attending rodeo camps around the state.
A 20-year-old junior studying parks and recreation management, Turco transferred to UM last year after two years at Clarendon College in Texas. When he graduated with his associate degree, he started looking for a school where he could finish a bachelor's degree and keep competing in rodeo at the college level.
After being turned down for scholarships by coaches at schools around the West, he heard from UM's Mytty, who told Turco he wanted him to come to Missoula.
Even with his late-season struggle last year, Mytty said Turco, like his teammates, is a young athlete who gets better the more time he spends in the saddle.
"Going into his second year, he probably has a minimum of 50 competitions under his belt," he said.
The top three individuals in each event from each region will earn a chance to compete at the national finals, and Turco may not be the only UM rodeo team member making the trip. Missoula native Emily Kamura held a third-place spot in barrel racing at the end of the rodeo in town last weekend.
"She is doing fantastic and having a great spring season," Mytty said. "If she does well in Great Falls, she's going to punch her ticket."
Turco said he won't be spending the weeks between the end of the college season and the college finals sitting at home. He regularly competes in other events on the national pro circuit, and has already mapped out a few in the surrounding states in order to keep himself sharp.
"With the pro rodeos it helps a bunch because I'm competing against the best in the world there. It's just good to keep that rhythm going," he said.
Mytty, a former National Finals Rodeo team roper, likened preparing for the CNFR to a scene 1986 film "Hoosiers" where the character of coach Norman Dale, played by Gene Hackman, calms down his underdog high school team — about to play in the state finals — by bringing out a tape measure and showing them the height of the hoop is no different than at their home court.
"I'm a big advocate of trying not to let the moment get too big and affect your performance," Mytty said. "Try not to make too big of a deal about the outcome. If you can execute your performance well and do the job, you'll be fine. And (Turco's) skills are good enough to win."