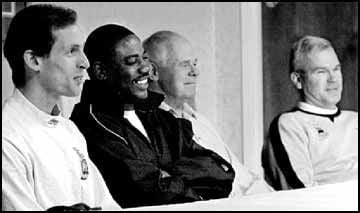 PABLO – There were times when people, amazed by the natural ability of Magic Johnson, would ask Michigan State basketball coach Jud Heathcote if he'd ever coached anyone with so much talent.
They were just as amazed when Heathcote would tell them yes, he most certainly had.
His name was Micheal Ray Richardson. Heathcote brought Richardson to the University of Montana when Heathcote was the Grizzlies' head coach, and Richardson developed into one of the best players in school history – so good that the New York Knicks made him the fourth choice overall in the 1978 NBA draft.
No player in Big Sky Conference history, before or since, has ever been drafted so high.
Few careers so promising have ever crashed so hard, either. "Sugar Ray," as Richardson was known, became the first player ever banned for life by the NBA for drug use, in 1986.
Micheal Ray Richardson is 60 years old now, and a grandfather of six.
And he'll be back in Montana this weekend, his first visit to the state where he played his college ball in more than a decade.
Along with his former NBA teammate, All-Star Otis Birdsong – and Pro Football Hall of Famer Mike Haynes – Richardson is a part of "The Big 3 Sports Clinic" going on at Salish Kootenai College Saturday and Sunday.
Richardson, a four-time NBA All-Star himself, now lives in Lawton, Oklahoma, midway between Oklahoma City and Wichita Falls, Texas.
His fall from grace in the NBA never took him away from basketball, just from its highest level.
"Life is really good," Richardson said in a telephone interview this week. "I'm excited to be coming back to Montana. I know a lot of people who were there when I played have either moved on or passed away. But I'm excited to see how much has changed."
"I'm sure the Stockman's Bar is still there," he said.
This – traveling around the country putting on youth basketball clinics with Birdsong, his longtime friend – is what Richardson does now. He said he also does work for a Lawton financial firm, and he and his wife of nine years, Kimberly, own a beauty salon.
He'll also have a chance to catch up with an old Grizzly teammate.
Eric Hays will make the drive north from Missoula to visit with Richardson. They were teammates on perhaps the most legendary game in Grizzly history, a near-upset of nine-time national champion UCLA in 1975 in the NCAA Tournament.
Richardson was a freshman starter on that team, and Hays a senior who scored 32 of Montana's points in a 67-64 loss.
UCLA went on to claim its 10th national title.
"Eric had an unbelievable game," Richardson recalled. "Jud Heathcote told us not to take a shot unless it was a layup. It almost worked."
In 2000, Richardson was the subject of the documentary film "Whatever Happened to Micheal Ray?"
Narrated by Chris Rock, the documentary – which you can watch by going to this story at Missoulian.com – touches on Richardson's childhood in Denver, time in Missoula and life after the NBA.
But it hones in on his abbreviated eight-year NBA career and drug use. According to the film, Richardson's well-documented and self-destructive cocaine abuse – he freebased it – seemed to appear every time his talent took over and fans flocked to the Sugar Ray bandwagon.
"As long as you're doing drugs, you really can't feel or know what you have lost," Richardson says in the film. "And I lost the thing that I loved the most, and that was playing basketball. Life gave me a chance over and over and over, and I guess I just took it to the limit."
He resurfaced quickly after the NBA lifetime ban was imposed by commissioner David Stern. Richardson played in the Continental Basketball Association and United States Basketball League, then another 14 seasons in Europe.
He played professionally until he was 47 years old – old enough, he noted, to be the father of most of the players he was playing with or against.
And he still wasn't done with basketball. Richardson went on to coach in the CBA, the Premier Basketball League and the National Basketball League of Canada.
"I went to seven finals and won five championships in three different leagues," he said. "I love the competition and I love teaching younger players how to play the game."
Then, Richardson adds this: "You know, basketball is a simple game. It's the players who make it difficult."
Pablo's Big 3 Clinic came about when Polson resident Monty Marengo was attending a swap meet in San Diego.
Marengo, wearing a Phoenix Suns t-shirt, was approached by a 7-foot man who asked if the Suns were his favorite team.
No, Marengo said, it was the Los Angeles Lakers. Soon, he and the 7-footer – who turned out to be Alton Lister, a 17-year NBA player – were knee-deep in basketball talk, and Marengo lured Lister to Montana in April to put on a youth clinic.
"He asked me, 'Do you want to expand your horizons?' " Marengo said, "and he gave me Otis Birdsong's number. Otis gave me a list of 25 players he does clinics with on weekends."
Among the 25 names, Marengo spied Micheal Ray Richardson, and to Marengo, it was a perfect fit. Richardson, who played for the Knicks, the Golden State Warriors and New Jersey Nets in his NBA career, has been friends with Birdsong since they were teammates on the Nets.
The third point of the "Big 3" is Haynes, considered one of the best cornerbacks in the history of the NFL. Haynes played for the New England Patriots from 1976-82, and the Los Angeles Raiders from 1983-89, winning a Super Bowl in 1983.
In "Whatever Happened to Micheal Ray?" none other than Magic Johnson himself confirms what Jud Heathcote always told people.
"Micheal Ray was a guy who played just like I played," Johnson says. "Every time I saw him he went right at me."
Indeed, some of the film's highlights of Richardson have him leaving Johnson or Larry Bird in the dust, scoring with moves that will remind you of Magic.
The lowlights, when he was on cocaine, have him unable to get the basketball within a foot of the rim on a free throw.
That was all 30 or more years ago. Today, Richardson is happy to still, at the age of 60, be involved with the sport through the clinics he and Birdsong put on.
Richardson has five children. Tasha, born in Missoula when her father still played for the Grizzlies, is 39 and a mother of three who lives in Denver.
Richardson also has a son who is a truck driver in New Jersey, an adopted daughter who is a pediatrician in New York City, and two children in France from his playing days in Europe. An 18-year-old daughter is a college student in Nice, and a 14-year-old son's athleticism is already catching the eye of some of the top clubs in Europe, Richardson says – not on the basketball court, but on the soccer field.
The ability is not something to throw away, Richardson is now well aware.
"I think I could have been as good as Magic, or maybe even better," he says in the documentary made about his life. "But it's something I'll never know."