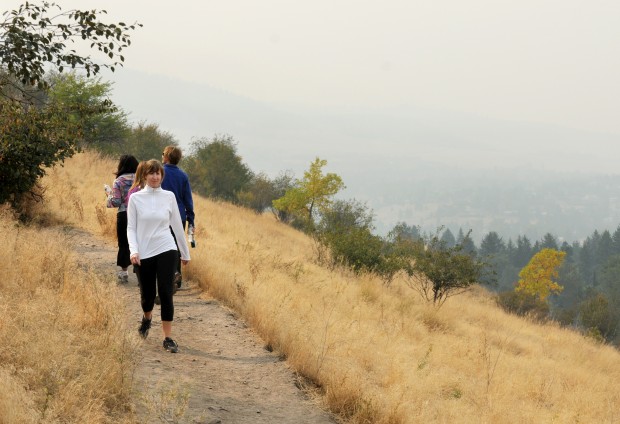 Fire in one form or another accounts for much of Missoula's bad air, both indoors and out.
And years of hard work remain at risk if Missoulians don't keep focused on protecting clean skies, a panel of air quality experts agreed on Thursday.
"Between 55 and 80 percent of our outdoor air pollution comes from wood smoke sources," University of Montana chemistry professor Tony Ward said in advance of the American Lung Association's "Breathing in the Big Sky: Missoula Forum on Air Quality" gathering. "And even indoors, we're seeing significant exposures, often higher than the standards set by the EPA for outdoor air quality, during the loading and stoking of woodstoves."
Smoke from forest fires, prescribed burning and woodstoves produces most of the PM-2.5 pollution that communities must guard against for health safety. The standard refers to particulate matter 2.5 microns in diameter or smaller, which the U. S. Environmental Protection Agency has found most likely to damage lung tissue and deliver toxins into the human body.
Unlike the older PM-10 standard, which typically came from road dust and similar activity, PM-2.5 pollution comes from burning things and industrial exhaust.
"Particles that size are not just causing coughs or bronchitis or lung cancer," said Dr. Georgia Milan, former director of women's health at St. Patrick Hospital. "They're getting absorbed into the bloodstream and causing heart attacks, stokes, and immune system dysfunction."
Missoula last violated the federal PM-10 standard in 1991. Changes in the kinds of road sand used in winter, along with increased use of chemical deicer helped meet that threshold.
But the valley continues to teeter near the edge of violating PM-2.5 levels. Missoula City-County air quality specialist Ben Schmidt said the area's 35.2 micrograms per liter of PM-2.5 just misses the national threshold of 35.5 on a three-year running average.
The biggest factor in controlling that has been improvements in automobile engine exhaust, Schmidt said. The No. 2 reason has been improving Missoula traffic by greatly reducing traffic snarls in intersections like Brooks-South-Russell, popularly known as "Malfunction Junction."
Phasing out inefficient woodstoves and bringing in better models that burn cleaner has also helped, he said.
Failure to meet that 35.5-microgram average pollution level could hurt local businesses and industry because it would trigger federal regulation of commercial exhaust sources, Schmidt said.
"A lot of the easy things have been done," Schmidt said. "As the valley population grows, pollution is getting tougher to contain. We need to think about ways to use less resources to get the same job done. That means things like mass transit, choices in where we live, and how we move from Point A to Point B."
The federal standards exempt pollution from forest fires, but that doesn't make it any easier to breathe when the smoke moves in, according to City-County Air Quality Specialist Sarah Coefield. Last summer's major fires concentrated along the Montana-Idaho border southwest of Missoula, right in line with prevailing afternoon winds blowing into the valley.
"We'd get those high-pressure systems that bring clear skies, warm temperatures, and air that just sits there," Coefield said. "From Aug. 21 to the first week of October, we had a whole lot of days rated unhealthy for sensitive groups, and a few that were very unhealthy for everyone. From Sept. 13 to the 15th, the smoke came in and didn't leave. Our PM-2.5 24-hour average was 108 micrograms per cubic meter. That's very unhealthy – just below hazardous, the worst level we've got."
2012 now holds the record as hottest ever recorded in the continental United States. That changing climate will bring more frequent forest fires, according to UM climatologist Steve Running. As those wildfires clog the air, it puts greater pressure on communities to control or restrain the pollution-making activities they can control.
Milan suggested one of those targets should be worldwide use of coal as an energy source. She cited medical research linking coal pollution to four of the five leading causes of death in America: heart disease, respiratory disease, cancer and strokes.
"Places like (Montana's) Colstrip have decreased emissions because of more strict standards," Milan said. "But we're talking about extensive new mining, and shipping it to China which has few standards. Burning it there will rapidly change into air pollutants and carbon dioxide, which will be coming back to the West Coast in five to 10 days. We have to keep track of the bigger picture of what we're doing."