FAR CRY 5
Far Cry 5 throws gamers into fictionalized Montana, complete with grizzlies, guns and killer cult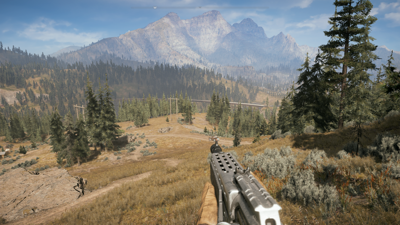 The other day I was hiking up a mountain with my dog outside Fall's End, Montana, in search of a cache hidden by doomsday preppers.
The sun was out and the grass waved in the breeze as Boomer and I passed through dappled shade from the pine trees scattered along the slope. Looking back over the valley, a beautiful clear river snaked through fields and farms and in the distance I could see a slash pile burning near a house.
Then I heard a plane — which belonged to a religious cult — doing sweeps above me, firing its machine guns. While running for cover, a grizzly bear appeared out of nowhere, killed my dog, and knocked me to the ground. I would need my rocket launcher and shotgun if I wanted to get out of this alive.
Such is life in Montana in Far Cry 5, a new video game released in late March and set in a fictionalized Big Sky Country.
"Within the first 10 minutes of being in Montana, we realized it was the perfect choice," members of the Far Cry production team wrote in an email. "The landscape was really different from place to place — there's open fields with lakes, dense forests and farmlands.
"Once we started to meet the people, to hear Montana's history and went fishing and hunting, we realized we got it right on the first shot."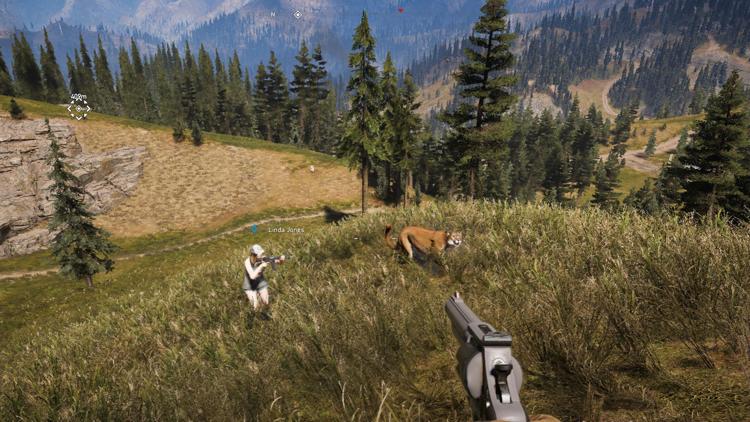 The Far Cry series follows a base formula: a young protagonist travels to a foreign area, and immediately gets involved in some kind of a war, from tribal conflict to revolution. The games are generally set in a lush, natural, open world that gives players the freedom to walk, drive or fly anywhere they want, battling enemies, hunting animals and climbing mountains.
The games have sold more than 42 million copies over the six-game run, starting in 2007. (One game in the series was not numbered.)
Previous iterations were set in Africa, the Himalayas, the Pacific Islands and pre-civilized Europe. Far Cry 5 is the first game set outside of a developing or historical place. 
It takes place in Hope County, Montana, a fictionalized amalgamation of what appears to be all of western Montana. In the game, a young sheriff's deputy is tasked with trying to kill or capture the leader of a radical religious cult that's taken over the county by force.
Far Cry is made by Ubisoft Montreal and Toronto, which began scouting for locations starting in 2015, soon after Far Cry 4 was released.
According to the Far Cry production team, Montana was first on a short list of potential locations.
"Montana has biomes, wildlife and endless sky, which brings fun and unique gameplay opportunities," the production team wrote. "The Hope County we've designed is a sprawling natural playground filled with activities that feed the fantasy of being in Montana, such as hunting, fishing and flying."
Well, and some other fantasies.
The game is packed with guns — no surprise for the series (or Montana) — mostly supplied by militia members, doomsday preppers and farmers and ranchers with their own firepower hidden in the basement.
"When 'Far Cry 5' was announced, there was some controversy over its plot and setting. The political climate in America was (and remains) volatile, and depicting a clearly Christian-inspired cult facing off against gun-toting Montanans was sure to stir up some debate," Chase Doak wrote for the Billings Gazette.
"Characters bring up Second Amendment rights frequently … but players also encounter animal rights activists, drug legalization advocates, conservationists, and both pro- and anti-government groups, all of which are found in real-world Montana," Doak continued.
"What 'Far Cry 5' really gets right is the fact that all of those characters know they have one thing in common: they are Montanan, and they don't take kindly to someone coming in and trying to disrupt their way of life."
The cult-inspired storyline didn't make Montana officials nervous at all. In fact, they jumped at the opportunity to work with Ubisoft, and use the game as a promotion for Montana tourism.
"This was the first major video game to be set entirely in Montana," said Dan Iverson, communications director for the state tourism board. "This just really made me realize this could be a big deal for Montana."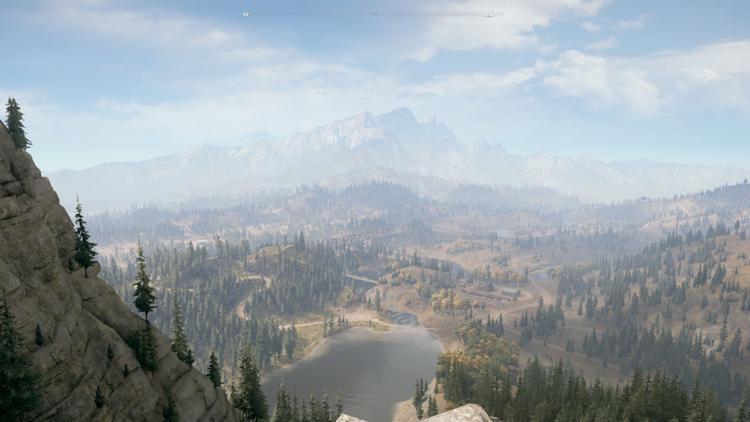 Iverson and the state office first heard about Far Cry 5 when "everyone else did," a little over a year ago when the game was announced.
In the spring of 2017, the film office found out Ubisoft wanted to film in a church near Poplar and Wolf Point. It later shot video in Anaconda, hiring Missoula makeup artists and production assistants for the shoot (a live-action promotional film was released before the game).
Film productions are fairly common in Montana, Iverson said, and have a huge economic impact, from hiring locals, to hotel and restaurant revenue. He hoped the game production would bring some of that and more.
"We knew that there were direct economic impacts," Iverson said. "But once people played the game and wanted to come here, there would be a tourism impact as well."
Hope County is a composite of several parts of the state, but Iverson wanted a specific place to send tourists. The nonprofit Southwest Montana tourism office, which covers the area from Monida to Helena, including Butte, Dillon and Anaconda, volunteered.
It created a website — visithopecounty.com — that emphasizes Montana's natural beauty, along with fly fishing, hunting and ATV riding, all of which players can do in Far Cry 5. There's no mention of deranged cultists.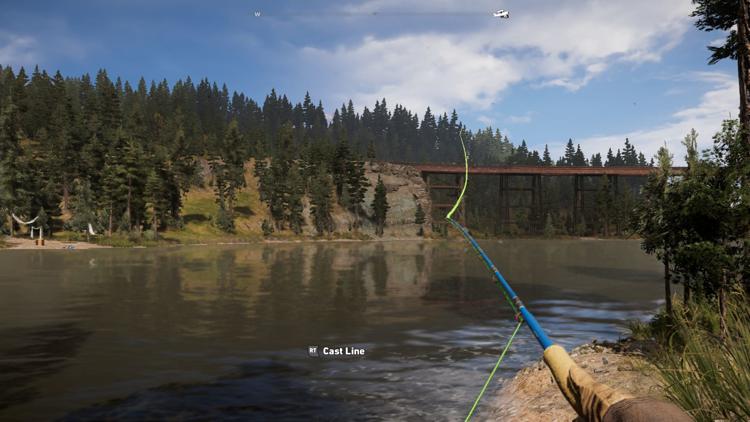 "Their goal was very much to just pull out some of these side activities that are featured in the game … and create a presence on the internet where people could find out how to actually do that if they were interested."
"Hunting" in Far Cry 5 (warning: video contains graphic content).
The cult-inspired story, despite the history in Montana and the Northern Rockies of real-life cults and standoffs, didn't faze Iverson or the Southwest Montana tourism office.
Iverson brought up Albuquerque, New Mexico, which has drawn on the TV series "Breaking Bad," about a high school teacher turned drug lord, for tourism opportunities.
"I think it was just a consideration of how we're talking about it," Iverson said. "Whatever the narrative content was, it ended up being sort of secondary to the setting."
Iverson's been scouring the internet for reviews, comments and videos related to Far Cry 5 to see what the reaction has been, and he's pleased with what he's seen — beyond the estimated 5 million first-week sales of the game.
Far Cry 5 has a four-star rating on Metacritic, which pulls from dozens of reviewers, and has been especially praised for its beautiful setting. Fishing in particular has taken on a life of its own, with players spending more time in the rivers, meditatively casting for rainbow trout or smallmouth bass, instead of liberating towns from the cult's grasp.
"It hasn't really reflected poorly on us," Iverson said.
The Far Cry production team was vague about what exactly it took from Montana for inspiration for the fictionalized version, but while playing I came across multiple scenes that seemed straight out of western Montana.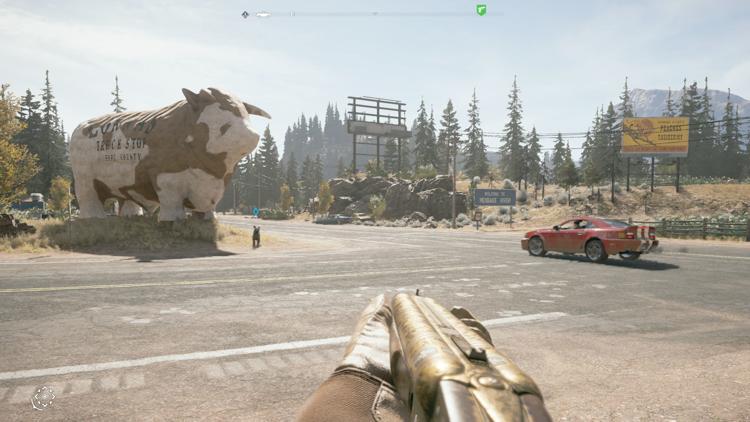 I drove past what appeared to be a re-creation of the steer at Clearwater Junction, took part in several missions inspired by a deceased stuntman named Clutch Nixon, who was very Evel Knievel-esque, and went on two quests to prepare for the region's annual Testicle Festival, a reference that's already outdated.
The game's Testy Fest preparations, by the way, were about as ridiculous as could be, with the player tasked with killing bulls and setting their carcasses afire to roast the Rocky Mountain oysters.
And, hiking up a hill, I turned around to see a view of the valley floor that looked strikingly like the view from the top of Blue Mountain, complete with dog by my side.
At least on the real Blue Mountain, you aren't in danger of a random wolf attack or deranged cultists driving up with a truck-mounted machine gun.