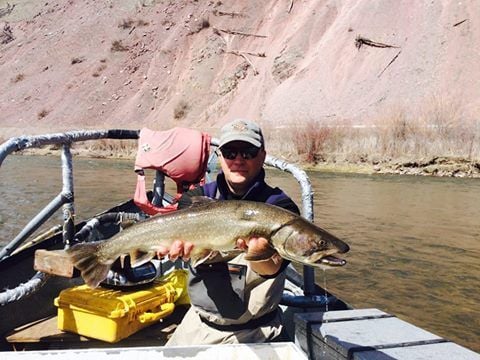 The draft master plan for removing bull trout from Endangered Species Act protection was released at 12:01 a.m. Tuesday, after 16 years of work and protracted legal battles.
"What we've tried to do with this approach over previous approaches is focus on what we believe are the highest priority conservation actions that need to occur," said U.S. Fish and Wildlife Service bull trout recovery planning coordinator Steve Duke. "It won't make the best life possible for bull trout, but where we know something will have an impact, we'll react to that."
The FWS plan is out for 45 days of public comment. It must meet a court-ordered settlement deadline for acceptance by Sept. 30. Two previous plans developed in 2002 and 2004 were deemed inadequate.
The bull trout was listed as a threatened species in 1999.
The new plan may also face some challenges. Critics such as Clark Fork Coalition stream restoration manager Will McDowell said a draft version released last September raised troubling questions.
In particular, he was worried the plan measures success by how many threats to bull trout are removed, instead of how many fish are recovered.
"It's like they baited the hook and threw it in the water, and then said, 'What more do you want me to do?' " McDowell said. "If you don't catch a fish, how do you know it worked?"
Duke acknowledged the new plan continues the format of counting actions taken rather than fish demographics.
For example, it calls on road managers to reduce the amount of fish-killing sediment in spawning streams, but doesn't dictate how many bull trout must be in the stream after a road is improved.
"We didn't say 'You need 500 fish here,' but we do say you must show a stable or increasing population over time," Duke said. "Some numbers in the older plans were never realistic. We didn't have the habitat to ever achieve those numbers."
The bull trout's life cycle poses a particular challenge for conservation.
It spawns in high-altitude tributary streams. Juvenile fish follow those down to rivers and eventually large lakes, where they grow to maturity.
When they reach reproductive age, they return to their birth streams to lay new eggs. Damage to any link in this chain – sediment in the spawning area, dams on the rivers, competitive lake trout – can crush a bull trout population.
Add to that the bull trout's place near the top of the piscatorial food chain, where its top predator status means there are few of them to begin with, and the recovery game gets even harder.
Finally, climate change has reduced the amount of snowpack in high mountains, making some historical bull trout habitat too warm to support the fish.
The federal recovery plan acknowledges this, noting: "We expect the geographic distribution of cold water habitat to progressively diminish over the next 50 to 100 years as effects of climate change become more intense."
The FWS plan divides bull trout work into six recovery areas spanning five northwestern states. The Upper Columbia Headwaters Recovery Area covers most of western Montana and the Idaho Panhandle. Each recovery area has a specific plan dealing with its particular geography and fish populations.
The plan does not provide money for the actions it proposes. Duke said agencies such as the National Park Service or Montana Fish, Wildlife and Parks can use it to explain the need for resources in their budget processes.
"Recovery plans are guidance documents – they're not regulatory in nature," Duke said. "They show what's necessary to achieve recovery of a species. But there's not a pot of money that comes with finalizing the plan."
Montana Trout Unlimited executive committee member Dan Short said he likes the plan's spotlighting the danger that invasive species such as lake trout in Flathead Lake can have on bull trout. But he is dismayed that the plan assumes up to a quarter of existing bull trout populations might vanish without affecting its definition of success.
Montana Fish, Wildlife and Parks Region 2 fisheries manager Pat Saffel said the FWS plan would go far in focusing all the different agencies' efforts at recovering the fish.
"The big question is what is recovery?" Saffel said. "For us on a more local level, working with individual populations, we understand their status and their stress. In the previous (FWS) plans, it was all about the numbers, and sometimes those were arguably unrealistic numbers. They were based on what would keep genetic diversity in a stable population for 50 or 100 years. And in a lot of places, that's just not possible. The habitat is not there. So now if we can manage the threats, maybe that's sufficient."