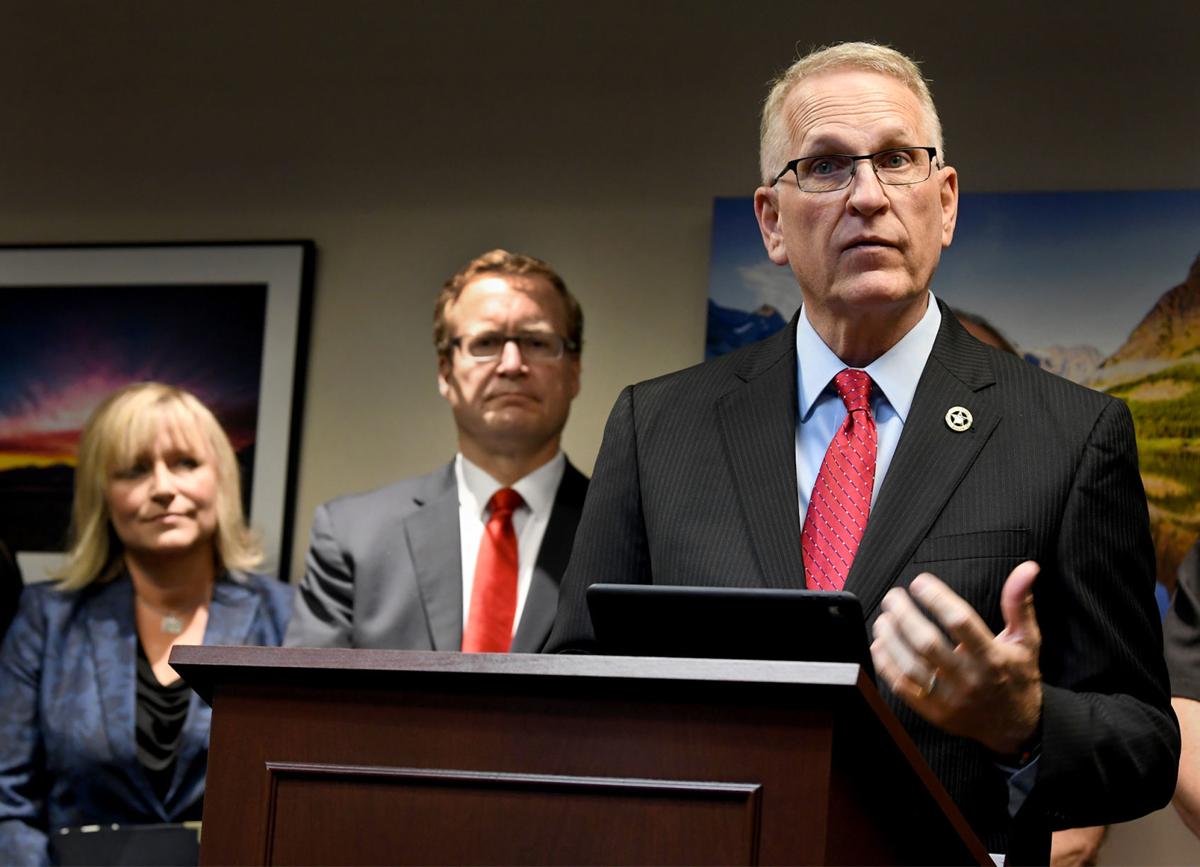 They didn't make a big deal of it, but an impressive, if imposing, array of federal, state and local law enforcement and criminal justice officials gathered at the Missoula County Attorney's office in late April.
They've continued meeting, first weekly and now every other week, ever since.
It's a product of the national Project Safe Neighborhoods program that U.S. Attorney General Jeff Sessions reinvigorated last October to fight violent crime, including the abuse of methamphetamine that's dragging down almost every aspect of society in Montana these days.
On Thursday, Montana's U.S. Attorney Kurt Alme was in Missoula from Billings to make a big deal of the early results.
Flanked by 13 men and women representing offices and agencies ranging from the Missoula police and sheriff's departments to the FBI and U.S. Drug Enforcement Administration, Alme introduced the grim facts of rising violent crime in the state and county and told how Project Safe Neighborhoods, or PSN, is already helping stem it.
Alme, a Trump administration appointee who was approved by the U.S. Senate last September, pointed to the 15 people who've been arrested and made court appearances in Missoula County for PSN-targeted crimes since the collaboration began.
Nine face charges related to dangerous drugs, which federal indictments specify as methamphetamine. The drug is the fulcrum of a substance abuse crisis that Montana Attorney General Tim Fox called "one of the greatest public safety and public health epidemics in Montana's history."
"We see it all around us every day," Fox said. "Rising crime rate, a growing need for government services, the deaths of our friends and our loved ones. So the solutions can't come soon enough."
Violent crime in Montana increased 34.5 percent from its low in 2010 through 2016, according to the FBI Uniform Crime Reports. Missoula County rates weren't available, but the city of Missoula has seen an increase of 49 percent since 2011, according to Missoula Police Department statistics.
Meth offenses more than tripled in Montana from 2012 through 2016. The Missoula County Attorney's office reported a leap from handling 110 abuse and neglect cases in 2012 to 195 last year, most of them related to some form of drug use, most often meth. 
Missoula County Attorney Kirsten Pabst said the growth has been "exponential" of meth-related violent crimes since Mexican drug cartels started targeting Montana. 
"Simultaneously our child protective cases are skyrocketing," she said. "The connection of violence, drugs and the parenting crisis cannot be overstated. In domestic violence cases we've been seeing an increase in the severity of the violence when methamphetamine is added into the mixture."
The Project Safe Neighborhoods program was established in 2001 with support from President George W. Bush. In announcing a re-emphasis on it last year, Sessions directed U.S. Attorneys such as Alme to target the most violent criminals in the most high-crime areas, and to work with communities to develop "customized crime-reduction plans."
Sessions said PSN "is not just one policy idea among many. This is the centerpiece of our crime-reduction strategy."
Alme, Fox and Missoula law enforcement and criminal justice leaders were joined at Thursday's press conference in the Missoula U.S. Attorney's Office by leaders and representatives from the FBI, DEA, Department of Homeland Security and Bureau of Alcohol, Tobacco, Firearms and Explosives, as well as Rod Ostermiller, the new head of the U.S. Marshals Service in Montana, and Montana Highway Patrol chief Col. Tom Butler.
Pabst said many of the same offices and agencies sit in on regular meetings in her office.
"Until recently we were all working almost in silos," she said. "Each agency would sometimes be working the same case and duplicating efforts, and one person had the A-B-C information about a defendant, and another agency had D-E-F.
Now they get together and "go through folks that we're concerned about, who have committed violent crimes or who are prone to commit violent crimes or drug trafficking, and share information so everybody at the table works cooperatively," said Pabst.
"The communication part of it has done some pretty amazing things," she added. "It's not only energized the group and renewed people's zeal for what they do and why they do it, but it really brings the investigations together."
Fox and Pabst said they see the initiative as a silver lining in their efforts to reduce the worst of violent crimes.
Fox commended Missoula police Chief Mike Brady, Missoula County Sheriff T.J. McDermott and Pabst for their efforts in the past few months "to strategically target the most dangerous criminals in Missoula County."
"Today we have a reason for hope," he said. "Community leaders across the state are taking action. We will not be beaten by this wave of poison choking off the life and vitality of our communities. We will persist and we will win. The proactive approach to crack down on violent criminals in Missoula County is a perfect example of what needs to be done to send a strong message to those who facilitate and indeed encourage substance-related crime."
Alme and Yellowstone County Attorney Scott Twito held a similar press conference in late April in Billings, where they highlighted the arrests and court appearances of 17 people for trafficking meth, armed robbery, and illegally possessing firearms.
According to data from the Billings Police Department, violent crime in Billings increased a whopping 75 percent from 2010 through 2017. Violent crimes include murder, rape, robbery and aggravated assault.
Fox paid special tribute to Alme and his team.
"They have brought a new level of urgency to all of this work and it's bearing fruit," he said.
"We thank our partners at the U.S. Attorney's office, specifically Kurt Alme, for caring deeply about crime in this community, for being willing to organize this effort, and for committing the resources necessary to make it happen," said Pabst.
She closed by echoing the words of Twito in Billings: "Our message here is very, very clear. If you commit violent crimes in Missoula, you will be arrested and you will be brought to justice."