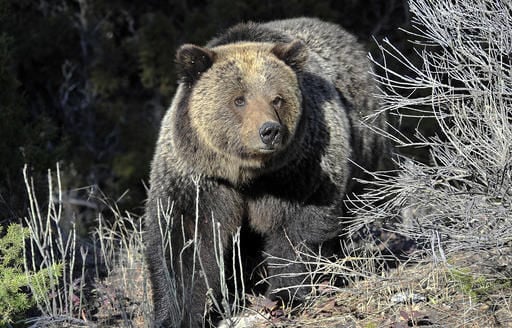 A federal district judge derailed a docket full of legal preliminaries about removing the grizzly bear from Endangered Species Act protection on Tuesday, in hopes of getting the whole matter decided before Wyoming and Idaho open grizzly hunting seasons this fall.
"I don't think we always make our best decisions, our best briefs or our best arguments in the context of emergency injunctive relief motions," U.S. District Judge Dana Christensen said in Missoula. "It's not efficient to deal with issues of this importance in the context of restraining orders."
In a ruling from the bench, Christensen denied the federal government's request to delay proceedings in six lawsuits challenging the delisting of grizzly bears in the Greater Yellowstone Ecosystem. He also rejected requests by three different groups to decide the case based on technicalities. And he ordered all parties to put their sprawling arguments into a single set of briefs for a hearing in August.
Tuesday's hearing brought together federal lawyers representing the U.S. Fish and Wildlife Service against the Northern Cheyenne Tribe, Sierra Club, Center for Biological Diversity, National Parks Conservation Association, Humane Society of the U.S., Wild Earth Guardians and an independent attorney from Chicago. On the sidelines, lawyers from Safari Club International, the National Rifle Association and the Rocky Mountain Elk Foundation also sought intervener status in the case.
FWS delisted the roughly 700 grizzlies in and around Yellowstone National Park on July 31, 2017, while leaving protections in place in five other grizzly recovery zones. The next day, a Washington, D.C. appeals court overturned the delisting of gray wolves in the Western Great Lakes Region. That case warned FWS that it couldn't remove Endangered Species Act protections from one distinct population segment without showing how the decision would affect other protected wolf populations.
Four months later, FWS officials published a request in the Federal Register asking for public comment on whether the Great Lakes wolf decision might affect Greater Yellowstone grizzly delisting. Christensen found that confounding.
"How is this public comment period somehow going to shed any light or give any assistance at all with the issues in this lawsuit?" Christensen asked U.S. Department of Justice Attorney Coby Howell. "When we're talking about the application of a circuit court opinion, that's a decision I'm going to have to make. How is public comment going to help me out?"
Howell replied that FWS needed until at least April 30 to analyze the comments and then either add more findings to the existing delisting rule or start the process of withdrawing it. Doing so would ensure the court had a fully prepared agency rule to consider, he said.
But the government's opponents pounced all over that idea. Earthjustice attorney Katherine O'Brien called the delay request an opportunity "to cook up justifications to prop up a decision they've already made."
"Meanwhile, Wyoming will be turning 24 grizzly bears into rugs and wall hangings," O'Brien said. Wyoming's Game and Fish Department has proposed allowing hunters to kill up to 24 grizzlies starting in some areas on Sept. 1. Idaho's Department of Fish and Wildlife has proposed a fall hunting season for one bear. Montana Department of Fish, Wildlife & Parks officials decided not to hold a 2018 grizzly hunt.
Additionally, the grizzly management rules in Montana, Idaho and Wyoming allow much more leeway for farmers and ranchers to kill grizzlies threatening their livestock than the ESA permitted. That means grizzlies and their advocates could suffer harm every day that the court delays a final decision on whether to put the bears back under ESA protection.
Christensen said he was not pre-judging the case when pointing out that both sides acknowledged the reduced protections grizzlies had under state management. Given that and the lack of justification for the FWS public comment review, he denied the government's request for a delay. But then he went further.
"There's only one of me and an army of you," Christensen said to the roomful of attorneys. Pushing the deadlines closer to a potential hunting season would invite last-minute requests for restraining orders and injunctions.
"I'll do anything I can to avoid that," Christensen said. "You'd be writing briefs when you'd rather be with your kids at the end of August. And I'd be getting out emergency orders, opposed to logically and methodically proceeding with the case. I want to proceed in a manner we all agree with, leading to a hearing and ultimately a decision."