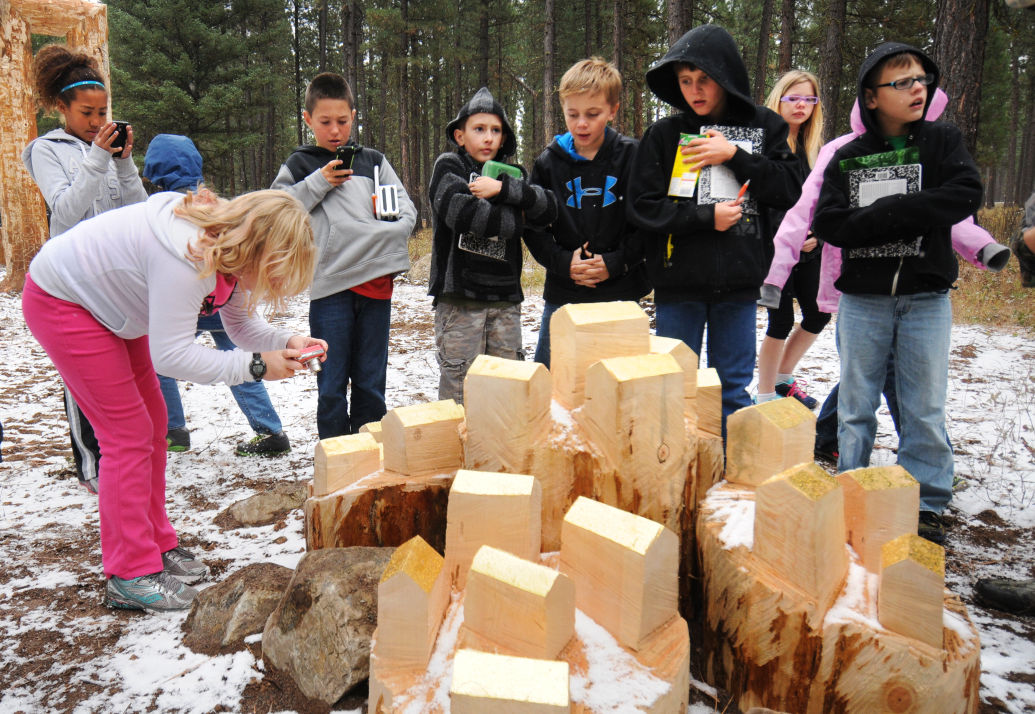 LINCOLN – Can we touch it? Can we take pictures? If you pulled out one branch would it all fall down? Are you famous?
When 11-year-olds pepper international sculptors with genuine wonders about their work, you know something's clicking.
It was snowing in this high mountain gallery as 44 fifth-graders from Bonner School piled off the bus Thursday to see one of the nation's more unique sculpture parks.
The three-week Sculpture in the Wild symposium was winding down to Saturday's noon "launch," the public's best and last chance to see six environmental sculptures directly from the sculptors' perspective. After that the artists – Kevin O'Dwyer and Alan Counihan of Ireland, Jaakko Pernu of Finland, Jorn Ronnau of Denmark and Steven Siegel of the upper Hudson Valley in New York – will be moving on to their next projects.
More than 300 kids from schools in the Blackfoot and neighboring valleys have been getting sneak peeks for the past two weeks, with O'Dwyer's daughter, Sinead, leading the tours through the forests.
On Thursday, the two Bonner fifth grades taught by Lesa Homer and Jimmy Hudson were burning with an enthusiasm that easily offset the snowy 33-degree day.
"It's awesome," said Kenny Copeland as he walked down a faint path from Siegel's provocative wall of newspapers woven around peeled tree trunks.
So too the artists, most of whom were working in the snow to put the finishing touches on their pieces by Saturday.
"Hello, Bonner!" Counihan greeted the chattering mob. "Listen up! Don't move! My name is Alan! All together now, what's yours?"
They were among the first to see his "House of Sky" piece in near completion. Just the day before, the tall poles had been crowned with the "house," a glistening stainless steel box that one student guessed represented a paintbrush. Another suggested a bird cage.
"All the people who came out here to make their lives in Montana had a dream of building the ideal house," Counihan explained. Romanticism quickly turned to reality.
"The idea of this house of sky," he said, "is you can't live in it. It's like a dream."
And an ever-changing dream, said Counihan, whose inspiration came from Montana author Ivan Doig's book "This House of Sky."
"It'll never look the same because the sky is always changing," he said. At the moment the sky was one thick cloud.
"It looks like a giant ice cube right now, doesn't it?"
Siegel has employed the labors of more than a dozen volunteers over the three weeks to build his newspaper wall. He engaged two of the boys from Bonner in a one-sided shoving match to demonstrate how the weaving pattern, represented by offset feet on a young human, provided more stability than a straight-faced wall or feet together.
How'd you build this? somebody asked Pernu as they gazed upon his not-quite-finished piece dubbed "Picture Frame."
It's a big picture frame – 7 meters high, Pernu answered one query – propped up by pieces of lumber. Hundreds of branches gathered after a thinning project in the valley were assembled in intricate patterns through the frame.
The students were intrigued.
"It's fun to listen to them because they seem so excited about it," said Homer. "The things they like they go, ooh, wow, cool. There's a definite emotional response right away, even if I don't know if they understand it."
Homer is "fairly certain" her students won't realize the impact of such a unique art park until later.
"I mean, today it's a way to get out of school," she said. "Some day I think it'll be something way different."
Sinead O'Dwyer, a fashion designer by profession who's moving from Amsterdam to New York later this month to pursue her career, has led classes through the park each day for the past two weeks. They then get an opportunity to build sculptures of their own using just the natural materials available on the forest floor. Examples of the temporary works ring the parking lot.
"Every day we've had one school or two or sometimes three," she said. "If it's three, it's because it's some of the smaller schools. For instance, Canyon Creek, Wolf Creek and Augusta came together yesterday."
Classes from Lincoln's schools have visited twice, each of the five sculptors also have given talks in turn at the school. Each has also made an evening presentation at a downtown venue.
There was a side trip to Helena last Friday, for an artists' retreat at the Holter Museum of Art, one of the project's biggest supporters. Director Caleb Fey will be the keynote speaker at Saturday's launch.
The students' first stops these past two weeks have been to the Lincoln Ranger Station across Highway 200 from the 126-acre park. There they've watched a Powerpoint presentation of the different pieces the sculptors have created around the world, and also got a load of the huge grizzly mounted at the front of the office.
Kevin O'Dwyer, who doubles as the park's artistic director, gave the Bonner classes a brief overview of the sculpture symposium when they first arrived.
"We've all come in here for just three weeks and everybody is responding to this landscape in the Blackfoot Valley in a different way," he said. "Each artist has his own idea how he interprets the heritage or the landscape of the environment of the area."
The centerpiece teepee burner is still a work in progress. It was moved seven miles from Landers Fork, site of the old Delaney mill, in pieces over the past several days. The bottom foundation was reassembled in a 12-hour day last Saturday. On Wednesday, the top two sections were moved in a slow procession.
The weather and other snags prevented the crane crowning ceremony on Thursday, but the improving forecast for Friday and Saturday left O'Dwyer and his crew hopeful.
Saturday's launch will be a treasured occasion, project director Rick Dunkerley said.
"We'll be going from piece to piece and the artists are going to talk about their inspiration for it, and it'll be the only chance for that," he said. "They'll never all five be here again for that."
There's room for about six more pieces in the park before things get too crowded, but the first half dozen have set the bar high.
"What's going to keep the interest here is to keep the level of the work as high as it is," Dunkerley said. "There are lots of different kinds of sculpture, but to come in and actually build something that is responding to the environment is kind of critical for some continuity of the whole thing."
His own dream isn't limited to one park in the upper stretches of the Blackfoot.
"My vision of the thing goes all the way to Bonner," Dunkerley said. "I heard that there's already talk about Ovando wanting to do one."
---
The Launch of Blackfoot Pathways: Sculpture in the Wild is set for noon on Saturday. Following an address by Caleb Fey, director of Helena's Holter Museum of Art, will be a tour through the woods of symposium sculptures by Alan Counihan and Kevin O'Dwyer of Ireland, Jaako Pernu of Finland, Jorn Ronnau of Denmark, and Steven Siegel of New York. Balladeer Jack Gladstone will present the ending ceremony. The sculpture park is just east of Lincoln on the north side of Highway 200. It's open to the public at no charge.