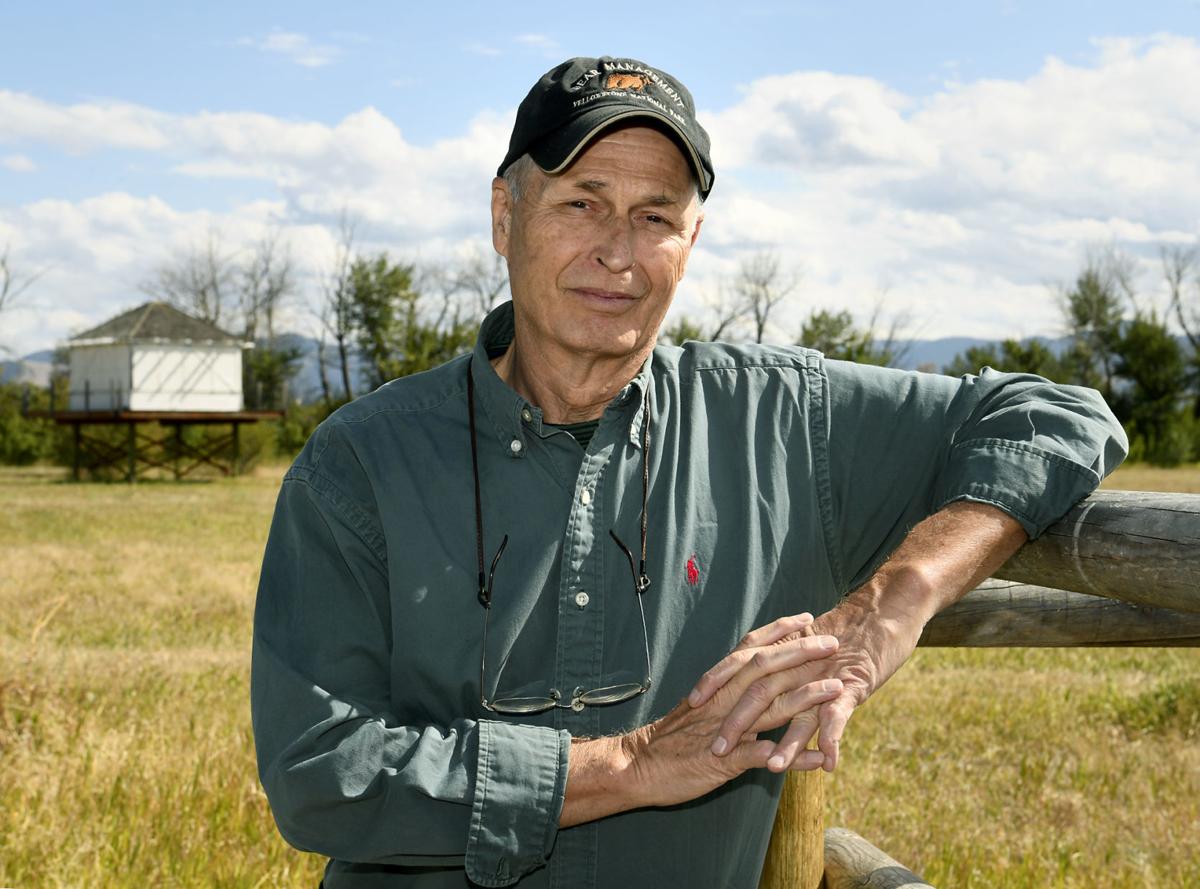 Not until page 224 of his latest book on wildfire disasters does veteran author John Maclean allow himself to wax poetic.
"From the faraway lookout of hindsight, it's clear that the great tragedy fires smolder for generations, long after they've burned out on the ground," Maclean begins a single-paragraph summary. "The embers of remembrance, tamped down by time but not extinguished, glimmer deep in the lives of those who carry on, until something occurs to fan them back to vibrant life …"
"That's the last thing I wrote," Maclean said this week, sitting at a picnic table at the National Museum of Forest Service History west of Missoula. "That's kind of 25 years of my writing career, and my dad's. To me it ties it together."
But he needed a "gruff tough fire guy" to make the connection.
Maclean, 75, son of the late word wizard Norman Maclean, just finished his fifth book, "River of Fire: The Rattlesnake Fire and the Mission Boys."
His home and writing base is still Washington, D.C., but Maclean is back in Montana for his yearly fall stay at the family cabin on Seeley Lake.
On Saturday at 1 p.m. he'll be at the new Forest Service museum west of Missoula for a book talk and signing.
"River of Fire" is a reprise of a deadly blaze on the Mendocino National Forest in northern California in 1953 that killed 15 firefighters. All but one of the victims were eager volunteers from the nearby New Tribes Mission training compound.
Maclean first documented the Rattlesnake fire in his 2003 book "Fire and Ashes," which also included studies of a deadly 1999 fire in Nevada and a look at Montana's Mann Gulch disaster of 1949. Norman Maclean wrote the seminal story of Mann Gulch, "Young Men and Fire," and John helped get it published after his father's death in 1990.
"Fire and Ashes" was one of a number of things that happened in California that revived interest in the Rattlesnake fire.
"It wasn't just the book," Maclean said.
The Mendocino Hotshots and other volunteers, some of whom had surreptitiously placed a wooden cross over the rugged gulch in 1993, recovered the chaparral-choked fire site. They located the places where the 15 men fell, placed crosses and markers, and created a memorial site. Maclean was asked to speak at the dedication in 2005.
The remote gulch northwest of Sacramento has become a destination for 300 to 500 people each year who participate in Forest Service staff rides, the intense leadership and decision-making program adopted by the Forest Service after the deadly South Canyon fire in Colorado in 1994.
Maclean kept tabs on the post-book developments. Earlier this year he set out to update his original tale in "Fire and Ashes," which was a little over 100 pages and "a good enough story," he said.
His editor at Legacy Publishers had said the first book was missing a common theme to unite the stories.
"I couldn't come up with one, and he was right," Maclean said. "And it's the only one of my books that's out of print."
"River of Fire" is his first independently published book. With current editor Kelly Andersson, Maclean found and contracted with photographer Kari Greer to add a professional touch to the crucial photo presentation. The book even includes a photograph gallery at the end, and the Kindle version that became available just last week has even more photos, in color.
Maclean was impressed. While his own bio information is nowhere to be found in the book, an "About the Photographer" page relates Greer's background and mentions "Facing the Inferno, the Wildfire Photography of Kari Greer," an exhibit that was shown in February at the University of Idaho art gallery and in May at the Fire Continuum Conference in Missoula. 
You have free articles remaining.
"This isn't the last project she and I are going to have," Maclean vowed.
Greer connected in the spring with three former Mendocino Hotshot superintendents who told her about and sold her on the nuances of the California fire story. One of the three was Don Will.
"We'd been trying to get somebody for a long time to write a foreword, and I didn't want anybody academic or literary to write it. I wanted someone from the fire world," Maclean said.
Will, that "gruff tough fire guy," was approached.
"He tells us, 'I can't write anything, I don't know how to write," Maclean said.
Think about it this way, Andersson told him. What if you had a young firefighter in his first season and you took them to the Rattlesnake fire site. What would you tell them?
Will's response? "I just did that. I did it with my son."
"She said: Write it," Maclean said.
Will's resulting 10-page foreword is titled "Passing It On." He tells about his annual spring pilgrimage to the fire site, and of a visit there in 2016 with his son, who'd just been hired onto the same hotshot crew Will once led.
"I knew this father would find peace if I could open the son's ears and eyes and let (the victims) sit him down and whisper their secrets to him," Will wrote. "I just needed him to listen."
"He writes beautifully," Maclean said. "Anybody who can read that foreword with a dry eye is a cold fish. It's thoughtful and penetrating and he gave the book and the remainder of my writing career a theme."
In the last almost quarter-century, Maclean has become the "court of last resort" for families and survivors of fire disasters who turn to him when they find official investigations inadequate.
"It has become a duty station for me, and although I wiggle a little bit in the mold, it's one that I am proud of," he said.
It happened most recently after the 2013 Yarnell Hill fire in Arizona, in which 19 firefighters from the City of Prescott hotshot crew were killed. The disaster spawned the 2017 feature film "Only the Brave," starring Josh Brolin and Jeff Bridges.
Maclean and his "team," including an on-the-ground researcher from New Mexico, are two years away from publishing the Yarnell Hill story. The sources are much different from those he tapped in "River of Fire."
"They're not trying to make it a memorial," he said. "They're trying to deal with psychological aftereffects that are very severe in some cases, partly because of what happened and partly because they were ignored."
From his father's "Young Men and Fire," through his own five books, and on to whatever the Yarnell Hill book becomes, "you have a sequence of reconstructions of a major fatal natural disaster world that is without parallel anywhere in the literature of nonfiction natural disasters," Maclean said.
"It covers virtually a century — we talk about the 1910 fire — but certainly from 1949 to Yarnell Hill in 2013. It's instructional. These books are used in classes. It's also available and acceptable to the general readership. It gets out of that textbook feel. It is in essence a way to pass on a whole history in a useful manner, not just a stagnant memorial."
After all these years, Maclean said, he can sum up his theme as a writer and researcher of wildfire disasters in three words: Passing it on.
"And it took Don Will to tell me what I've done."