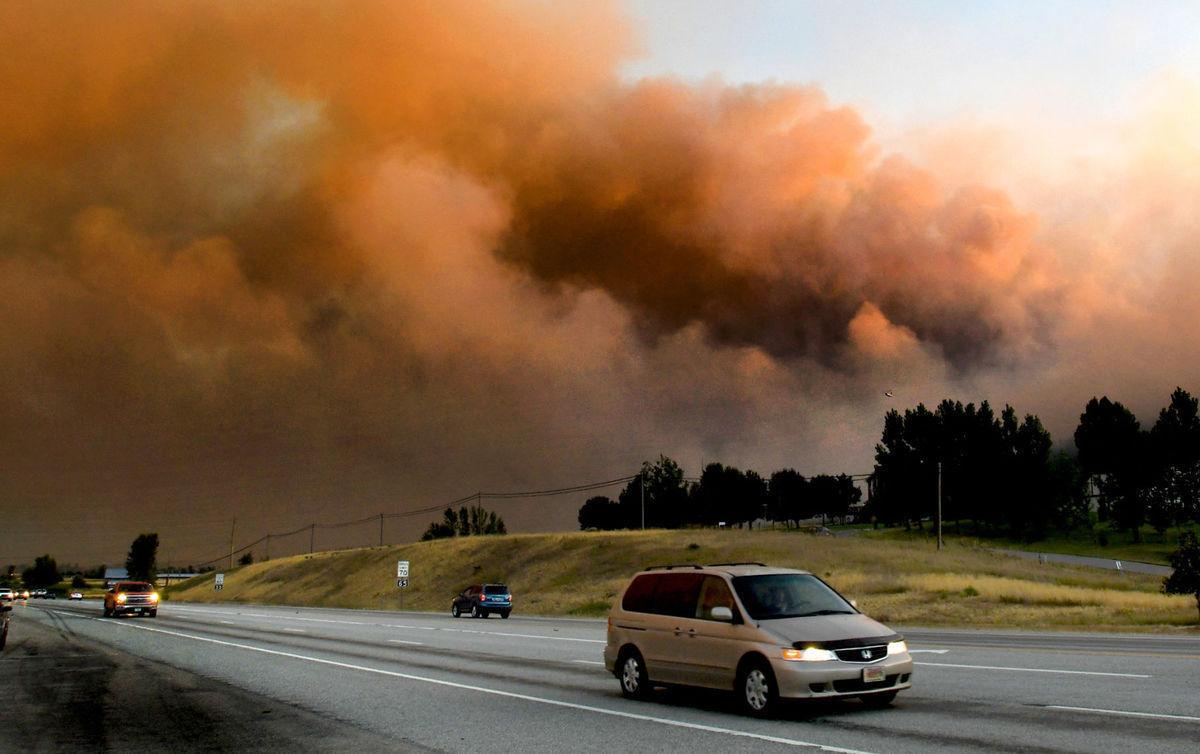 Missoula will see more forest fires in its future, but it may have influence over how big they are and how long they last.
"If we want only the most extreme effects under the most severe conditions, let's keep doing what we're doing," Missoula Fire Science Laboratory research forester Mark Finney told City Club Missoula on Monday.
In recent decades, 95% of the forest fuels turned into airshed smoke have come from just 3% of the wildfires, and those have been the largest and most catastrophic, Finney said. Missoula County covers a landscape that depends on frequent low-intensity fires to stay healthy, burning an average 36,000 acres a year.
Due to the longstanding practice of fire suppression, that figure has been reduced to about 8,500 acres annually. That's left tons of hazardous fuels prepped for ignition right next to growing neighborhoods.
"Logging is often necessary before prescribed fire can be implemented," Finney said. "But even though it's necessary, it's not sufficient if our goal is hazardous fuel reduction. There's no substitute for burning."
To help that along, Missoula's local governments have been working on a wide-ranging fire plan that considers making the landscape more fire-resilient, getting community residents better adapted to deal with fire, and coordinating wildfire responses to increase safety and effectiveness. Missoula County Commissioner Dave Strohmaier noted that Montana ranks among the highest in the nation for households at risk of wildfire destruction.
"Extreme fire behavior will occur despite our best efforts," Strohmaier said. "But if the houses do not ignite, you won't overload your (firefighting) resources. We need to focus on this home-ignition concept."
A crucial part of that strategy involves getting homeowners to lower the risk of their homes catching fire. Reviews of the deadly Camp fire in California and similar multi-home burning incidents show there are reliable ways to do that, such as changing landscaping, storing firewood away from structures and proper choice of building materials.
Much of the landscape work has fallen to Missoula District Ranger Jennifer Hensiek with the Lolo National Forest. She's outlined about 520,000 acres surrounding Missoula for analysis, but noted just 167,000 of that is federal public land. The large majority of the property belongs to private owners.
"We're looking at what we can do to reduce wildfire risks," Hensiek said. For example, one place with a high probability of burning is the Lolo Creek drainage along U.S. Highway 12. The recent Lolo Peak and Lolo Creek fires have left big scars on the north and south sides of the drainage, but lots of fuel-laden woods remain between that haven't burned for more than 100 years. A catastrophic wildfire there would once again likely travel east straight at Lolo or Missoula's O'Brien Creek and Big Flat neighborhoods.
Getting ahead of that problem will take lots of work. Hensiek said the controlled burns in the Rattlesnake National Recreation Area last fall and this spring treated about 400 acres. While those fires were smoky, the smoke was much less hazardous to public health than a huge fire like Lolo Peak in 2017, and much safer to manage.
"My unit is 520,000 acres," Hensiek said. "We need to think about that in terms of scale."
Get local news delivered to your inbox!
Subscribe to our Daily Headlines newsletter.