Applause exploded in the Dennison Theatre when an announcer called Shalbilyn Tall Whiteman's name. It was the last day of the University of Montana's Upward Bound summer program for high schoolers, and the end of Tall Whiteman's first summer as a camp counselor.
During a commencement ceremony for students in the program, Tall Whiteman, a 21-year-old UM student with a soft smile and long black hair cascading around dangling earrings, stood up while the audience cheered.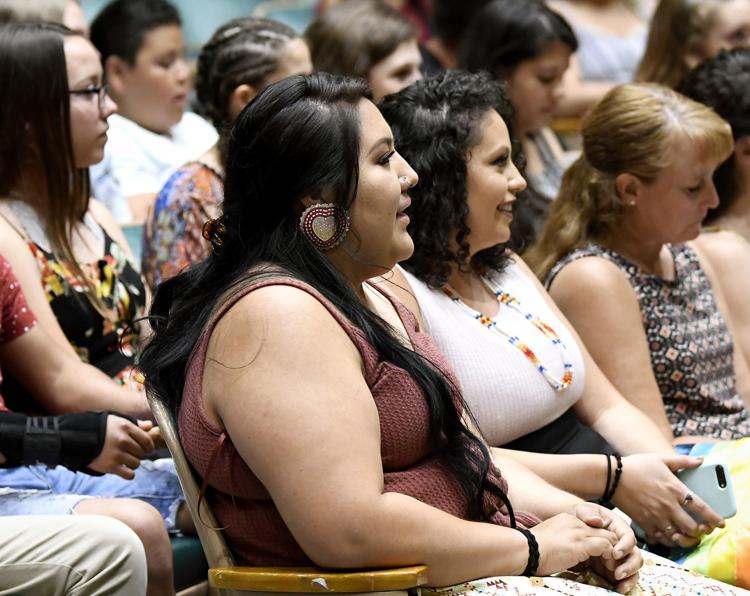 For six weeks, Tall Whiteman and the other counselors helped run the Upward Bound summer program at UM, which provides a college-like experience for low-income and first-generation students with the goal of motivating and preparing those students to complete high school and be successful in college.
Unlike the students who attended Upward Bound, Tall Whiteman had never set foot on the UM campus until the first day of her freshman semester.
Tall Whiteman, a member of the Blackfeet Nation, grew up in Browning on the Blackfeet Reservation. She worked during her summer breaks throughout high school so she wasn't able to attend Upward Bound, but she always knew she wanted to go to UM.
"There was something I loved about it," she said.
After graduating high school as the student body president and a transcript with almost all As, Tall Whiteman felt confident about going to UM. But when it came time for the first day of school, she faced challenges, many familiar to any college freshman. 
"I was just totally lost," Tall Whiteman said. "I was like, 'I don't know where to go. I don't know what to do. I don't know where any of my classes are. I don't know how to pay my bill. I don't know how to do anything.'" 
She remembered the advice of friends who told her to go to the Payne Family Native American Center to ask for help. There, she met Turquoise Devereaux, a Salish and Blackfeet UM graduate who was working at the university at the time. Devereaux guided Tall Whiteman to American Indian Student Services and people who could help her navigate the complexities of university life.
"She helped me so much," Tall Whiteman said. "She was like, 'OK, let's get you hooked up with Trio, a federally funded program on campus which supports low-income and first generation students, as well as students with disabilities, with advising, tutoring, career advising and books. Are you low-income? Are you a first-generation?'"
Tall Whiteman began building a support system on campus comprising  counselors, advisers and other Native students and acquaintances from Browning. She got involved in a mentor program and ultimately found a path to succeed. She learned how to pay her bill and find out where her classes were.
Today, Tall Whiteman is going into her fourth year at UM and pursuing a bachelor's degree in communications and human relationships, while also working at the National Native Children's Trauma Center on campus. Next spring, she plans to take the LSAT and apply to law schools out of state. She eventually wants to use a law degree to advocate for foster youth on and off reservations, in addition to other areas of Indian law, including land and treaty rights.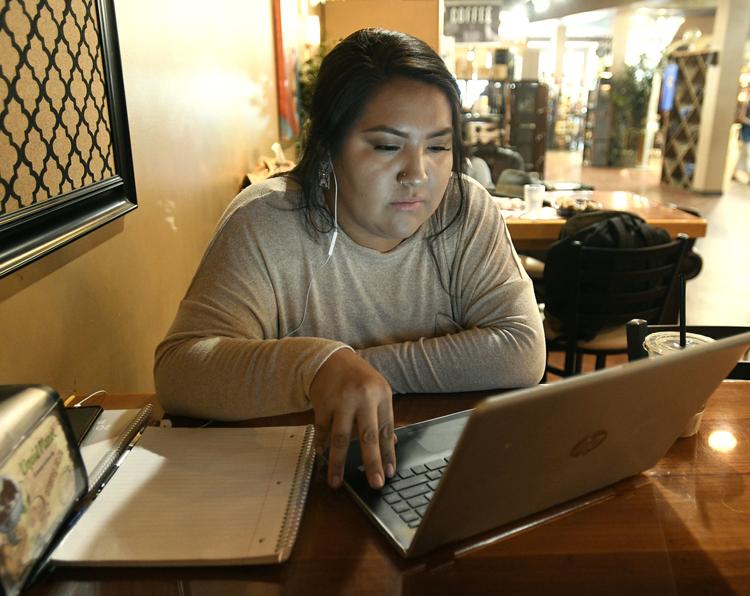 Despite her success at the university, there was a long time when college didn't look like it was in the cards for Tall Whiteman.
Shalbilyn Tall Whiteman grew up in a broken home and from ages 7 to 14, took care of her siblings, which often led to her missing school.
"They came first," she said. "Sometimes I didn't go to school because my youngest brother was in Head Start and I didn't have a car," she said. "I had to stay home with him all day to make sure my brothers got on the bus. It was a struggle in itself."
She fell behind academically in middle school as she struggled to play the role of a parent and take care of her three younger brothers. The night before her first day as a high school freshman, Tall Whiteman's life took a turn when relatives Everett and Rae Armstrong took her and her siblings in under kinship care.
Everett and Rae Armstrong, who Tall Whiteman calls Mom and Dad, pushed her to get back on track with school while they themselves attended school. This past spring, Everett graduated from Blackfeet Community College with a degree in elementary education, and Rae is on track to graduate next spring. 
"Before then, I had no aspirations of going to college," Tall Whiteman said. "They were the people that built me up and helped me to know like, 'No, you can go to college, you can do this.'"
Tall Whiteman's biological parents didn't graduate college, and her biological mom didn't graduate high school. Before the Armstrongs took her in, Tall Whiteman planned to stay home and look after her siblings, but Everett and Rae said they instilled in her that college was her only choice.
"She is going to go to college, she is going to do more with her life, and we just continuously hammered that home," Everett said.
Tall Whiteman and the Armstrongs were unhappy with Montana's laws regarding youth in foster care on reservations, feeling that the laws don't protect kids on reservations because they are sovereign nations. Tall Whiteman wanted better laws. The Armstrongs told her that if she wanted change, she had to be that change.
"We used that as an advantage to get her to start thinking she could do more with her life, do more for her community and where she's from, and set an example for her brothers with going to school," Everett said.
Tall Whiteman began viewing school as a vehicle for change where she could learn about the legal system and laws regarding foster care, and eventually, how to alter those laws. She worked hard to catch up academically in high school and to learn topics she missed and "stuff everybody else knew in seventh and eighth grade."
The hard work paid off; she graduated with almost all As and an acceptance letter to UM. During her time at UM, she's maintained her passion to help other youths in foster care pursue an education and ultimately, have a better life.
"I want other foster youth to know that they can go to school, too," she said.
Tall Whiteman's experience at UM hasn't come without challenges. Even after catching up in high school, she felt she was behind other students, and she experienced culture shock living off the reservation.
"As much as school tried, nobody could have prepared me for the university system, classes with over 300 people, how to ask for help and how to get the support you need," Tall Whiteman said. "Nobody could've explained that to me."
You have free articles remaining.
Despite the challenges, Tall Whiteman said the support of other Native students, especially those from home, has helped her overcome hurdles.
"That is the biggest thing for Native American students is to be able to find that community of other indigenous people," Tall Whiteman said. "For me, that was my comfort zone. It helped with being away from home."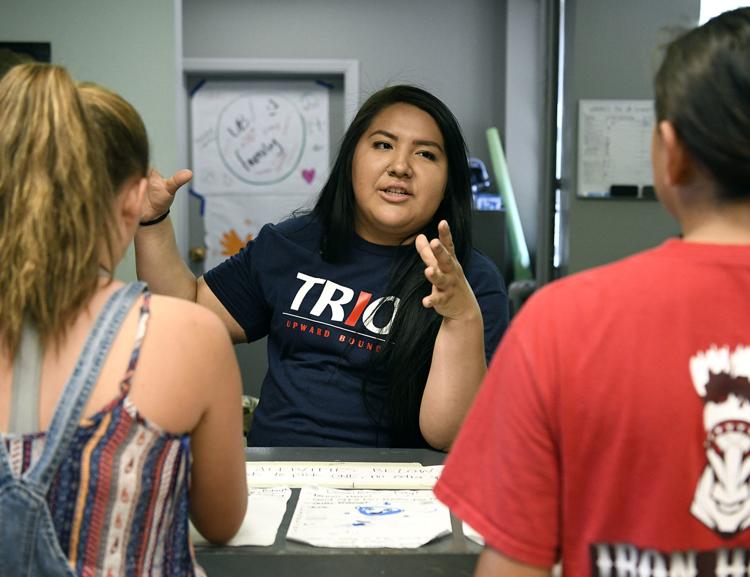 As a freshman, she reached out to high school friends who attended Upward Bound and asked them to show her around campus. She connected with students in her classes who also came from Browning. The group of students lived in two dorms, ate every meal together, and participated in the same organizations, such as Kyiyo, UM's Native American Student Association, and American Indian Business Leaders.
"We would go to the same places together and if we didn't have those friends, we went to the Native American Center and we had our other friends there that were from different tribes, like the Crow and some that were from Rocky Boy," Tall Whiteman said.
The group acts as mentors to each other and, as an upperclassman, Tall Whiteman now sees herself as a mentor to younger students she calls "little sisters and little brothers."
Tall Whiteman said she was unprepared for the workload and ill-equipped to manage her time when she first came to the university. She was too intimidated to ask professors for help and didn't know "the small things," like how to format a research paper. She also needed help paying for school, books and finding jobs and internships.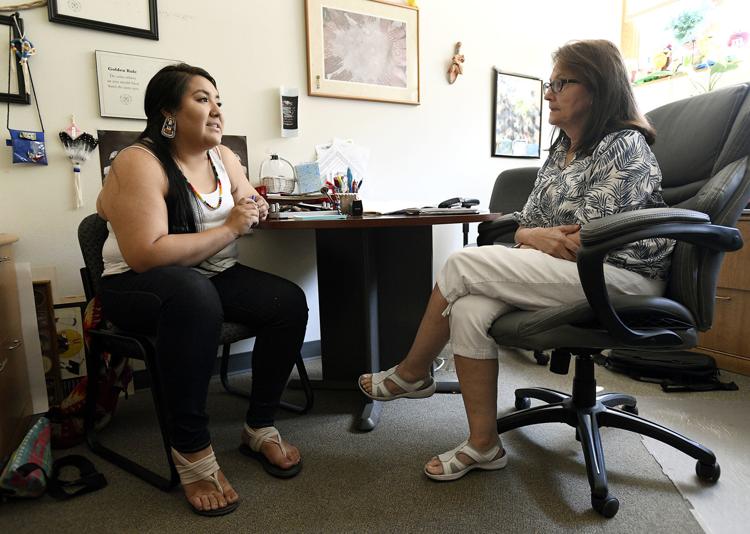 She's found a lot of that help through Darlene Samson, the director of Trio Student Support Services, who she met on her first day on campus. Samson guided Tall Whiteman to an array of campus resources, such as tutoring, a book loan program, disability services and the writing center. She helped Tall Whiteman navigate financial aid award letters and forms, and she even gave her advice on communicating with professors.
Tall Whiteman felt comfortable talking to Samson, even mistaking her for Blackfeet at first.
"She has that presence," Tall Whiteman said. "I felt like I could talk to her. I felt like there wasn't that barrier."
Samson showed Tall Whiteman what classes she needed to take and helped her create a graduation plan so she could see her goal. Samson also enrolled Tall Whiteman in a Trio class for freshmen that teaches study skills and time management, and the two worked on accountability by setting up weekly check-ins every Thursday.
During their meetings, Samson helps Tall Whiteman create a to-do list for the week, which they review the following week.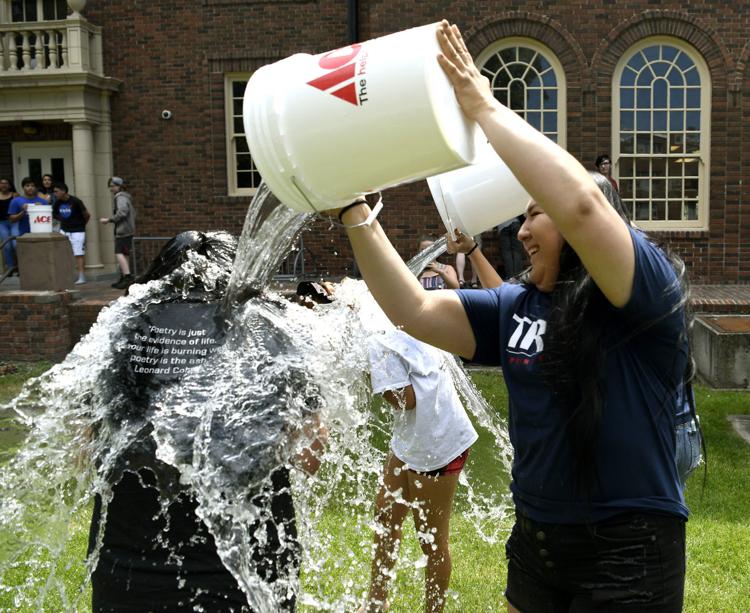 Tall Whiteman said the meetings have been one of the biggest keys to her success. In late July, Tall Whiteman sat down with Samson to reflect on her summer working at Upward Bound and taking two online classes.
"I'm thinking back over the summer and reevaluating, like maybe I shouldn't have taken two classes and worked full time," Tall Whiteman said, adding that she loved working for Upward Bound and wants to do it again.
"If you're thinking about this in the future, what I'd encourage you to do is go to that first summer session and you'll have the class done by the time the Upward Bound program starts," Samson said.
"Yeah, I'm trying to use Thursdays as like 'go to career health, meet with Darlene, get my homework done, take a nap, and I think it's all adding up,'" Tall Whiteman said.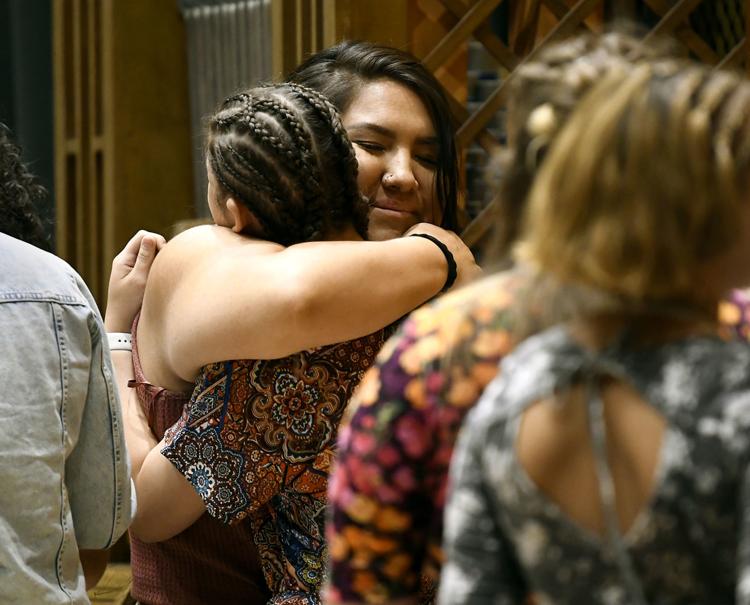 One of the main topics the two have talked about is financial aid.
Last spring, Tall Whiteman experienced two family deaths back-to-back. Although she communicated with professors ahead of time as her relatives' health declined, there was one professor who failed to acknowledge the Blackfeet funeral traditions, which consist of ceremonies that last four days or longer.
That professor gave Tall Whiteman a failing grade when she missed school for the two funerals, even though the university has a policy that professors are required to take Native funeral traditions into account.
The grade nearly cost Tall Whiteman her financial aid, and therefore her ability to earn a degree. With the help of Samson, Tall Whiteman had an appeal approved. However, it wasn't approved until her last day to pay her bill for the summer. Now, she has to petition to pay late, and she's still waiting to hear back from her adviser to sign off on the petition.
"I love this school and I've always loved this school, but I feel like there needs to be more support and awareness around mental health because I think it does take a toll on students," Tall Whiteman said.
Tall Whiteman said working for Upward Bound and having designated time in her daily schedule has helped her prioritize self-care more than she ever has before.
"As a person that grew up in chaos, it's easy to push things away, and I think I'm learning this summer that I need to be able to grow from those things and take care of them now rather than later," she said.
In her free time, she meditates, talks to her parents, gets lunch with friends, and goes for walks and hikes at Blue Mountain.
Tall Whiteman said being at UM continually inspires her to want to make a bigger difference. After getting her law degree, she wants to return to the reservation and work in outreach or education while helping kids in foster care.
"We're doing our best to help each other in our small community here, and I want to be able to do that in my own community," she said.