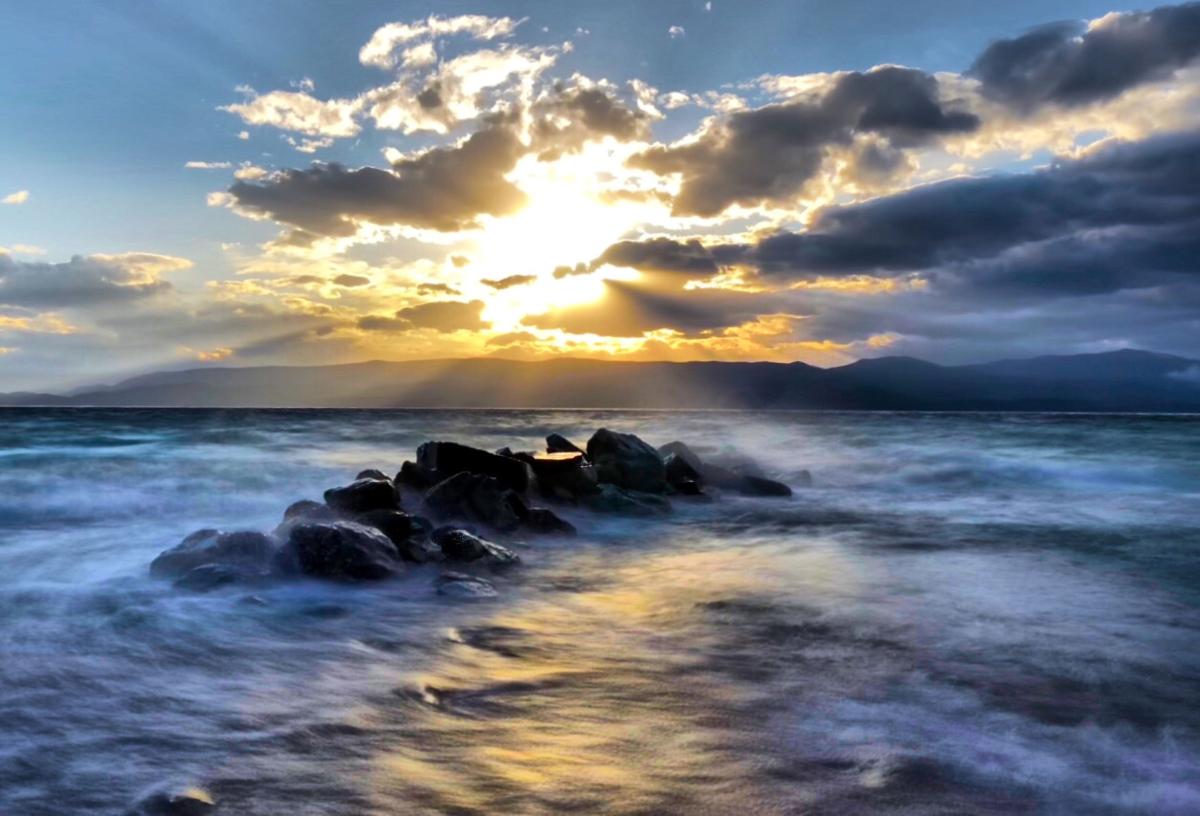 A simmering dispute between a state agency and a group connected to it, charged with monitoring Flathead Lake's water quality, has intensified with the dismissal of its executive director for "dishonest, subversive and disruptive" activities — allegations Caryn Miske adamantly denies.
Instead, Miske says she was fired in February "for political reasons and for personality differences" with administrators within the Montana Department of Natural Resources and Conservation as part of a "power struggle" between DNRC and the 23-member Flathead Basin Commission that she formerly headed.
In a Feb. 26 termination letter, Mark Bostrom, a DNRC division administrator, wrote that Miske's firing was based on her "chronic and pervasive failure" to adequately perform her job duties relating to financial management and communication. He added that her effort to distance herself from DNRC and failure to conduct herself as a state employee "have disrupted agency activities for far too long."
Miske and the FBC's executive committee contend that she was employed by the FBC, and not by the state, and that any "glitches" in her financial reporting are being blown out of proportion by DNRC.
Miske is accused of using her state computer and stationery, in her role as the FBC executive director, to solicit donations to the nonprofit Flathead Community Foundation, to be used to pay some FBC costs. Bostrom claims Miske told him and others that she put those donations into the Flathead Community Foundation's account to avoid DNRC charges applied to manage the FBC's state account.
Bostrom also wrote that while at least two checks totaling $35,250 were made out to the FBC, Miske endorsed and redirected them to the Flathead Community Foundation account. The funds later were returned to the state FBC account.
The termination letter and other documents were released after a public records request by the Missoulian. Miske agreed to make the documents public.
Anne Sherwood, Miske's attorney, said her client never asserted that she was perfect in her administrative duties, but any hardship her shortcomings caused have been exaggerated by DNRC in an effort to justify her termination.
"Ms. Miske has received excellent performance appraisals for her work," Sherwood wrote in response to questions emailed by the Missoulian.
The Flathead Basin Commission was created in 1983 by the Montana Legislature, co-sponsored by then-Rep. Jim Jensen. It works with community stakeholders including state, federal and local government agencies; tribal and Canadian provincial groups, and other community organizations and citizens to lead the effort to protect and improve water quality and the natural resources in the Flathead Basin.
The group initially was "attached" to the governor's office for administrative purposes, and that attachment eventually was moved to DNRC
Miske said — and Jensen agrees — that although she was attached to the DNRC, she wasn't a DNRC employee, and in fact was hired by a Flathead Basin Commission committee in 2006 without the approval of DNRC, then supervised by the FBC Executive Committee.
Miske is "trusted and relied on" to carry out the FBC's mission, which may be different from that of the DNRC, according to Sherwood.
"As such, it would be inappropriate to classify her as a DNRC employee because doing so would create a conflict of interest between the FBC and the Department, which must operate independently of each other (outside of budgeting and recordkeeping requirements)," Sherwood wrote in a Jan. 25 letter to DNRC's human resource department.
Sherwood added that this means only the FBC can terminate Miske's employment, and that it may continue to pay her through other means "which it is willing to do." Even if the department could terminate Ms. Miske's employment, it lacks good cause, according to Sherwood.
Bostrom argues that Miske believes the FBC is an agency watchdog, illogically equating its mission to protect the high quality of the Flathead Lake aquatic environment with the belief that she must lead the FBC into "watchdogging" other executive branch agencies.
"However, there is a dramatic difference between serving as a 'watchdog' over a resource and a 'watchdog' over state agencies, including the agency that employs you," Bostrom wrote in the termination letter.
But Jensen, who now is executive director of the Montana Environmental Information Center, said that's exactly what she should be doing.
"I have been very supportive of the commission holding DNRC and FWP (Montana Fish, Wildlife and Parks) feet to the fire, because fundamentally, neither of those agencies were doing a good job, and I think Caryn Miske was getting a lot of blow-back from John Tubbs (DNRC director)," Jensen said. "The commission is attached to DNRC for administrative purposes only, like budget and payroll, but not on substantive policy."
Yet Bostrom said he signed her time cards, that she was paid every two weeks by the state, and that the state recently reclassified her position on the advice of a third-party agency, with input from the FBC. Employees in five other groups that are "attached" to DNRC also are considered state employees.
Bostrom also believes that Miske has put anywhere from $150,000 to $300,000 into accounts that the state can't access but she raised as part of her official duties as a state employee. No one is alleging the money has been misspent.
Miske said the state was aware that the FBC officially voted on the creation and establishment of the Flathead Basin Protection Fund, which was created to "assist with procuring funds for protecting natural resources in the Flathead Basin."
That mission is strikingly similar to that of the FBC, but Miske said while the fund and the commission exist side by side, they are separate entities with separate bank accounts. Money in the fund paid for inspections and training involving detection of invasive mussel species.
Bostrom wrote that Miske didn't put enough space between the fund and the commission.
"Regarding your efforts to establish a separate 501(c)(3) nonprofit corporation to raise money to support the work of the FBC, we believe you have failed to maintain an arms-length approach to your dual roles with this new nonprofit and your role as a state employee," Bostrom wrote.
"For instance, you have used your state email account to communicate with several individuals regarding setting up the nonprofit, and there were numerous files on your state-issued Dell Latitude 643 laptop computer related to the formation of the non-profit including example by-laws and articles of incorporation from other organizations, such as the Montana Environmental Information Center.
"Your activities on behalf of the nonprofit present a serious conflict of interest, and we are concerned that you have violated the code of ethics for state employees," Bostrom wrote.
Bostrom also took offense that Miske apparently considered DNRC to be a "ball and chain" and something to work against, rather than with, to advance the mission of the FBC, according to the termination paperwork. Bostrom added that in a Nov. 14, 2017, commission meeting, Miske indicated that it was a "waste of time" to work with the state and the FBC should step away and work with other entities.
"These statements made by you, as a state employee, regarding an entity that is in fact 'the state' are wholly inappropriate and demonstrate your disregard for the responsibilities that come with your position as a state employee of the department," Bostrom wrote.
Miske's first written formal warning came in 2011, years after Joe Lamson, then-deputy director of DNRC, and his fiscal staff spoke to her in 2006 and again in 2008 for the "disarray" of the FBC's financial reporting. "There are once again major problems with FBC meeting its financial reporting responsibilities to the DNRC and FBC's various granting agencies," Lamson wrote.
The FBC executive committee acknowledged problems arose due to having a one-person staff, and their involvement with aquatic invasive species, but said Miske did nothing wrong.
"For whatever her flaws, Caryn Miske is and has always been, contrary to the portrait conveyed in the DNRC's communication, the model of an incorruptible public servant, completely dedicated to the FBC's purpose and cause. She has never — never, not once — exhibited anything but complete integrity in regard to the public trust."