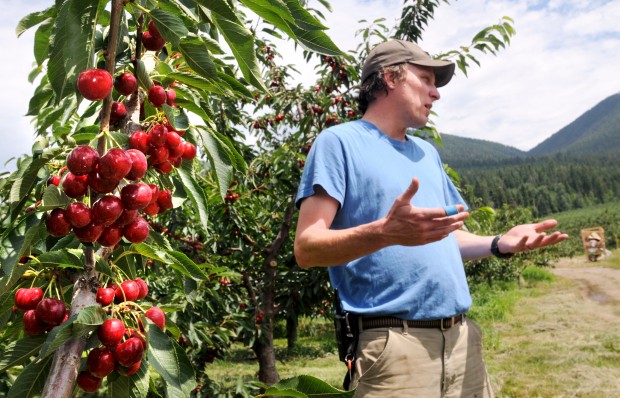 POLSON – Nearly 850,000 pounds of cherries from Flathead Lake Cherry Growers orchards have been harvested since last week, with the grand total expected to top 2 million pounds before the harvest draws to a close in the coming days.
The harvest at cooperative orchards around Flathead Lake began July 22 and is expected to hit its peak over the next five days or so, said Brian Campbell, who serves as a field representative for Monson Fruit Co., which contracts with the co-op for packaging.
This year's harvest of mainly lapin and Lambert varieties is expected to be better than last year's, Campbell said.
"Last year, we had that bad freeze in April and so a lot of crops were smaller and so we had a better set this year," he said.
However, rain has caused issues this year.
On average, 20 percent of harvested cherries have had to be culled because of splits caused by rain, Campbell said.
"That's not a banner year," he said.
Permeable cherry membranes soak up rain water, he said, adding that skins can only take so much pressure before splitting.
Once split, the cherries show scars, which makes them unsuitable for sale as fresh with the stems still attached, but they still can be used in other ways.
An on-call helicopter has blown off most orchards to prevent cherries from absorbing too much water at least twice and some as many as four times, Campbell said.
While moisture has caused issues, heat has not.
Cherries are only picked until the mercury hits 80 degrees. At that point, the fruit becomes too soft to pick without the risk of causing bruising or of plucking them without the stems attached.
"It hasn't been hot enough to cause any damage," Campbell said, adding that sunburned fruit hasn't been an issue either.
Overall, cherries are large and tasty as usual this year, he added.
So far, prices have been slightly lower than average, but Campbell said he hopes once Washington growers wrap up the bulk of their harvest prices will rise because of supply and demand.